Snowdon in a Morning?
Posted: 2 November 2009
With a morning to kill, Phil Ingham decides to try to tick off one of the "must-do" routes of British mountain biking, Snowdon in North Wales.
Well, I'm just back from a half-term week in Snowdonia and once again, I found myself longing to head for the hills for a day of mountain biking, but with a tight schedule of family fun - beach trips, aquarium visits, café breaks, retail therapy, the occasional castle visit and pub lunches thrown in for good measure - the outlook wasn't great. However, a small window of opportunity presented itself on the Monday; a supermarket visit was planned to stock up for the week and I was excused trolly-pushing and child care duties till lunchtime. If I could drag myself out of bed at a decent hour, I would have perhaps four and a half hours of time to play with.
Viewed from some 20 miles away, Snowdon, the highest mountain in England and Wales
I knew immediately what I wanted to do; I've always wanted to cycle up Snowdon - the highest British mountain south of the Scottish Borders. A voluntary ban excludes cycles from the mountain in the summer months, but it was now October. We were staying 10 miles from the foot of the only practical route up the mountain on a bike, Llanberis and with the car on supermarket duty, I'd have to ride there, climb the mountain, all 3560 feet of it, descend and then ride back to our holiday cottage in time for lunch at 12.30. Snowdon in a morning - could it be done?
A bit of Ordnance Survey mappery told me that the ride to Llanberis was 10 miles, or eight if I went for a short cut over two tongues of moorland between our cottage and the town. That was going to be 40 to 50 minutes each way on a mountain bike, perhaps a bit more. Call it two hours. With a departure time of 8am, that meant that I had approximately two and a half hours to actually climb the mountain and get back down again. It sounded a bit unlikely: I've walked up shorter routes to the top of the mountain in the past and it's been a five or six hour round trip: moreover, the route I had chosen - the Llanberis path - is a lengthy five mile slog.
In my favour, I was in reasonable condition, having recently competed in the Three Peaks Cyclo-Cross race. But Snowdon looked tough on the map and I wasn't at all sure how much would be rideable. I contemplated alternative ride options, even a long scenic road ride, but the Snowdon challenge had gripped me.
RIDE TIMELINE
7.00 am - I slip quietly out of bed and head downstairs and make myself breakfast. We've run out of milk, so it's a sticky concoction of plain yoghurt and rice crispies. A couple of strong coffees wash it down. I dress, fill my water bottles and check my rucksack - two bananas, bag of crisps, flapjack, waterproof, mobile, camera, pump, money. A brief goodbye to my family, who are sleepily drifting down to Breakfast, and I'm out of the door at 7.50am.
8.00 am - I'm climbing steadily on a minor road which will eventually drop me down to Waunfaur, the first village on my route. It is overcast, the roads glisten with running water, but it's not raining and surprisingly warm. I remove my thin gilet. I'm down to just a long-sleeved top, but sweat drips from my eyebrows. It must be 14 degrees and it feels very humid.
8.40am - I'm descending into the town of Llanberis. From perhaps a mile away, I'm able to overview of the NW flanks of Snowdon. My chosen route up the mountain is plainly visible, rising alongside the mountain's famous rack and pinion railway. Both disappear into the cloud layer, with the summit obscured.
8.50am - I turn past the mountain railway station and a few seconds later I'm onto the climb. Initially it's steep tarmac. My aging bike refuses to drop into the granny ring and I have to stop to hook the chain over. I recommence the climb and crawl past a couple of walkers. I feel almost pre-race nervous.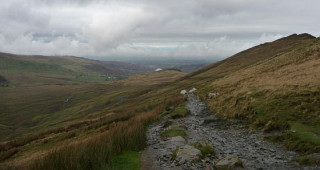 Looking back down the Llanberis track from near the half-way station
9.20am - I stop and look back down the track. The tarmac is now well behind me and I'm on the climb proper. A train is growling its way up behind me but it hardly seems to be gaining. The track is fire-track wide and predominantly rocky. Occasionally it rears up, craggy and wet and I'm forced to dismount for a few yards. There are some tempting technical sections, but for once I'm not really interested; I'm playing the percentages today - I'd hate to hurt myself up here and, anyway, with such a challenging climb ahead, I've no intention of digging too deep.
9.40am - I've reached a solidly built slate building with a small balcony. It's shuttered, but a quick check of the map reveals it to be the half-way station café, closed for the winter. The train has passed me and a couple of walkers are visible above me, having disembarked. Thankfully, at this early hour, the track is otherwise pretty much deserted and I can concentrate on climbing at my own pace, without distractions. I scoff my crisps and finish my first water bottle. Only half-way! This is big!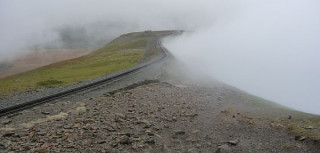 Above Clogwyn station, the mists part for a few seconds to reveal the railway
9.50am - The track's now getting steeper. I pass a couple of workmen repairing it with a tiny digger. I promptly slip off right in front of them - sod's law of mountain biking: if there's virtually no-one around, you will fall off in front of them! The track ahead ramps up significantly, carefully constructed from big rocks, forming a rough staircase which disappears into the cloud. It's no longer remotely rideable and I dismount, wondering if I'll have the opportunity to ride again before the summit.
10.10am - I'm past Clogwyn station and well above the 700 metre contour. I'm in the clouds and from the map there are huge cliffs just yards away from, but me hidden by the mists. I'm not good with heights and I'm feeling a bit tense. Fifteen years ago I had to turn back when walking on Snowdon when I found myself on an exposed ridge having not properly researched my route, which had looked simple on the map. That memory replays on a loop as I push upwards through a gloomy world of thick, damp mists. Another train grumbles close by, but invisible.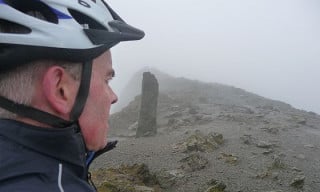 Looking ahead to the final rocky ridge to the summit
The landscape, what little I can see, has a Tolkienesque quality to it - all frost shattered rocks, with streamers of mist curling off above bottomless voids. For all his fertile imagination, I bet even Tolkien wouldn't have imagined taking a railway up this mountain, yet the Victorians did.
10.20am - Wow, I think I've got it cracked. I've suddenly reached the huge monolith which marks the top of the popular Pyg Track climb, which rises up the NW flank of the mountain. From past walking ascents, I know I'm now close to the summit. Since leaving Clogwyn the gradient has actually slackened off and I've ridden quite a lot, moving up though the gears at times.
10.30am - Made it! Surrounded by hoards of walkers, I'm at the foot of the cairn at the very summit of the mountain. The misty cloud is thicker than ever and there's a fine, wetting rain too. I've pushed the bike up most of the final stretch. I could have ridden some of it, but there are tired walkers everywhere and I'm happy to tramp up next to them. The last thing they need is an impatient cyclist snapping at their heels.
A brief moment of rest at the summit, before heading off back down the mountain
10.45am - After a photo, a banana and a quick drink I'm off back down again. I'm still not riding as there are simply too many people about. I jog-trot down until I reach the big marker stone. Just below it, on the other side of the railway, is a similar stone which marks the top of the Snowdon Ranger path, the other bike-legal route to the summit. I had planned to use it for the descent. However, with visibility still minimal, I decide to retrace my route down the Llanberis path instead. Far better, I reason, to play it safe; Snowdon has claimed many lives over the years. It's a mountain that's pretty simple to climb, but, with its cliffs and abrupt abysses, also a place where it's pretty simple to kill yourself.
11.35am - I roll into Llanberis. The descent has been undemanding and incident free. My lightweight XC bike was great for the climb, but not ideal for the descent, so I've taken the downhill very easy. I've also had to weave my way through a steady steam of walkers, most of them plodding head-down, oblivious to other traffic.
In truth, I've been happy to stop repeatedly to let the walkers climb past me. Cyclists are latecomers to the Snowdon party. There's been some animosity between walkers and cyclists on the mountain in the past and acceptance of cycles on the mountain is not to be taken for granted. Having said that, the walkers I meet are almost all friendly and many want to chat. I'm repeatedly asked "did you get the train to the top?" Several admit to being cyclists and quiz me on how I've found the experience. Others shake their heads and call out "don't know how you do it." The only faintly negative comment comes from a lone climber who just shakes his head and mutters "mad" as he passes by.
12.25am - I'm "home" just in time for lunch. I sit scoffing a big salad and tell my tale as my family take their turn to shake their heads and label me "mad". I grin, cut myself a thick chunk of cheese and swig hot, sweet tea. A quick shower and I'll be ready for an afternoon of 'normal' tourism. Is Snowdon in a morning possible? You bet!

RIDING SNOWDON - TIPS
Be prepared - the scouts are almost always right on this one when it comes to long rides in unfamiliar territory. All the usual mountain safety precautions should be top of your priority list. Sufficient food and drink, suitable clothing, maps, planning and common sense are all essential. I rode it alone and there are always pople about on the mountain, but itdally you should travel with someone else.
Which Bike? although a full-suss bike would undoubtedly give you an easier ride down, I believe you are actually better off choosing a light bike for the lug up the mountain. I guess I rode 85% of the climb, but that still leaves perhaps a mile or more of the steepest bits when you will either be pushing or carrying your steed. That's tough with a 25lb XC bike. It would be a lot worse with a big full-susser. To ease progress on the pushing sections, you might consider padding your frame tubes as Three Peaks riders do, to make carrying practical.
Going Down! The descent is tricky. Many of the rocks are slick and wet. There are numerous opportunities to flip yourself over the bars and Snowdon is not a great place to break a collarbone. I carried where I could easily have ridden on a number of sections, simply because I felt that getting down in one piece was paramount. I think that's a good mindset to adopt for this challenge.
Can I do it? It's tough but very doable. I'm a relatively fit forty-something, but I'm not a super-athlete and yet I managed to get up and down the mountain well inside three hours. You'd be lucky to do it in less than twice that on foot alone.
Timing - Pick your moment. I rode the mountain on a Monday in late October. I started early and met only a handful of people before I reached the final few hundred yards to the summit. On the way down it was a different story. Any hopes of a fast, fun descent were forgotten immediately. Unless you are coming down very early or late in the day, you're likely to have to give way to lots of walkers and care and consideration for others has to be a priority. I'd guess that a weekend attempt would meet with many more walkers, so mid week, mid winter is probably the best bet.