National Downhill Series Round 5
Andy Dunwoody made the long trip down to South Wales along with some 250 competitors for the final round of the 2009 NPS series at Rheola Forest, in Neath. This a rough, tough, forest downhill which takes no prisoners - it was here a couple of years ago that Steve Peat dislocated his ankle at the 2007 national championships.
Mercifully, the weather has been a bit kinder of late than it was back in 2006 and the course was dry and fast, if still extremely technical. Ben Cathro continued his recent dominance of National racing with another fine win in the elite men's category, whilst Jessica Stone took a good win in the women's race, beating the vastly experinced Helen Gaskell in the process.
We've got full results at the foot of the page and a selection of Andy Dunwoody's pics - lots more are linked in galleries at the top of the page.
Elite men's podium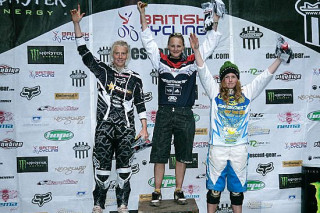 Elite women's podium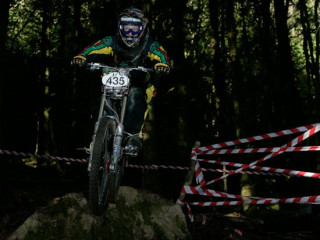 Classic shot of rocks and trees and rider
Rheola is steep and technical - a classic British course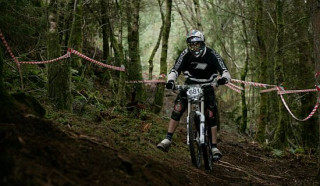 Sitting pretty - Ban Cathro must be getting used to the hot seat!
Results
Race 10 Elite Men Nema Clothing
1 Ben CATHRO MTB Cut/Cyclejersey 02:59.6
2 Matt SIMMONDS CRC Intense 03:01.7
3 Dan STANBRIDGE MOJO / Orange 03:02.3
4 Ruaridh CUNNINGHAM CRC Intense 03:03.9
5 Joe BARNES MTBcut.Tv/Orange 03:05.2
6 Tom DEACON 2 Stage/Extreme Medics 03:08.1
7 Dave SMITH 3 Smith/Leisure Lakes 03:09.8
8 Rich THOMAS Ancillotti UK 03:10.1
9 James HUGHES MTB Direct/Shift/Intense 03:10.4
10 Nikki WHILES Team Skene 03:11.2
11 Ralph JONES Dirt MTB Mag 03:11.8
12 Chris HUTCHENS Cyclejersey/MTB Cut 03:14.2
13 Ben BAKER Astrix Europe 03:15.0
14 Scott BEAUMONT Rocky Mountain 03:20.4
15 Philip ASHBRIDGE Mountain High 03:24.1
Race 7 Elite Women Nema Clothing
1 Jessica STONE 2 Stage/Extreme Medics 03:45.3
2 Helen GASKELL Zumbi 03:56.6
3 Emma WAREHAM Leisure Lakes 03:59.8
4 Aimee DIX Mojo Orange 04:02.2
5 Sarah NEWMAN Www.Pureridersco 04:07.1
Katy CURD Mountain Cycle Disqual
Race 1 Juvenile Men Descent-Gear.Com
1 Stuart WILCOX I-Cycles 03:26.4
2 George GANNICOTT Icycles/Inners MTB 03:29.6
3 Sam HERD Perth City Cycles 03:35.3
4 Jevan WILLIAMS 03:48.4
5 Ross WILCOX I-Cycles 03:53.8
6 Daniel BOWEN Dare Valley Cycles/Cps 03:56.5
7 Tom PROFFITT Bad Ass Bikes 03:57.0
8 William WESTON Volvo Tollbar/6 Pack 04:07.8
9 Callum HAVARD PS Cycles/Cwmdown 04:16.5
10 Lewis BOYCE 04:28.1
11 Mathew DAVIES 04:36.1
12 Fraser LEADBETTER Last Bikes/FUNN 04:51.9
Mathew ASHMORE DNF

Race 2 Youth Men Lizard Skins
1 Mark SCOTT All Terrain Cycles 03:10.0
2 Lewis BUCHANAN Empire Cycles 03:10.5
3 Joe CONNELL Alpine Bikes 03:16.5
4 Billy MATHEWS Peaty Syndicate 03:21.1
5 Jordan DOIG Icycles/MSC Bikes 03:26.1
6 Sam COPP PS Cycles 03:28.4
7 Brandon LOVE 03:28.7
8 Joe CLIXBY Clixby Trail Builders 03:30.7
9 Alex GLASS 2 Stage Bikes 03:30.9
10 David KYNASTON 03:31.4
11 William MAPSTONE 03:32.2
12 Mathew STUTTARD 03:33.2
13 Moss MACRINER Kustom Bikes 03:34.0
14 Freddie OXLEY 03:36.0
15 Benjamin WILLIAMSON 03:36.2
16 Grant BOYCE Bicycle Doctor 03:36.7
17 Josh LEWIS Peaty Syndicate 03:36.8
18 Clavin ROGERS Ukbikepark.Com 03:39.2
19 Johnathan BEATTIE 03:39.9
20 David TRASK 03:42.2
21 Fraser McGLONE All Terrain Cycles 03:42.6
22 Nathan MILLION 4 M 03:44.9
23 Gregor NOTMAN 03:47.3
24 Ollie EASTMON Bike Cellar 03:48.1
25 Leo HOUSMAN 03:48.3
26 Dan JOYCE Zero G Cycles 03:50.0
27 Harry BOWMAN 6 Pack Racing 03:55.0
28 Ryan TUNNELL 03:55.4
29 Ben HUMPHRIES 03:56.6
30 Sam WAKEFIELD 04:02.1
31 Michael O BRIEN Speedsport 04:11.2
32 Jacob RUDDOCK 04:11.6
33 Aidan OLIVER Activecycles 04:15.7
34 Dan INGRAM Redmist Racing 04:16.0
35 Sam FLOCKHART MSC Bikes 04:20.2
36 Mathew DOWNES Balfa/Hamsterley/Fox 04:32.0
37 Zac EMMET Pearce Cycles 05:16.5
38 Tom HODGKINSON 05:26.7
George BELK W Homer Cycles DNF
Devon GRIFFITHS Continental/Nicolai DNF

Race 3 Junior Men Fox
1 Gareth BREWIN 03:04.9
2 Harry MOLLOY DMR/Resurgence/Last 03:09.8
3 Arran GANNICOTT Alpine Bikes 03:10.4
4 Greg WILLIAMSON 03:13.3
5 Jamie MALLER Momento Mori 03:14.7
6 James SCOTT Cycle Jersey 03:14.7
7 Joel MOORE Team Skene 03:17.3
8 Callum DEW MSC Bikes 03:18.1
9 Brad MATHER Empire Cycles 03:18.7
10 Joe EDGE Stendec 03:20.3
11 Bernard KERR 03:22.8
12 Sam WEBSTER Team Skene 03:23.2
13 Charlie COLLINS 03:23.8
14 Ben MOORHOUSE Ticket 2 Ride/Descent Gear 03:24.8
15 Tom CARTIGNY Bikestation UK/KTM 03:26.2
16 Perry GARDENER Pearce Cycles RT 03:26.8
17 Ed SMITH 3 Smith/Leisure Lakes 03:27.6
18 Willem HERD Perth City Cycles 03:27.7
19 Simon STUTTARD 03:29.4
20 Cameron LEADBETTER Empire 03:29.9
21 Ben MILLWARD 03:30.5
22 Joshua HODGETTS 03:30.6
23 Pete ROBINSON PS Cycles/Cwmdown 03:33.7
24 Jamie CRUMP Pure Ridersco.Co.Uk/Bike Ta 03:35.8
25 Stephen MILLYARD 03:36.1
26 Gregory HAMPTON RG Squadron/Swinnerton Cycl 03:36.7
27 Scott JONES 03:36.9
28 Craig MUNRO Vibe Racing/Rockstar 03:37.0
29 Richard ACOTT 03:37.4
30 James MATHEWS Plymouth Cycle Scene 03:38.1
31 Vivian JONES 03:38.6
32 Alex POWELL 2 Stage/Extreme Medics 03:38.9
33 Josh SWIRE FDHR/Fenwicks 03:44.3
34 James HOPKINS 03:50.1
35 Akib AHMED 03:50.4
36 Jamie SCOTT 03:52.0
37 Tom KNIGHT Momento Moni 03:56.6
38 Josh WALKER JE James Cycles 04:21.0
39 Luke BALL Cycle Scene 04:30.5
40 Tavis FUGE 04:41.4
41 Adam LOCK Certini Bike 04:58.2
42 Joe FLANAGAN All Terrain Cycles 09:58.3
43 Oli WAKEMAN Sun Microsystems 13:59.8
John GROMARDKI Stan Jones Cycles DNF

Race 4 Veteran Men Ticket2RideBC.Com
1 John COBB Mbr.Over35 03:33.4
2 Gary BURNS Team Spode 03:37.7
3 Rich SIMPSON Bikeactive.Com 03:38.2
4 Jerry TWIGG Cycleworld 03:38.5
5 Stevie BOYD 03:40.8
6 Jason CARPENTER 03:40.9
7 Tim WEBB 03:55.0
8 Martin CROCKET 03:55.6
9 Greg TAYLOR Rave Racing 03:58.7
10 Jason Gun BRENNAN Rave Racing 04:15.8
11 John ROWAN 04:32.5
Steve FELSTEAD T2R/Descent-Gear.Com DNF

Race 5 Master Men No Limits
1 Chris WHITFIELD All Terrain 03:19.2
2 Sion JONES MTB Direct 03:22.2
3 Andrew TITLEY Kona Sombrio Paligap 03:25.4
4 Joe BISHOP Zero G 03:26.8
5 Chris COATES Cycle Jersey/MTB Cut 03:27.7
6 Jamie SMITH 03:31.9
7 Dave LIST Stourport Cycles 03:33.8
8 Zac HUBERY Mountain High Cycles 03:37.0
9 Chris AMES 03:37.7
10 Tom SMITH Revolver QT/NZ 03:38.9
11 Jason GIDNEY Guak Cycle Centre 03:42.5
12 Daron OSBORN OZZ 03:42.8
13 Morgan FRANCIS-ROBERTS Antidote Bikes 03:43.4
14 Neil COUSINS TF Tuned 03:44.3
15 Phil GRAY Rave Racing 03:44.6
16 Sandy PLENTY Leisure Lakes 03:45.1
17 Simon HOW 03:50.1
18 Lee HAMMETT Mulisha Crew 04:05.4
19 Paul BLIGHT 04:06.0
20 Paul BOWYER 04:06.1
21 Niall INGRAM Redmist Racing 04:09.0
22 Drew FREEMAN Merlin Cycles 04:29.4
23 Alex SLATER Rave Racing 04:34.6
24 Stephen HARDCASTLE 04:54.7
25 Shaun BEVAN 05:36.8

Race 6 Women Swiss + Swallow
1 Manon CARPENTER 03:39.8
2 Angela COATES Fox Racing/Team CHR 04:30.6
3 Angela PROCTOR Kustom Bikes/Juice Lubes 04:33.2
4 Lianne BARTLEMAN 04:41.7
5 Bex REILLY Uplift Scotland 05:17.6
6 Rose HINDLEY 05:58.0

Race 8 Senior Men Continental Black Chili
1 Tom ATTLEE 03:18.5
2 Oliver BURTON Superstar/AXO 03:19.2
3 Tom SKILLICORN Manx MTB Club 03:19.9
4 Adam PRICE Bike Shed 03:21.6
5 Rhys EVANS 03:21.8
6 Carl BARTLEMAN 03:22.6
7 Martin YOUNG 03:22.8
8 Ben RODGERS All Terrain Cycles 03:24.4
9 Elliot MACHIN RG Squadron 03:25.5
10 Stephen SIMMS Derry Air/Msc Bikes 03:26.0
11 William JONES PS Cycles 03:26.2
12 James McKNIGHT K9 Indus/SB-DH.Com 03:26.9
13 Duncan PORTER Red Mist Racing 03:27.5
14 Gavin BLACK Perth City Cycles 03:29.8
15 Matt INESON 03:30.5
16 Johnathan WEAVER 03:30.7
17 Sean RADCLIFF Merlin Cycles 03:31.2
18 Thomas KELLY 03:31.8
19 Ralph RICHARDSON Bikeoutlet.Co.Uk 03:32.1
20 Robin WEAVER 03:32.2
21 Thomas EVANS 03:32.2
22 Nick TURNER The Development/Orange 03:35.0
23 Tom FRYER Revolution Bikes 03:35.1
24 Andy AYRES Ancillotti 03:35.6
25 Lewis HAWTHORNE Team Skene 03:35.8
26 Jonny LODGE 03:36.3
27 Jason MORGAN All Downhill.Co.Uk 03:37.8
28 Roger VALLER 03:38.4
29 Tim BREEZE Cool Runnings 03:40.2
30 Tom ENGLAND 03:40.5
31 Simon WARD Wentwood DH 03:41.0
32 Jake HANCOCK 03:41.9
33 Robert HINDS 03:43.3
34 John BOLTON 03:43.5
35 Alex ROBERTS 03:44.2
36 Chris COLLINS Pearce Cycles 03:44.9
37 Chris BREEZE Utopia 03:46.2
38 Gavin DUKE Freedom Bikes 03:46.5
39 Nicholas BURTON-LEGGE Red Mist Racing 03:46.5
40 Tom WHANT MTB Direct 03:46.7
41 Chris LAZENBY Bikefax/Ride On 03:46.9
42 Lewis COCHRAN Solway Insulation 03:48.9
43 Thomas CLARKSON Fenwicks/2 Stage/Tuff Cymru 03:51.0
44 Christopher MOORE 03:52.9
45 Jon STOUT 03:58.0
46 Brendan BROWN 04:03.0
47 Chris ASTLE Www.Thebigadventurestore.Co 04:19.3
48 Andrew COOPER 04:51.6
Dale RUSSELL DNF

Race 9 Expert Men Leisure Lakes
1 Jack READING Ellsworth/O Neal 03:02.0
2 Scott MEARS 4 Mountains 03:07.0
3 Alex BOND MSC Bikes 03:09.7
4 Ashley MALLER 03:10.4
5 Jason DAVIES 03:11.7
6 Scott LAUGHLAND Team Castle Melamine 03:12.9
7 Sion WHITECROSS Team Skene 03:13.8
8 Emyr DAVIES Santa Cruz/Howies 03:14.2
9 Mark MILWARD Swinnerton Cyc/Fox 03:14.6
10 Owain JAMES Pearce Cycles RT 03:15.6
11 Ross ANDERSON MSC Bikes 03:16.5
12 Luke MARSHALL 03:17.2
13 James FLINDERS MSC Bikes 03:17.2
14 Richard CHALLINOR Leisure Lakes 03:19.3
15 Jack GEOGHEGAN 03:19.6
16 Liam LITTLE 2 Stage/Knox/KeswickmTB 03:19.7
17 Andrew PHILIPS 03:20.4
18 John HOLBROOK 03:20.9
19 Will SOFFE Torico 03:22.1
20 Joe WINSTON Banjo Cycles 03:23.7
21 Ben WHITEHEAD All Terrain Cycles 03:26.1
22 Seb FROST Just Riding Along 03:26.1
23 Andy WOODVINE Leisure Lakes 03:26.4
24 Michael INMAN Continental/Nicolai 03:27.8
25 Jethro WHITFIELD Leisure Lakes 03:28.9
26 Alastair MacLENNAN 03:29.6
27 Dave VALLER 03:31.7
28 Don HOWE Kustom Bikes 03:33.2
29 Damon SMITH MTB Direct 03:34.5
30 Simon PARSONS Freedom Bikes 03:35.4
31 Rob SCULLION Continental/Nicolai 03:36.3
32 Alistair PARKIN All Terrain Cycles 03:38.2
33 Adam HOLLEYMAN Whight Mountain 03:39.3
34 Gary DRAKE Aw Cycles 03:44.6
35 Robert WILLIAMS Team Skene 04:07.9
Rob YOUNG Cross Trax DNF