Follow us here:
Share this article here:
Report: British Mountain Bike Series Round 5
Newnham Park, 26 September 2009
Report & Images: Joolze Dymond (www.joolzedymond.com)
Link: Newnham 60 Enduro Report | Night Cyclo-Cross Report
The final round of the 2009 British Mountain Bike series was the centre-piece of a packed weekend of action at the ever-popular Newnham Park venue near Plymouth, with XC relay racing, the Newnham 60 Enduro and a night Cyclo-Cross race also adding to the mix. But first up was that all-important final run out for the country's leading XC racers before the winter break.
---
Rider Comments - find out what the riders had to say after a hard day's racing on the tough Newnham course. Amongst the many riders Joolze Dymond spoke to were Gunn-Rita Dahle, Oli Beckingsale and Annie Last.
Joolze Dymond's "View from a ditch" - our mud-spattered reporter picks out her highlights from a busy weekend and reflects on the end of another long summer of XC racing
---
Joolze's Photos - to buy prints etc visit www.joolzedymond.com
Elite race reports
Perhaps the race of the day came in the Elite women's category. A cracking field that included multi world champion Gunn-Rita Dahle Flesja, had something of an end of era feel about it. Regular contenders Mel Spath and Jenn O'Connor were lining up for the last time before returning to their native Germany and New Zealand, respectively. And with a new generation of riders coming through, the dynamics of this category are likely to be very different when it re-convenes next spring.
But, back to the racing, and it was Kate Potter who led the field out of the arena and as they all came round at the end of the lap, she and Annie Last were some 20 seconds clear of a group of three, featuring Sue Clarke, Mel Spath and Gunn-Rita Dahle Flesja.
Annie Last and Kate Potter battle it out at the front, whilst at the course side there's some great advice being handed out by these three young spectators
Gunn-Rita Dahle Flesja was a welcome addition to the women's field
Kate and Annie continued to bash out the quickest laps throughout, working together at times, but also looking for opportunities to pressure each other. Annie was looking very good on the many technical descents, whilst Kate was trying to use her strength to stretch the younger rider on the climbs. But it was all to no avail and the pair of them came into the finish straight still together and finally, Last was able to make the decisive move, showing all her hunger and aggression in a sprint which Kate simply couldn't match.
Sue Clarke broke free of her companions on the second laps and soloed in to finish in third, with Mel Spath fourth. Gunn-Rita Dahel Flesja cruised into fifth.
The Norwegian legend was happy with her day's work at the finish, as she builds back up to full fitness after the birth of her son, Bjorn, back in April. She was particularly happy to be back at Newnham, the venue fore her first ever World Cup race and also her first World Cup win. And based on her past exploits and her current determination to get back to 100%, don't write off a return to the very top of the sport for her in 2010.
Jenny Copnall was sixth and missed out on the overall series win - a prize she has made her own in recent years - which went to Kate Potter. Just behind her was Maddie Horton, who put in yet another great ride. Maddie plans to up her training significantly for 2010, so she's anothe r looking to be in the mix next season.
Oli Beckingsale doing what he does best - climbing!
The elite men's race was also a cracker. The Newnham course had been cranked up to its most tricky by organizer Martyn Salt, with the re-introduction of the famous pipeline descent and some more tricky jumps and corners in the bluebell wood. Throw in the presence of Liam Killeen and two top-class Czech visitors, Jiri Hudecek and Kristian Hynek and the scene was set for some pretty challenging racing.
Off the start it was Oli Beckingsale and Lee Williams leading the field up the first climb, with Hynek, Dave Fletcher and Hudecek hard on their heels.
As the race settled down, it was Beckingsale and Hynek who began to dominate, knocking out a series of very fast laps. Liam Killeen is reported to have crashed - probably on the pipeline descent - and although he carried on, a ripped jersey was testament to the force of the crash and he eventually retired after three laps.
Liam Killeen sports a ripped jersey, left, whilst Lee Williams powers on, right
Lee Williams paid a little for his fast start and gradually drifted backwards to finish a still impressive sixth. Paul Oldham, who was badly handicapped by a recently dislocated shoulder, started steadily, but worked his way through in the later stages to finish a deserved fifth.
Back near the front of the race, Fletcher and Hudecek were in touch with the leaders for much of the race. Flecher in particular looked very strong over the last couple of laps.
However, the battle for the win was to take unexpected turn, when on the last lap Hynek, who had been with Beckingsale throughout, picked up a puncture. Beckingsale was able to cruise in for what was in the end, a very impressive and comfortable win. Hudecek just held off Fletcher to take second, whist Hynek did a good job fixing the flat and coming in fourth.
Round-up of the other categories
The expert women's category saw a new winner, with Maxine Filby taking it by two minutes from Emma Smith, who has otherwise dominated the season. Filby is coming to the end of a remarkable first year of racing, which has seen her move rapidly through the ranks, from sport to expert.
With Scott Thwaites, who has been unbeatable this season, absent, the expert men's race was there for the taking. Sion O'Boyle has been runner up too many times to mention this year, but even without Scott racing, he was doomed once again to be second, behind Giles Drake, with Phil Lenney in third. The word on Scott Thwaites is that he's leaving his off-road roots and concentrating on the road in future. He's a very talented rider and a big loss to both Mountain biking and 'Cross, where he has excelled.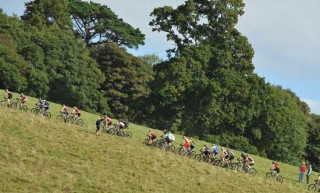 This year's Junior men's category has seen some epic encounters between Steve James and Kenta Gallagher. However, this time James was in a class of his own, steaming away from the start, never to be seen again. Despite starting after them, he caught the entire expert field and was working his way through the elites when he crossed the line. Gallagher was having a bit of an off day, so the battle for second was wide open, with Luke Gray coming through to claim it, a nice result following his recent recovery from a broken pelvis. Nat Jarvis was a popular third.
Ruby Miller was once again in a class of her own in the Junior women's race, winning by a clear 5 minutes: she too looks set to turn her back on off-road competition in favour of Road and Track.
In the Grand-veteran races, Debbie Burton was the only female competitor. However, as ever, the men's race was one of the best, with Ian Wright taking a narrow win over Gregor Grant, with the living legend that is Roy Hunt third. Roy's again hinting at retirement, but it would be a great shame to lose such a popular and whole-hearted competitor.
The Juvenile races saw relatively straight-forward wins for Lucy Grant and Ben Miller, both by over a minute. Grant Ferguson was almost three minutes clear in the Youth male race, a huge margin in a 3 lap race. However, Katy Winton and Hannah Barnes had an amazing battle in the Youth female race. Katy got off to a flyer and was 22 seconds up at the bell, but Hannah came roaring back at her and only missed out on the win by 2 seconds.
In the Vets' races, Anna Murray looked totally at home on the tricky Newnham course tin the women's race by a clear four and a half minutes from Nicky Hughes. The men's race was somewhat closer, with Lewis King and Richard john having a very close battle until just after the half-way mark, when Lewis broke clear and went on to win by 22 seconds. Vic Barnett won the Super-vets race.
In the Masters' categories, Alli Northcott, who has until recently been more associated with riding the road and before that, adventure racing, was a runaway winner of the women's race, some three minutes clear of Kim Hurst. Phil Morris took a tense men's race: he had Matt Dennis and Matt Barrett for company for 3 laps. Matt Barratt cracked first, conceding almost two and half minutes to Phil in the last 2 laps. Matt Dennis was a tougher nut, hanging on just off Phil's wheel for most of the last two laps, but he was ultimately unable to bridge the gap and lost by just 15 seconds.
Elite Female
1 Annie Last Halfords - 5 laps in 01:53:58
2 Kate Potter Cotic Bontrager Race Team - 5 laps in 01:54:00
3 Sue Clarke Scienceinsport.com - 5 laps in 01:56:10
4 Melanie Späth Cycleways/TorQ/KCNC - 5 laps in 01:56:43
5 Gunn-Rita Dahle Flesja Multivan Merida - 5 laps in 01:59:30
6 Jenny Copnall Look Racing Team - 5 laps in 02:00:31
7 Maddie Horton Team Certini - 5 laps in 02:00:48
8 Caitlin Elliott UCD Dublin - 5 laps in 02:02:41
9 Jenn O`Connor Altura Patterson Training - 5 laps in 02:03:03
10 Lily Matthews Halfords - 5 laps in 02:04:43
11 Ciara Macmanus - 5 laps in 02:05:16
12 Melanie Alexander Element Racing - 5 laps in 02:06:37

Elite Male
1 Oli Beckingsale Giant - 6 laps in 01:53:39
2 Jiri Hudecek Scott Hagget - 6 laps in 01:55:15
3 David Fletcher Halfords - 6 laps in 01:55:36
4 Kristian Hynek Scott Hagget - 6 laps in 01:56:56
5 Paul Oldham HOPE FACTORY RACING - 6 laps in 01:58:19
6 Lee Williams Team Wiggle - 6 laps in 01:58:30
7 Jody Crawforth Arctic Premier RT - 6 laps in 01:58:53
8 Christopher Minter pedalon.co.uk - 6 laps in 02:00:06
9 Andrew Blair Redshift Racing - 6 laps in 02:01:18
10 Tim Dunford Team Torq - 6 laps in 02:02:31
11 Mineur Laurent Section Hennuyere - 6 laps in 02:02:31
12 Chris Andrews Orange Monkey - 6 laps in 02:02:38
13 Simon Ernest AW Cycles.co.uk/Giant - 6 laps in 02:02:42
14 Sebastian Batchelor Sandy Wallace Cycles - 6 laps in 02:04:01
15 Ryan Sherlock Cycleways/TorQ/KCNC - 6 laps in 02:04:50
16 Ben Thomas Mountain Trax/ Yeti/ Magura/ Torq - 6 laps in 02:05:12
17 Anthony O`Boyle Mojo-Orange - 6 laps in 02:05:53
18 Andrew Cockburn Cambridge CC - 6 laps in 02:06:26
19 John Whittington Bath University - 6 laps in 02:07:11
20 Ross Adams Red Kite Cycles - 6 laps in 02:08:06
21 Hamish Batchelor Sportscover - 6 laps in 02:09:19
22 Yanto Barker Le Col-Colnago - 6 laps in 02:10:14
23 Mateusz Wielgos Beyond specialized west drayton mbc - 6 laps in 02:12:32
24 Richard Felle Thinkbike - 6 laps in 02:12:57
25 Euan Adams Red Kite Cycles - 6 laps in 02:14:37
26 Chris Baddick University Of Bath - 6 laps in 02:16:53
27 Richard Mardle Felt Racing - 5 laps in 01:53:49
28 Grant Leavy Forza Cycles - 5 laps in 01:56:30
29 Michael Dennis Speed River Bicycle - 5 laps in 01:59:01
30 Andrew Howett SWCC/Station Fitness - 5 laps in 02:15:27
31 Liam Killeen Trek World Racing - 3 laps in 00:57:53
32 Robin Seymour Colnago Marzocchi - 3 laps in 00:59:54
33 Stu Bowers SCOTT UK - 3 laps in 01:06:08
34 Oliver Holmes MINI Adventure Racing - 3 laps in 01:23:08
35 Adrian Lansley PedalOn.co.uk - 2 laps in 00:39:51
36 Gareth Montgomerie Colnago Marzocchi - 2 laps in 00:41:20
37 Paul Beales Orange Monkey - 2 laps in 00:42:11
38 Dave Collins TeamSIS.com - 1 laps in 00:19:40
39 William Bjergfelt Whyte Bikes - 1 laps in 00:19:44
40 Paul Robertson MSC bikes/Sportstest - 1 laps in 00:20:26
Expert Female
1 Maxine Filby A5 Rangers - 4 laps in 01:46:50
2 Emma Smith Sigma Sport - 4 laps in 01:48:50
3 Jessica Roberts Mischeif Card - 4 laps in 01:50:32
4 Rachel Fenton Over the Hill Racing/Ben Hayward Cycles - 4 laps in 01:54:56
5 Ruth Owen-Evans - Yeti Cycles UK 4 laps in 01:57:00
6 Hannah Welling Sludge racing - 4 laps in 02:10:26
7 Lou Robins RAF CC - 2 laps in 00:57:29
8 Katie Collins - 2 laps in 01:06:58
Expert Male laps in
1 Giles Drake MSC Bikes - 5 laps in 01:45:50
2 Sion O`Boyle Mojo-Orange - 5 laps in 01:46:54
3 Phil Lenney ACTIV/springstarter.com - 5 laps in 01:47:56
4 George Budd Salsa Factory Racing - 5 laps in 01:49:22
5 Christian Aucote Yeti Factory Racing/Chris King - 5 laps in 01:52:00
6 Eric Pettett www.psyphi.net - 5 laps in 01:52:03
7 Sean Frost - 5 laps in 01:52:58
8 Gary Record VC Deal - 5 laps in 01:53:01
9 Alex Kinvig Kuk Kinesis - 5 laps in 01:53:03
10 Chris Lane Torq/Kona - 5 laps in 01:55:05
11 James Hampshire XCracer.com 29ers - 5 laps in 01:55:07
12 Simon Allard OFFCAMBER-BLANDFORD - 5 laps in 01:56:44
13 Warren Bates Mountain Trax - 5 laps in 01:57:35
14 Jon Cruikshank team larkfield cycles - 5 laps in 01:58:37
15 Chris Dobson Geared Bikes - 5 laps in 02:00:13
16 Sam Whittlesea Shred Racing - 5 laps in 02:00:32
17 Ross Mallen RAF CC - 5 laps in 02:01:30
18 Scott Chappell pedalon.co.uk - 5 laps in 02:09:13
19 Robert Davies - 2 laps in 00:49:34
20 James Williams Mtb-marathon.co.uk - 1 laps in 00:20:53

Grand Veteran Female
1 Debbie Burton Activ/Trek - 2 laps in 00:53:49

Grand Veteran Male
1 Ian Wright Raleigh Avanti RT MTrax cyclelife.com - 4 laps in 01:27:53
2 Gregor Grant - 4 laps in 01:28:18
3 Roy Hunt Colnago - 4 laps in 01:31:37
4 John Galway KeswickBikes.co.uk - 4 laps in 01:31:42
5 Bruce Rollinson JD Cycles.co.uk - 4 laps in 01:33:19
6 Philip Buick Salsa Factory Racing - 4 laps in 01:38:38
7 Paul Warner Team Darenth - 4 laps in 01:42:41
8 Greg Fitzpatrick Malvern Cycle Sport - 4 laps in 01:43:31
9 Steve Whitehouse - 4 laps in 01:44:47
10 Garrett Hill - TEAM ZEROFOUR 4 laps in 01:45:15
11 Tim Stowe M I RACING - 4 laps in 01:45:23
12 Kim Marks Leisure Lakes RT - 4 laps in 01:45:46
13 Malcolm Bow Speed River - 4 laps in 01:47:41
14 Richard Irvine Gill Cycles - 4 laps in 01:50:51
15 Trevor Patey Mountain High - 4 laps in 01:54:39
16 Dave Poole SRC/The Bicycle chain - 4 laps in 02:01:42
17 Phil Jones Crosstrax - 4 laps in 02:10:52

Junior Female
1 Ruby Miller - 3 laps in 01:17:55
2 Carla Haines - AKO Ducati Corse Womens Cycling Team UK 3 laps in 01:22:55
3 Danielle Rider sherwood pines polaris - 3 laps in 01:29:20

Junior Male
1 Steve James Mountain Trax - 4 laps in 01:21:15
2 Luke Gray HARGROVES CYCLES/TRANT/NEXT/SCOTT/GSI - 4 laps in 01:25:02
3 Nat Jarvis Orange Monkey - 4 laps in 01:26:02
4 Ben Roff Orange Monkey - 4 laps in 01:28:47
5 Matthew Jones Cwmcarn Paragon RC - 4 laps in 01:29:16
6 Kenta Gallagher 777 Racing/Mavic/Kudubikes.co.uk - 4 laps in 01:31:42
7 Aron Marshall Sherwood Pines Cycles - 4 laps in 01:32:18
8 James Harman Team MK - 4 laps in 01:35:30
9 Hamish Fletcher-Cooney Gill Cycles - 4 laps in 01:37:14
10 Sam Sayers Leicestershire Road Club - 4 laps in 01:47:45
11 Mike Garrett Dirty jo bikes/ bude cc - 3 laps in 01:16:05

Juvenile Female
Pos Name Team/Sponsor Laps laps in Time
1 Lucy Grant Glentress Riders - 2 laps in 00:52:43
2 Louise Borthwick Edinburgh - 2 laps in 00:53:54
3 Jenna Fenwick Stepping Stanes - 2 laps in 00:55:18
4 Alice Barnes Palmer Park Velo - 2 laps in 00:57:02
5 Imogen Buick Salsa Factory Racing - 2 laps in 00:59:44
6 Gretel Warner - Team Darenth 2 laps in 01:01:29
7 Rosie Crumpton Halesowen A & CC - 2 laps in 01:10:03
8 Sarah Lomas Matlock CC - 1 laps in 00:34:48

Juvenile Male
1 Ben Miller - 2 laps in 00:43:44
2 Cameron Balfour peebles cycling club - 2 laps in 00:45:04
3 Stuart Wilcox i-Cycles/ Inners MTB Racing/ MSC - 2 laps in 00:45:58
4 Iain Paton Square Wheels - 2 laps in 00:46:24
5 Joe Kirkham vclong eaton - 2 laps in 00:47:07
6 Harvey Lowe G.A. Cycles - 2 laps in 00:48:18
7 Ed Welsh - 2 laps in 00:50:20
8 Josh Parkin Herne Hill Youth CC - 2 laps in 00:50:27
9 Liam Keynes 1st gear cycles / felt bikes - 2 laps in 00:51:19
10 Liam Cowell Team Darenth - 2 laps in 00:53:55
11 Sam Beckingsale Abergavenny Road Club - 2 laps in 00:54:59
12 Jonathan Marks LEISURELAKES RT - 2 laps in 01:07:28
13 Chris Oakley XMTB McConvey Cycles - 2 laps in 01:10:53

Master Female
1 Alli Northcott Shred Racing - 4 laps in 01:36:40
2 Kim Hurst Owens Cycles - Scott - 4 laps in 01:39:55
3 Ruth Mordaunt Altura Patterson Training - 4 laps in 01:45:30
4 Malin Tindberg West Drayton MBC/Beyond MTB/Specialized - 4 laps in 01:48:17
5 Emma Bradley TORQ/KONA - 4 laps in 01:55:30
6 Stephania Magri Squadra Donne/Pedal Power Malta - 4 laps in 02:00:30
7 Kirsty Eastwood A Quick Release.com - 4 laps in 02:02:52

Master Male
1 Phil Morris XCracer.com 29ers - 5 laps in 01:43:10
2 Matthew Dennis Yeti Uk - 5 laps in 01:43:25
3 Matt Barrett Raleigh - 5 laps in 01:45:49
4 Stephen James TORQ - 5 laps in 01:46:42
5 Mark Hutt AW CYLES/ GIANT - 5 laps in 01:47:20
6 Andrew Patterson Altura Patterson Training - 5 laps in 01:48:03
7 Paul Hopkins OFFCAMBER of BLANDFORD - 5 laps in 01:48:15
8 Joe Mccall Rocky Mountain - 5 laps in 01:48:31
9 Paul Newnham ERC - 5 laps in 01:50:04
10 Darren Alexander Mini Adventure Racing - 5 laps in 01:50:17
11 Andy Plewes RNRMCA CSR - 5 laps in 01:50:30
12 Lloyd Bettles KCNC - 5 laps in 01:50:45
13 Nick Onslow Pedalon.co.uk - 5 laps in 01:51:24
14 Jay Horton Team Certini - 5 laps in 01:51:36
15 Jamie Norfolk pedalon.co.uk - 5 laps in 01:52:00
16 Adrian Scott Phill Corley - 5 laps in 01:52:21
17 James McCluskey IMBRC - 5 laps in 01:52:44
18 Matthew Spurgin - Evans Cycles RT 5 laps in 01:53:52
19 Christopher Rathbone websters/specialized - 5 laps in 01:53:52
20 Mark Spratt - 5 laps in 01:55:03
21 Matt Lewis XCracer.com 29ers - 5 laps in 01:56:43
22 James Gleave - 5 laps in 01:56:49
23 Stuart King Ridebike.co.uk - 5 laps in 01:58:25
24 Ben Cook JD Cycles Ilkley - 5 laps in 01:59:40
25 Jon Barnbrook Pronghorn Racing - 5 laps in 01:59:43
26 Alistair Lovell Royal Navy - 5 laps in 02:00:17
27 Simon Lesser Primera / UK-Biking - 5 laps in 02:00:20
28 Paddy Daly Rocky Mountain - 5 laps in 02:00:22
29 Simon Smith Johns Bikes RT - 5 laps in 02:00:27
30 James Bovey - 5 laps in 02:00:28
31 Sean Scott Sportstest / Wafe - 5 laps in 02:00:38
32 Steve McCulley - Royal Navy & Royal Marines CA 5 laps in 02:02:16
33 Darren Ryden Seventeen11 - 5 laps in 02:02:59
34 Stefano Detomaso Beyond/specialized/wdmbc - 5 laps in 02:03:34
35 Neil Johnson - 5 laps in 02:06:15
36 Robert Rowe - Forza Cycles/TORQ 5 laps in 02:06:42
37 Richard Bettaney - 5 laps in 02:06:56
38 Alan Colville Alan Colville - 5 laps in 02:08:26
39 Bjorn Suetens Brighton Excelsior - 5 laps in 02:13:52
40 Pete Dawe Southforkracing - 5 laps in 02:14:58
41 Dan Lewis RAF CA - 4 laps in 01:25:26
42 Gary Jennings Shred Racing - 4 laps in 01:48:36
43 Gary Lingard London Phoenix - 3 laps in 01:04:47
44 Scott Rose Westbrook Cycles - Team Scott - 3 laps in 01:07:40
45 Martin Stephens Yogi - 3 laps in 01:18:41
46 Chris Slough - 3 laps in 01:40:01
47 Ian Ferguson - 3 laps in 02:11:33
48 Scott Forbes Pedalon.co.uk - 2 laps in 00:41:37
49 Gerald Tudor Owens Cycles - Mule Bar - 2 laps in 00:43:36
50 Roy Davies Roy Davies Cycles - 2 laps in 00:44:20
51 Shane Lawton RNRMCA - 1 laps in 00:29:50

Open Female
1 Rachel Clay Filthy Foxes - 2 laps in 00:52:50

Open Male
1 James Crask - 3 laps in 01:11:33
2 Martin Lenney Springstarter.com - 3 laps in 01:12:37
3 Paul Isaacs Pedalon.co.uk - 3 laps in 01:13:38
4 Richard Lang Primera - 3 laps in 01:13:39
5 Michael Blaen - 3 laps in 01:16:20
6 Ronnie Ogilby xmtb McConvey Cycles - 3 laps in 01:23:22
7 Martyn Wilson Marlen Motors - 3 laps in 01:23:27
8 Gordon Markus - 3 laps in 01:24:42
9 Ben Murray KTM POD - 3 laps in 01:27:48
10 Peter Hall uk-biking.net - 3 laps in 01:27:54
11 Gary Hall Uk-Biking.net - 3 laps in 01:28:04
12 Mike Barrie - 3 laps in 01:31:22
13 Andrew Yeoh - 3 laps in 01:32:18
14 Damien Corrigan - PedalOn 3 laps in 01:34:16
15 Ryan Griffithis - 3 laps in 01:36:02
16 Mark Minton Plymouth Corinthian CC - 3 laps in 01:39:45
17 Robin Howett - 2 laps in 00:56:34
18 Tom Edwards Squadrun LIOL - 2 laps in 01:00:42
19 Paolo Ditale Beyond MTB Specialized WDMBC - 2 laps in 01:29:00

Sport Male
1 Martin Delves beyond/ specialized/wdmtb - 4 laps in 01:24:49
2 Serge Hunt Petracycles/SMG Vans - 4 laps in 01:26:12
3 Ben Price Bike Shed - 4 laps in 01:27:59
4 Russell Turner - 4 laps in 01:28:12
5 David Beskeen Psyclewerx - 4 laps in 01:28:36
6 Neil Hayward Leisure Lakesbikes.com - 4 laps in 01:30:46
7 Stuart Harvey Owen Cycles/Scott - 4 laps in 01:31:16
8 Scot Easter Royal Navy / Royal Marines - 4 laps in 01:31:24
9 Trevor Allen USE Exposure lights - 4 laps in 01:32:27
10 Darrell Upton Mammoth Lifestyle - 4 laps in 01:32:39
11 Chris Edwards - 4 laps in 01:32:58
12 Luke Eggar Southforkracing.co.uk - 4 laps in 01:35:23
13 Steven Birch Bike Shed - 4 laps in 01:35:48
14 Phillip Buckham-Bonnett Cambridge University Cycling Club - 4 laps in 01:37:29
15 Steve Wood Sherwood Pines Cycles - 4 laps in 01:37:45
16 Tom Ward Koxx UK - 4 laps in 01:37:48
17 Dave Lawton Torq / Kona - 4 laps in 01:38:14
18 Tim Buckley - 4 laps in 01:42:00
19 R Smith Royal Navy CA - 4 laps in 01:43:26
20 Christopher White Mountain Trax - 4 laps in 01:43:48
21 Tim Skinner Extreme Sports Therapy/CCN - 4 laps in 01:45:52
22 Gareth Hayes Beyond 925/HRCycles - 4 laps in 01:49:39
23 Hugo Davies - 4 laps in 01:51:52
24 Andy Shenton Swinnerton Cycles / Lyme Racing - 4 laps in 01:59:31
25 Mark Field MSC Bikes - 2 laps in 00:45:48

Super Veteran Male
1 Victor Barnett welland valley cc - 3 laps in 01:13:50
2 Graham Faulkner - Team Torq 3 laps in 01:41:34

Veteran Female
1 Anne Murray - 3 laps in 01:22:11
2 Nicky Hughes Activ Cycles - 3 laps in 01:26:36
3 Sally Daw Team Sludge Racing - 3 laps in 01:29:36
4 Kate Wheeler - Climb on Bikes RT/Endura 3 laps in 01:30:46
5 Carol Tilley Ride - 3 laps in 01:44:05

Veteran Male
1 Lewis King beeline bicycles - 4 laps in 01:25:51
2 Richard John - 4 laps in 01:26:13
3 Mark Cracknell awcycles.co.uk - 4 laps in 01:27:18
4 Darren Shepherd www.primera-sport.co.uk - 4 laps in 01:27:23
5 Mark Chadbourne ridebike.co.uk - 4 laps in 01:27:33
6 Roland Tilley Ride - 4 laps in 01:28:36
7 Andy Weaving Climb on Bikes/Giant/Endura - 4 laps in 01:29:30
8 Robin Smith Systemic Fisal Reform Group - 4 laps in 01:31:10
9 Paul Hudson Sprockets.uk.com - 4 laps in 01:32:39
10 Ross Porter Mojo Orange - 4 laps in 01:32:54
11 Dean Frost Offcamber - 4 laps in 01:33:14
12 Gary Andrews Team Certini - 4 laps in 01:33:35
13 Steve Jones AWCycles.co.uk - 4 laps in 01:34:27
14 Andy Hull - 4 laps in 01:34:59
15 Nigel Brown Spambiking - 4 laps in 01:35:29
16 Mark Hardwicke - bournemouth arrow cc 4 laps in 01:35:56
17 Andrew Parsons - off camber 4 laps in 01:36:45
18 Dean Morgan Cyclezone - 4 laps in 01:37:03
19 Paul Gibbons Climb On Bikes RT. Giant - 4 laps in 01:37:17
20 Peter Bromwich - 4 laps in 01:38:32
21 Ashley Roles - Witney Wheelers 4 laps in 01:38:56
22 Stephen Mcgrath Worcester Cycle Centre - 4 laps in 01:39:21
23 Patrick Stokes - 4 laps in 01:39:28
24 David Wadsworth Beeline Bicycles - 4 laps in 01:40:43
25 Lee King beeline bicycles - 4 laps in 01:41:04
26 Gaz Strickland - 4 laps in 01:43:10
27 Edward McParland Bronte Wheelers - 4 laps in 01:46:51
28 Chris Roberts - 4 laps in 01:50:36
29 Richard Gostick - 4 laps in 01:51:26
30 Gary Kondor SHERWOODPINES Cycles/ Polaris/ Scott uk/ Mavic - 4 laps in 01:54:06
31 Keith Rusling RAFCC CSR - 4 laps in 01:57:31
32 Grant Jackson - 4 laps in 02:22:01
33 Keith Sheridan corinium cc - 3 laps in 01:09:54
34 Adrian Parry West Drayton MBC - 3 laps in 01:21:27
35 Stuart Pickering - www.cyclelogic.co.uk 2 laps in 00:49:29
36 Stuart Ross Exeter Wheelers - 2 laps in 00:50:43
37 Martin Aldridge - 1 laps in 00:25:17
38 Craig Flynn cruco - 1 laps in 00:30:55

Youth Female
1 Katy Winton - Glentress Riders/The Hub in the forest 2 laps in 00:50:40
2 Hannah Barnes - Pinarello RT 2 laps in 00:50:43
3 Hollie Bettles XCracer.com/Trek - 2 laps in 00:53:15
4 Hannah Ferguson Glentress Riders - 2 laps in 00:54:09
5 Claire Oakley XMTB McConvey Cycles - 2 laps in 00:58:46
6 Aimee Ogilby xmtb McConvey Cycles - 2 laps in 01:18:06

Youth Male
1 Grant Ferguson Dooleys Cycles - 3 laps in 01:00:06
2 Matt Sumpton Matlock CC - 3 laps in 01:02:58
3 Joseph Home K Home International - 3 laps in 01:03:40
4 Alex Baker Orange Monkey - 3 laps in 01:06:36
5 James Hyde - Numplumz Mountainbikers 3 laps in 01:06:58
6 Michael Butcher sandy wallace cycles - 3 laps in 01:07:00
7 Lewis Kirkwood Glentress Riders - 3 laps in 01:07:45
8 Harry Smith - 3 laps in 01:08:32
9 Martin Turton Beyond Mountain Bikes / Specialized / WDMBC - 3 laps in 01:08:37
10 Scott Lindsay - Inners MTB Racing / i-cycles 3 laps in 01:09:35
11 Ryan Keynes 1st gear cycles / felt bikes - 3 laps in 01:10:12
12 Ben Sumner Mountain High - 3 laps in 01:11:18
13 Scott Woodhead Crosstrax - 3 laps in 01:11:30
14 James Birch Shred Racing - 3 laps in 01:11:56
15 Ryan Fenwick Stewartry Wheelers/ MPG Cycles - 3 laps in 01:12:33
16 Nicholas Smith vc jubilee - 3 laps in 01:16:59
17 Jacob Blakemore - 3 laps in 01:45:17
18 Jared Minnican Lakes RC - 2 laps in 00:54:16
19 John Lomas Matlock CC - 1 laps in 00:23:56