For only the third time in eighteen years Britain's best-known XC racer Oli Beckingsale has elected to sit out the World Championships. But as Luke Webber discovers, there is a very good reason why - and that reason is happening this weekend.
Australia. It's a long way to go race for two hours, especially when you know that time will be spent suffering with little chance of a result. Beckingsale's approach to turning down his place at the biggest annual cross country race is expressed that simply. But to take eight weeks off until the World Cup circuit resumes in Switzerland isn't Oli's style, so instead the Marathon World Championships in Austria will be the race which dominates his short-term attention.
To be held this weekend, the Marathon Worlds may have a lesser reputation, but are no less prestigious - so highly sought that last year the rainbow stripes were decided post-race, following a finish line tangle between Christoph Sauser and Roel Paulissen. Sauser may have been first man up and over the line, but Paulissen's protests culminated with the result overturned.
This year both riders will be back for a grudge match - but don't discount Oli - who likens his decision to take on these riders in a race lasting double that of a usual cross country event, to that a sprinter on the road might make.
"You wouldn't get Mark Cavendish to a hilly Worlds - he'd go to Paris Tours. I'm making the smart decision here. When I raced the Canberra track in 2008 I didn't like it. The track is about power, you have to be amazingly technical in the climbing department and it doesn't suit my tempo style. I have had two top tens in the Worlds; last year I had awful luck running up to the race in Val Di Sol and still got a top ten. I could have all the luck in the world for Canberra and I still don't believe top ten is achievable. At the marathon worlds I'm starting at a race that suits me, at a stage in my career where I am either out there to get results for my sponsors or for personal bests - showing up at the Worlds in a few weeks wouldn't help either of those causes."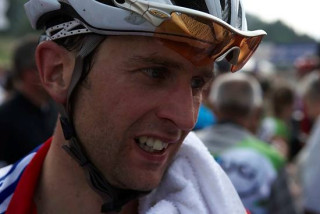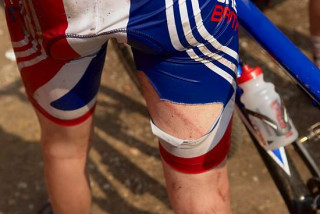 The two sides to Beckingsale -post Worlds 2008
In contrast to technical, punchy climbs the marathon course in Austria will be all about high tempo ascending, ending in a twenty kilometre riverbed descent. And despite having never raced a top-level marathon event, Oli says he is confident of his climbing ability matching the best and isn't concerned by a lack of experience; only considering where he will fit between the riders who focus on cross country year round, versus the few specialists in the discipline.
DECISIONS MADE
The decision to race the Marathon World Championships was made concrete in June - far before selections for the World Cross Country Championships were made. Instead a quick look at the courses and schedules for late season confirmed the best race calendar - or as Oli would graphically put it:
"You don't have to be a genius to figure out that from Austria to Australia and back again for a double World Cup is unsustainable."
But taking that choice to definitively say no to selection was at first a tentative one. Having raced the cornerstone of the mountain bike season since 1992, missing out only in 1995 and 1996, a twelve year habit was one hard to break. But right now there is no hesitation as to whether that was the correct choice to make.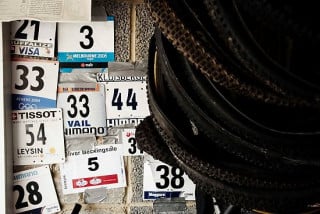 Oli's raceplates. Here we have the 2004 Olympics, 2006 Commenwealths, 2006 and 2008 Worlds.
And while Beckingsale is the only big name so far to dedicate his efforts in August entirely to the Marathon Worlds, he knows that though other big names will travel to both Austria and Australia, a big result isn't an expectation at the latter event.
"For Sauser and Paulissen I think the Marathon World Championships will be their priority. Both of these guys haven't had the results they want on the XC scene in 2009 so they see it as their better chance to get one in the bank. I don't think they believe they will get a result at the Worlds. Every year there are more guys coming up through and not many are retiring so it's getting harder at the top end.
"And Wolfram Kurschat is a threat too; the strongest climber on the circuit." Oli continues.
"Then you have the marathon specialists. Andreas Kluger, Alban Lakata, Thomas Dietch. These guys are pros, this is what they do week in week out. This will be the main question for me - how do I mix with these guys. I can hold on to Roel and Susi for sure because that's been the pattern in the World Cup XC, but in the marathon I am new, so it depends just how long I can hang on for."
TIME OF TRANSITION
Taking on the Marathon event is not just a physical choice however - it also takes a place in what Oli describes to me as a transitional season. Because from 2007 until the Olympic Games in Beijing, a secret battle for selection was ongoing and without strong mental resolve there may have been no continuation of Oli Beckingsale the Olympian.
As Liam Killeen was recovering in 2007, Beckingsale - despite being ill for some of the season - could make no such choice. Had he decided to take a break from the tiring international circuit there would have been only one spot for qualification; a place with Killeen's name on it.

Schladming 2008. End of season - mission accomplished.
So Beckingsale chased points across Europe and by the end of the year had secured Britain a second spot at the Olympics. But despite the hard work it was not the case that this place would be guaranteed to go the way of the Britollian. That form still had to be proven from March through to the World Championships in June; something Oli was well aware of.
"British Cycling - rightly so - have some pretty tight criteria. And all the while they are looking at whether it is worthwhile sending a development rider in place of someone like me. So I had quite a lot to prove. All the way from April to the Worlds I had to be good. I had one easy week post Worlds and trained all the way up to the Olympics. After that I was done, there was nothing left for me to give mentally on a project that I focussed on for two years."

How much? This is exactly what it takes to race at World-class level.
Choosing to relax from such unbroken focus is the decision for 2009 and Oli aims to be "back to 100%" in 2010. But that won't mean riding for the podium at every World Cup. Oli tells me honestly how he's not racing the Absalon's, Hermida's and Stander's any more.
"Those guys are special and on my day, on a course that suits me, I can compete. I proved that in Fort William and at the World Championships last year."
But while those performances proved Oli's ability, it went to underlining that picking battles wisely was just as important. It was no good chasing top thirty performances on courses that simply weren't built for the cyclist who likes to ride a mountain bike.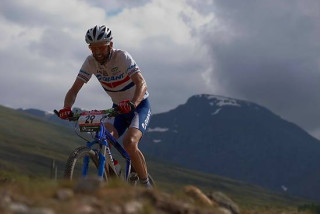 Fort William 2008 - one of the courses most suited to Beckingsale's style, out of commission
PREPARING FOR 2010
And the good news is that for 2010 and beyond race calendars are shaping up to suit Beckingsale in a similar way to 2006 and 2008. Next year starts with Dalby - the first World Cup to be held in England since Plymouth - and is followed by Houffalize; courses which are two favourites. There's also a return to Val di Sol - this time as a World Cup venue - and in the same time-frame the Marathon World Championships fit in. But what about the World Cross Country Championships?
"In 2010 there are a lot of races that are suiting my style - if the double header of Dalby and Houffalize doesn't motivate me I don't know what will - but at the same time I know my limitations. The Worlds course in Mont St. Anne isn't the greatest for me, but I'll at least have a go because the journey isn't as bad as Australia, and there's a World Cup in the States around that time."
Of course by the end of next year there will only be 18 months remaining until the Olympics and the same hunt for points and places that took place in 2007 will likely resume. But this time round it will be one Oli says he will look forward to as his last.
"London is as far as it is going to go; as a long term goal I think I can be there and if I race that race that will be it. The dream would be to go about it in the way that Paul Manning did in 2008 - approach everything as the last chance and then come away with the gold; it was ultimate. He set the bar high. But when you know it is the last time you are doing it, it gives you the extra motivation. I like to do something that pushes me to achieve something and that countdown to the final day, that style of preparation to a deadline is something I am excited by."
With 1080 days to go, the countdown has already started - and if you want to follow Oli on that journey then go to his British Cycling Rider Diary page, the first entry of which will report on what it's really like to race a Marathon World Championships.