On a brutal course Lee Williams took the Welsh Champion's jersey. He was pushed by course designer and race organiser Anthony O'Boyle, who finished a minute down after leading in front of home support until lap four of eight. Melanie Alexander took the Elite women's title.

The Champions deom left to right - U23 Anthony O'Boyle, Women's Melanie Alexander, Men's Lee Williams

Lee Williams has marked his career best season by winning the Welsh XC Championships at Pontypool Park. After a battle with course designer and race organizer Anthony O'Boyle, who led the first four laps in front of a local crowd, Williams would eventually break his younger competitor.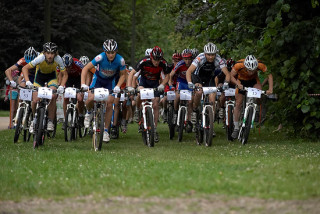 The Elite race started at 2pm in light rain on a course which was dry for the morning races and described by O'Boyle as "no pain, no gain." This rain - heavy at times - lasted for the first 45 minutes of the race and made the terrain treacherous, especially for those still on dry tyres.
Despite being short at two miles the lap wanted for nothing. From the line riders were smashed into a steep climb that required only one gear - the biggest on the block. The rain made gaining traction on this grass track difficult so brute strength was not rewarded. Instead finesse played a major part, echoed on the descent which was fast, through trees and in parts very wet.

Melanie Alexander (left) and Lee Williams (right) - the new Welsh XC Champions
That was something noted by O'Boyle and following rocket starts by Simon Ernest and Seb Batchelor, O'Boyle needed to get to the front for the downhill. Only Lee Williams could follow and on lap one there was a five second gap to the chasers. By lap two the Welsh duo had clearly separated themselves from the chasers, but it was clear that Williams - fresh from two podium finishes in the British XC Series - was the fresher rider.
Maybe it had something to do with arriving on course seven hours previous, or the stress of organizing the event through the week, but by lap five O'Boyle couldn't hang on any longer and had to relinquish the lead to Williams. Not even local knowledge of the descents could help O'Boyle now and he would have to settle for the title of best under-23 rider.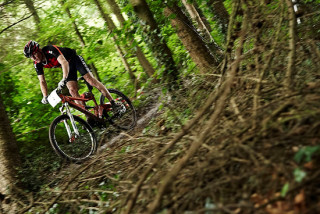 Anthony O'Boyle through the woods
Behind, Batchelor was riding consistently and another O'Boyle was on a stormer. At times just twenty seconds behind Batchelor, Anthony's younger brother Sion was leading the Expert category and putting many Elites to shame and would eventually finish fourth overall.
After the race Anthony O'Boyle was happy to announce that the event has been invited back to the Park for 2010 - and that the success of the race was down to more than just one man.
"I'd like to thank everyone who has helped out and made the event happen - Mojo Suspension, Torfean Council, Pontypool Leisure centre, KCNC and especially all the volunteers. Without them it would have been impossible and it made me even more determined to lead through on lap one!"
The race was one which was met largely with positive comments, and critical acclaim from winner Lee Williams who described it as "a worthy course - it takes someone with a bit of guts to put on something like that."
FURTHER RACE ACTION
It was a far simpler race for sole Elite women's entrant Melanie Alexander. She dominated the task at hand - even if the day didn't start exactly to plan.
"I managed to pack two left shoes in the car, which wasn't ideal! The day got better from there though, the win was a bonus I liked the course and I've been doing a lot of training for the hills so it worked out."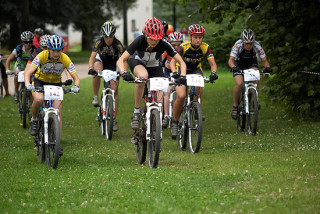 Masters winner Matt Dennis described his race as "utter pain" and claimed that a different choice of rear tyre to his rivals was crucial to victory. He told us that "running a more aggressive Kenda Dread Tread on the rear worked because those guys on racing treads couldn't get any of that power down. That was important on a course where the uphills were horrendous. I like those tough climbing courses, but this was another level of pain."
Junior winners were Ben Roff and Ruby Millar, both taking championship honours. Nina Davies would be confirmed as women's Masters champ and Ian Jeremiah would take the men's Veteran's title.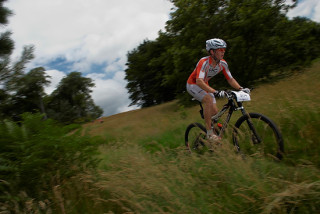 Above Ben Roff on his way to the Junior win and below Ruby Miller who took the Junior women's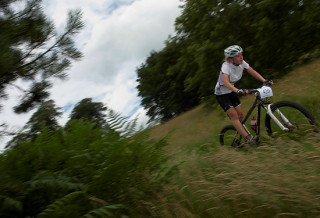 The next big cross country race is the European Championship which we'll be covering throughout the week, so stay tuned for the latest from the Team GB camp.