Downhill Finals
Barel back with a bang, Jonnier cements overall
Fabien Barel is back! After months out of the scene and seven weeks in rehab following a crash prior to the opening World Cup in 2009, Fabien Barel returned to downhill in the way only he knows how - by beating all the big names in Maribor.
Posting a time early in the finals on a drying track, Barel occupied the hotseat for almost the entire top ten riders and didn't flinch once. Only Sam Hill - who tamed Maribor both years previous - could get close, but as rider after rider matched or bettered the Frenchman in the top rocky sector, nobody could equal his efforts on the lower reaches of the course. Setting the fastest speed of over 50km/h on the final trap proved almost impossible to beat (Hill set just 46kp/h despite being two seconds up in the rock garden) - and those that had the opportunity suffered bad luck.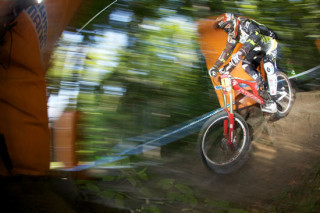 Series leader Steve Peat lost his jersey after a flat rear tyre cost him the race. Up by 0.06 seconds at the rock garden, Peat would eventually drop to the mid-thirties. And there was worse to come for Gee Atherton who was on a mission to rescue his hopes in the overall this weekend. After qualifying first, a crash in the final stages as his front tyre washed out entering the gully-run demoted him to twelfth position.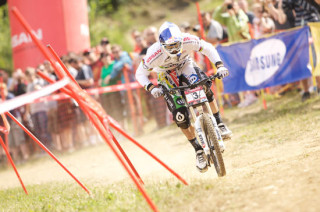 The ride of the weekend went to Greg Minnaar who nearly broke his ankle, crashing in the semi finals and continuing to finish third overall, taking the leader's jersey from teammate Steve Peat. The top Brit finisher was Brendan Fairclough in fifth, adding to his overall credentials and climbing into seventh overall.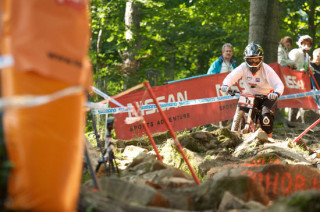 Earlier in the afternoon the women's racing was dominated by French riders in a similar fashion to Fort William. Sabrina Jonnier was fastest woman down with a great ride ahead of Emmeline Ragot who came very close to her first win. Tracy Moseley - who has been instructed by team manager Martin Whitely to "go all or nothing" - unfortunately came away with the latter. Following three crashes in qualifying she crashed again in the finals and effectively ended any hopes of the Series.
World Cup racing returns in five weeks on July 25 for the cross country, downhill and fourcross triple-header at Mont St. Anne, Canada. Set a date in your diary and join us live on British Cycling for all the racing, thanks to Freecaster.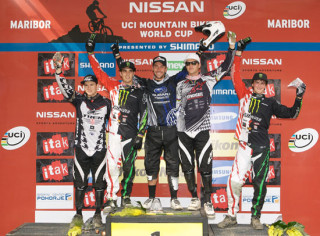 Men's Finals
1. Fabien Barel 3:03:33
2. Sam Hill 3:04:04
3. Greg Minnaar 3:05:36
4. Justin Leov 3.07:65
5. Brendan Fairclough 3:08:50

12. Gee Atherton 3:09:95
38. Steve Peat 3:15:94

Women's Finals
1. Sabrina Jonnier 3:39:59
2. Emmiline Ragot 3:39:90
3. Floriane Pugin 3:43:33
4. Celine Gros 3:48:08
5. Mio Suemasa 3:50:66
8. Ffion Griffiths 04:03:87
9. Tracy Moseley 04:06:05
2009 Downhill World Cup Standings After Mairbor

Elite Men:
1 Greg Minnaar (RSA) Santa Cruz Syndicate 914 pts
2 Steve Peat (GBr) Santa Cruz Syndicate 835
3 Samuel Hill (Aus) Monster Energy/Specialized/Mad Catz 789
4 Gee Atherton (GBr) Animal Commencal 776
5 Michael Hannah (Aus) GT Bicycles 723
6 Justin Leov (NZl) Trek World Racing 551
7 Brendan Fairclough (GBr) Monster Energy/Specialized/Mad Catz 483
8 Samuel Blenkinsop (NZl) Yeti Fox Shox Factory Race Team 386
Elite Women:
1 Sabrina Jonnier (Fra) Team Maxxis-Rocky Mountain Bicycles 1132 pts
2 Emmeline Ragot (Fra) Suspension Center 935
3 Tracy Moseley (GBr) Trek World Racing 810
4 Myriam Nicole (Fra) 607
5 Floriane Pugin (Fra) Iron Horse-Kenda-Playbiker 579
6 Céline Gros (Fra) Morzine-Avoriaz 74 571
7 Mio Suemasa (Jpn) 515
8 Fionn Griffiths (GBr) Norco World Team 425
Downhill Qualifying
Lightning stopped downhill qualifying yesterday, but this morning the sun came out and it was business as usual at Maribor. Gee Atherton is looking on fire, coming down the mountain 3.69 seconds up on Justin Leov in second. Steve Peat was third, Andrew Neethling fourth and strangely Sam Hill only rolled in fifth. Our bet? He's saving it all for the race run!
Other Brits are looking strong - we've got Bendan Fairclough seventh and Josh Bryceland eighth, brand new Junior European Champion Bernard Kerr is stepping it up in twelfth.
In the women's it was a story of crashes and mistakes, Tracy Moseley way down the list, the French duo of Emmeline Ragot and Sabrina Jonnier taking the top two positions.
---
Fourcross Report
Wichman and Buchanan winners, Graves and Kintner hold on to Overall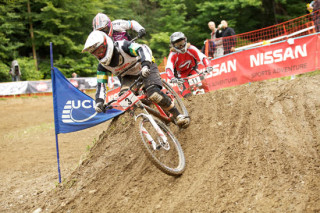 Jared Graves and Jill Kintner have managed to retain their leader's jerseys at round five of the Fourcross World Cup - but it was not a privilege that came easy. Both riders were beaten in their respective finals, had close calls in the qualifiers and will be happy that tonight they still hold top rank in the Overall.
A series of demolition derbies would best describe the route to the finals in Maribor, Slovenia. After a dry qualifying session rains moved in to cut up a course and create carnage. A natural spring had already appeared in the middle section of the track earlier in the week and there was talk of cancelling the event if the rain really came down, but thankfully there was just a slick coating of surface water and one really boggy stretch making for great close racing, constant crashes and wild overtaking attempts.
This was all helped by a revised track which had riders down to walking-speed in some sections, bunching the bikes wheel-to-wheel in the corners. This gave many an opportunity to risk everything for one overtaking move - but for those riders down on horsepower it was a futile race. Both Anita Molcik and Mio Suemasa found the deep mud impossible to accelerate through and despite carrying speed, performed below expectations against stronger riders.
MEN
Graves started the night slowly, scraping through round one in second place and warming up through round two with a solid win, while Joost Wichman showed his form destroying the field. In the quarters Graves was lucky to be alive after Guido Tschugg boosted the main drop and nearly landed on Graves' head, leaving solid tyre mark down the right side of the leader's jersey.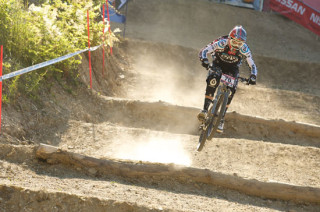 Brit Dan Atherton was having a similarly tough time jostling with World Champion Rafa Alvarez, squeezing through on the final corner and holding it to the line. Unfortunately Will Longden was knocked out in a tough heat after battling with Matej Vitko.
Atherton would only make it one round further - missing another big final, but it was the hardest round of the night. Graves, Wichman and Prokop were the other riders on the line and as the gate dropped Graves missed his pedal and bounced down the start straight! Dead last, he adopted the Blue Steel and in a display reminiscent of Brian Lopes hammered through to second place to make the finals alongside Wichman.
In the second semi Rinderknecht and Saladini qualified leaving Slavic and Vitko to join Atherton and Prokop in the small final which was won by Slavik. Atherton finished second after Prokop looped out on the main drop - nearly repeating the Tschugg-Graves incident.
In the main finals Wichman was the favourite. All night he had been killing it on track and that didn't change for the finals. While Graves had the holeshot he came too fast in to the first corner, drifted wide and opened the door for Joost the Boost and Romain Saladini to pass. Graves fought back to second - clearly in no mood to drop any points he was physical with Saladini in the open turns and bullied him out of the race.
WOMEN
Billed as the Kintner and Beerten showdown, the women's race didn't disappoint. Both riders made their way into the finals and Kintner had astonishing power on the straights making her the favourite. But counting on yourself means nothing in fourcross and Kintner made the same tactical error as in Andorra. On an open turn and in second place the American threw herself into Beerten, taking both herself and her rival down.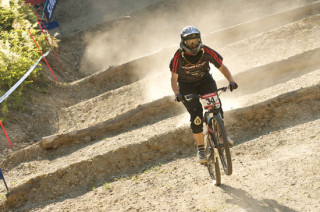 This let Caroline Buchanan through for the win and Melissa Buhl for second. Back up the track Beerten was up first and clawed a few more points back in the overall while Kintner rolled in fourth. You can be sure that she's made no friends on track with her performances here and in Andorra, where she attempted the same move on Jana Horakova.
The Brit show was almost over before the gate dropped as Ffion Griffiths and Katy Curd were eliminated in the opening round. Fortunately for Griffiths her points from the previous four rounds are enough to keep her in third overall - but she can't afford any more mistakes on the World Cup circuit in 2009 should a podium finish be on her mind.
The World Cup Fourcross continues live on July 25 at Mont St. Anne, Canada and you can catch all the action live on British Cycling, thanks to Freecaster.
Fourcross Results
MEN:
1. Joost Wichman
2. Jared Graves
3. Roger Rindeknecht
4. Romain Saladini
Small Final:
1. Tomas Slavik
2. Dan Atherton
3. Matej Vitko
4. Michal Prokop
WOMEN:
1. Caroline Buchanan
2. Melissa Buhl
3. Anneke Beerten
4. Jill Kintner
Small Final:
1. Emmeline Ragot
2. Jana Horakova
3. Mio Suemasa
4. Diana Marggraff
2009 Fourcross World Cup Standings After Maribor

Elite Men:
1 Jared Graves (Aus) Yeti Fox Shox Factory Race Team 550 pts
2 Joost Wichman (Ned) 326
3 Roger Rinderknecht (Swi) GT Bicycles 310
4 Romain Saladini (Fra) Team Sunn 300
5 Michal Prokop (Cze) 200
6 Dan Atherton (GBr) Animal Commencal 166
7 Rafael Alvarez De Lara Lucas (Spa) Specialized Factory Racing 120
8 Luke Madill (Aus) GT Bicycles 100
Elite Women:
1 Jill Kintner (USA) 310 pts
2 Anneke Beerten (Ned) Suspension Center 205
3 Fionn Griffiths (GBr) Norco World Team 225
4 Jana Horakova (Cze) 205
5 Melissa Buhl (USA) 175
Preview:
Overlooking the Slovenian city of Maribor atop of the Pohorje hills the fifth round of the UCI Mountain Bike World Cup is a favourite for the riders and teams. Located at the bottom of a winter ski resort the hills take on a very different guise in summer and while hosting last years opening World Cup is a good track guide, the form book has significantly changed in the past twelve months.
DOWNHILL
On a short course that is hammered at a 30mph average and in contrast to the five minute marathon at Fort William, the form book is little different thanks to a constant barrage of technical sections. Out of the gate riders are straight into the woods with several rooty sections, before a short open stretch leads to the highlight of the course. A massive rock garden through which line choice is vital will be psychologically challenging for everyone - not least of all Josh Bryceland who last year crashed halfway down and didn't stop until the bottom. Mistakes are punished severely here.
Gee Atherton through the rock garden in 2008
The remainder of the track is a similar story, roots, small rocks and usually dusty ground are all relatively simple but turn into a nightmare when you have to carry speed all the way to the finish. There is a jump into the arena but expect anyone taking their time seriously to avoid it and pedal the final ten seconds.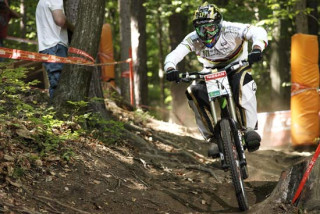 Sam Hill, flat out - the only way he knows how
Sam Hill is the obvious favourite and needs the win to keep any overall hopes alive and break the Santa Cruz Syndicate deadlock at the top of the leaderboard. In 2008 Both Steve Peat and Greg Minnaar put in podium performances, but were a while down on Hill. Gee Atherton is another Brit to watch but usually prefers a steeper track.
Tracy Moseley
The women's race at Fort William was dominated by French riders - all five filling the podium - and something that Brit Tracy Moseley was not massively happy with. For the moment hopes are with Moseley alone to change that trend, along with Helen Gaskell and Ffion Griffiths until the return of Rachel Atherton later in the year. For the moment all smart money would be on Sabrina Jonnier extending her lead at the top of the table.
FOURCROSS
In 2008 the big hitters in fourcross were out on the BMX circuit, qualifying for the Olympics. In their absence Rafa Alvarez took the World Cup Series, but now that Graves, Rinderknecht and Prokop are back for the men, and Kintner for the women, there's a very different order.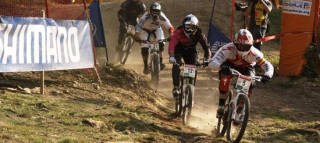 Last year this guy won everything. This year nobody remembers Alvarez.
Graves has dispelled bad luck that followed him for two seasons and has become accustomed to the World Cup way of racing. A convincing lead in the overall and wins at three from the opening four rounds has cemented his development while in the women's both Kintner and Anneke Beerten go wheel to wheel every gate. Brit Ffion Griffiths has already had a standout result in 2009 with three podium finishes and will look to secure her place on the overall, while Dan Atherton has been great or average.
That said, the loose surface at Maribor is notorious for producing crashes in the first two open corners.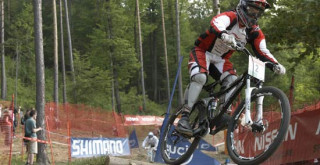 Ffion Griffiths, excelling in 2009 and making the podium her home
2008 Downhill Results, Maribor
Elite Men:
Sam Hill
Julien Camellini
Steve Peat (GBR)
Fabien Barel
Greg Minnaar
Elite Women:
Sabrina Jonnier
Rachel Atherton (GBR)
Emmeline Ragot
Ffion Griffiths (GBR)
Floriane Pugin
Weblinks
Official Event Website
UCI