Fort William MTB World Cup
Gee Atherton was the best of the home downhillers, claiming fourth place
DOWNHILL: Minnar and Jonnier Win Again!
South African Greg Minnaar underlined his fondness for the Fort William track with his second successive World Cup Downhill win at the venue, edging out Sam Hill, who won the 2007 World title on the course, by just over a second. Sam Blenkinsop was third with Gee Atherton the first of the Brits in fourth, with World Cup leader Steve Peat slotting into sixth place. Atherton had earlier qualified fastest, just ahead of Minnaar.
Minnaar has now closed in on Peat at the top of the standings - Steve now leads by a slender 4 points. Gee Atherton is just over 100 points behind in third place.
The Women's race saw a remarkable performance by the French contingent, with Sabrina Jonnier reprising her 2007 Worlds win and four of her compatriots slotted into the next four places behind her, with Emmeline Ragot second and Celine Gros third. Jonnier's win was a crushing defeat for her rivals - of all nationalities - as she cruised in almost 10 seconds clear of Ragot. Best of the Brits was last year's winner Tracy Moseley. Earlier, Jonnier had laid down a marker for what was to come by qualifying fastest, seven seconds clear of Ragot and Moseley. Jonnier now has a big lead in the series as she looks to regain her World Cup title.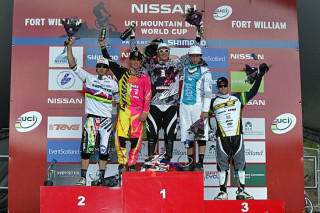 Downhill Men's Podium
Downhill Women's Podium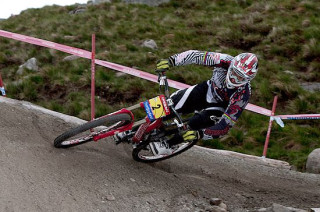 Greg Minnar high on the mountain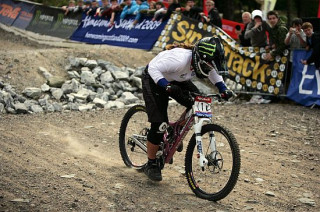 Sabrina Jonnier lands flat out at the bottom of the course

4-CROSS: Graves and Kintner Nail Impressive Wins
Earlier, the Nissan UCI Mountain Bike World Cup Fort William had kicked off on the Saturday evening with a closely fought 4-Cross final at the Nevis Range.
In front of thousands of spectators an ecstatic Jared Graves (AUS) battled to an impressive win, going through the competition unbeaten and successfully defending his win at the venue in last year's event. He also extended his lead at the top of the series standings. Commenting on his win he said; "I'm so pleased to have won, I really wanted to take first place in Scotland. I'd had a really great start to the run which set me up fantastically and allowed me to gain an advantage over the other riders."
Second place went to Frenchman Romain Saladini who said; "In the last few races I have made it to the semi-finals but I've not been in the final. Second place is a really strong result - it's like a win for me and I'm really happy."
Despite an absence of Brits on the podium, Dan Atherton - knocked out in the quarter-final stage and Scott Beaumont - hampered by a rear puncture in the semi-final - made a valiant attempt to conquer the competition, with a supportive crowd behind them.
In the women's 4-Cross it was the legendary Jill Kintner (USA) taking first place, whilst there was plenty for the home crowd to cheer as Fionn Griffiths continued her consistent season with third place.
Following the awards ceremony, Jill Kintner (USA) said; "I had a really good start today so I'm so delighted to have made it to first place, I'm just thrilled!'' After the final Fionn Griffiths said; "I'm really happy to have got through to third place today I'm delighted with my performance as the competition was really tough out there."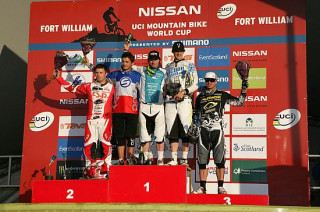 4-Cross Men's Podum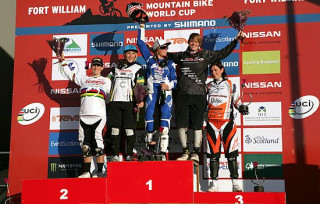 4-Cross Women's Podum
More Images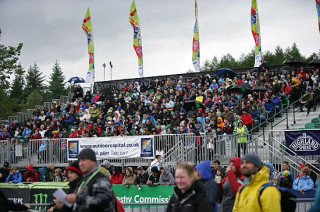 Even for qualifying, the crowds were huge
Steve Peat (left) and Gee Atherton relect on their qualifying rides
Greg Minnar salutes and then later toasts his win

Sam Dale rails round one of the berms high on the hill
Results
Men's Downhill
1 Greg Minnaar (RSA) Santa Cruz Syndicate 4.38.98
2 Samuel Hill (Aus) Monster Energy / Specialized / Mad Catz 0.01.45
3 Samuel Blenkinsop (NZl) Yeti Fox Shox Factory Race Team 0.02.87
4 Gee Atherton (GBr) Animal Commencal 0.02.99
5 Michael Hannah (Aus) GT Bicycles 0.04.15
6 Steve Peat (GBr) Santa Cruz Syndicate 0.05.63
7 Josh Bryceland (GBr) Santa Cruz Syndicate 0.07.17
8 Matti Lehikoinen (Fin) MS Evil Racing 0.07.46
9 Aaron Gwin (USA) Yeti Fox Shox Factory Race Team 0.07.74
10 Marc Beaumont (GBr) GT Bicycles 0.08.36
11 Justin Leov (NZl) Trek World Racing 0.09.35
12 Steve Smith (Can) MS Evil Racing 0.09.39
13 Bernat Guardia Pascual (Spa) Massi 0.09.41
14 Chris Kovarik (Aus) Chain Reaction Cycles/Intense 0.09.98
15 Fabien Barel (Fra) Subaru Mountain Bike Pro Team 0.10.91
16 Fabien Pedemanaud (Fra) Scott 11 0.11.43
17 Robin Wallner (Swe) 0.11.54
18 Nick Beer (Swi) Scott 11 0.12.07
19 Duncan Riffle (USA) Duncan Riffle Racing 0.12.18
20 Danny Hart (GBr) Lapierre Powered By Saab Salomon 0.12.45
other GB
22 Brendan Fairclough (GBr) Monster Energy / Specialized / Mad Catz 0.13.05
23 Dan Stanbridge (GBr) 0.13.19
28 Sam Dale (GBr) 0.14.26
29 Joseph Smith (GBr) Kona 0.15.02
30 Thomas Braithwaite (GBr) 0.15.06
42 Matthew Simmonds (GBr) 0.18.93
53 Bernard Kerr (GBr) 0.21.27
54 Harry Heath (GBr) 0.21.30
58 Neil Donoghue (GBr) 0.22.75
60 Robert Smith (GBr) 0.23.14
68 Ralph Jones (GBr) 0.27.98
69 Arran Gannicott (GBr) 0.28.39
74 Joe Barnes (GBr) 0.47.64
DNF Tom Deacon (GBr)
DNF Ben Cathro (GBr)
World Cup Standings
1 Steve Peat (GBr) Santa Cruz Syndicate 762 pts
2 Greg Minnaar (RSA) Santa Cruz Syndicate 758
3 Gee Atherton (GBr) Animal Commencal 657
4 Michael Hannah (Aus) GT Bicycles 652
5 Samuel Hill (Aus) Monster Energy / Specialized / Mad Catz 607
6 Samuel Blenkinsop (NZl) Yeti Fox Shox Factory Race Team 406
7 Justin Leov (NZl) Trek World Racing 386
8 Brendan Fairclough (GBr) Monster Energy / Specialized / Mad Catz 354
9 Marc Beaumont (GBr) GT Bicycles 329
10 Steve Smith (Can) MS Evil Racing 301
Women's Downhill
1 Sabrina Jonnier (Fra) Team Maxxis-Rocky Mountain Bicycles 5.17.65
2 Emmeline Ragot (Fra) Suspension Center 0.09.02
3 Cé©ne Gros (Fra) Morzine-Avoriaz 74 0.12.95
4 Floriane Pugin (Fra) Iron Horse-Kenda-Playbiker 0.13.70
5 Myriam Nicole (Fra) 0.14.10
6 Mio Suemasa (Jpn) 0.15.19
7 Tracy Moseley (GBr) Trek World Racing 0.15.51
8 Claire Buchar (Can) Chain Reaction Cycles/Intense 0.25.04
9 Micayla Gatto (Can) 0.25.07
10 Emilie Siegenthaler (Swi) Scott 11 0.25.37
11 Melissa Buhl (USA) 0.27.54
12 Fionn Griffiths (GBr) Norco World Team 0.31.63
13 Anita Molcik (Aut) 0.32.88
14 Katy Curd (GBr) 0.33.93
15 Miriam Ruchti (Swi) Team Vario Racing 0.38.04
16 Joanna Petterson (RSA) 0.39.35
17 Harriet Rucknagel (Ger) 0.45.94
18 Sarah Newman (GBr) 0.48.18
19 Sophie Borderes (Fra) 0.48.27
20 Jessica Stone (GBr) 2Stagefactory 0.52.16
World Cup Standings
1 Sabrina Jonnier (Fra) Team Maxxis-Rocky Mountain Bicycles 892 pts
2 Tracy Moseley (GBr) Trek World Racing 750
3 Emmeline Ragot (Fra) Suspension Center 725
4 Myriam Nicole (Fra) 496
5 Floriane Pugin (Fra) Iron Horse-Kenda-Playbiker 439
6 Celine Gros (Fra) Morzine-Avoriaz 74 421
7 Mio Suemasa (Jpn) 375
8 Fionn Griffiths (GBr) Norco World Team 355
9 Melissa Buhl (USA) 284
10 Emilie Siegenthaler (Swi) Scott 11 242
Men's 4-Cross
1 Jared Graves (Aus) Yeti Fox Shox Factory Race Team
2 Romain Saladini (Fra) Team Sunn
3 Lukas Mechura (Cze) Chain Reaction Cycles/Intense
4 Jurg Meijer (Ned)
5 Michal Prokop (Cze)
6 Roger Rinderknecht (Swi) GT Bicycles
7 Pascal Seydoux (Swi)
8 Rafael Alvarez De Lara Lucas (Spa) Specialized Factory Racing
9 Guido Tschugg (Ger) Ghost A.T.G. Pro Team
10 Scott Beaumont (GBr) Rocky Mountain UK
11 William Evans (GBr)
12 Lewis Lacey (GBr) Chain Reaction Cycles/Intense
13 Joost Wichman (Ned)
14 Dan Atherton (GBr) Animal Commencal
15 Johannes Fischbach (Ger) Ghost A.T.G. Pro Team
16 Will Longden (GBr)
World Cup Standings
1 Jared Graves (Aus) Yeti Fox Shox Factory Race Team 450 pts
2 Romain Saladini (Fra) Team Sunn 240
3 Roger Rinderknecht (Swi) GT Bicycles 235
4 Joost Wichman (Ned) 201
5 Michal Prokop (Cze) 175
6 Dan Atherton (GBr) Animal Commencal 126
7 Luke Madill (Aus) GT Bicycles 100
8 Rafael Alvarez De Lara Lucas (Spa) Specialized Factory Racing 100
9 Lukas Mechura (Cze) Chain Reaction Cycles/Intense 94
10 Jurg Meijer (Ned) 91
Women's 4-Cross
1 Jill Kintner (USA)
2 Caroline Buchanan (Aus)
3 Fionn Griffiths (GBr) Norco World Team
4 Melissa Buhl (USA)
5 Anneke Beerten (Ned) Suspension Center
6 Jana Horakova (Cze)
7 Anita Molcik (Aut)
8 Mio Suemasa (Jpn)
9 Rachel Seydoux (Swi)
10 Lucia Oetjen (Swi)
11 Katy Curd (GBr)
12 Steffi Marth (Ger)
13 Emmeline Ragot (Fra) Suspension Center
14 Joanna Petterson (RSA)
15 Charlie Phillips (GBr)
16 Helene Valerie Fruhwirth (Aut)
World Cup Standings
1 Jill Kintner (USA) 270 pts
2 Anneke Beerten (Ned) Suspension Center 255
3 Fionn Griffiths (GBr) Norco World Team 225
4 Jana Horakova (Cze) 185
5 Melissa Buhl (USA) 100
6 Romana Labounkova (Cze) 90
7 Caroline Buchanan (Aus) 85
8 Emmeline Ragot (Fra) Suspension Center 60
9 Anita Molcik (Aut) 30
10 Mio Suemasa (Jpn) 5