British Mountain Bike Series - Dalby Forest
Worry Gill, one of the course's real signature sections

After months in the planning and with plenty of speculation of what was to be in store, hundred of riders who made the journey to Dalby Forest were soon in no doubt that this was very definitely a World Cup course! Situated on the fringes of the North York Moors and boasting mile upon mile of breathtaking scenic trails, Dalby is one of the best-kept secrets of mountain biking in this country.....but no more. After Sunday's explosion of epic racing, riders will be flocking to this section of technical delights to find out first hand what it's all about and they won't be disappointed. Hopefully next year thousands from all over the world will make that journey to watch the world's best sample some Yorkshire delights!
Clixby's were incredibly busy right up to the wire to get the finishing touches of the circuit completed in time, but they pulled out all the stops so that riders of the second round of the BMBS could be the first to experience some World Class fun. The 6.5 km circuit started with a blast around the edge of the event village giving riders time to sort themselves out ready for the first section of singletrack.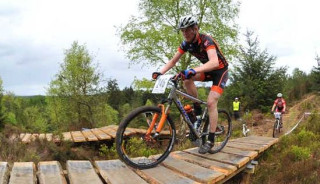 A mix of northshore and fast singletrack on the upper reaches of the course

The whole course was like a necklace of epic fun singletrack strung with some real gems of technicality: huge eye watering drops, rocky tyre bursting descents, steep grinding killer climbs with apt and descriptive names such as 'Worry Gill' -a worrying drop that saw masses of riders pondering their lines on practice day and the 'Medusa's Drop', a snake-like mass of roots that tried to grab your wheels from under you! Spectators were well catered for with plenty of vantage points to watch the exciting action unfold. One of the popular spots was 'Dixon's Hollow' a purpose built skills section full of swooping berms and table top jumps that pleased both the riders and the spectator!
It was likened to an 'old school' course everyone who rode it welcomed the challenges it presented declaring it's what this country needs a true mountain bike course fit for future champions!
Race Report

Billed as the clash of the titans, we expected hundreds of riders to stake a claim and try to ride off with their piece of victory. The men's elite race contained GB Olympian Oli Beckingsale, who for years has been our number 1 rider. Up against him were youngsters David Fletcher and Ian Bibby, while an international flavour was provided by Australian Olympian Daniel McConnell. The rest of the pack was littered with a whole host of talented riders hoping for a blinding ride, including Nick Craig who we haven't seen for a while at XC events.
Oli Beckingsale looks at the Worry Gill drop on practice day

As the race got underway it was the Halfords boys, Bibby and Fletcher who led the first lap, with Beckingsale and McConnell biding their time and riding into the race. By lap 2 Beckingsale was firmly in control with an Aussie shadow. The stiff climbs suited the strong Giant rider, whilst the technical descents played up to the strengths of McConnell.
Beckingsale rode, as he wanted at the front while Mc Connell sat comfortably on his wheel. However 3 laps in and the race started to reshape. Beckingsale the king of climbs, dropped his Australian shadow who started to suffer with breathing problems, leaving the Giant rider the chance to open up a lead which he took to the line, leaving the Australian to pick up 2nd over 90secs down.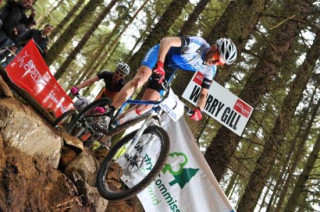 And on race day, Oli shows how it's done

Meanwhile the race shape shifting continued, with first round winner Jody Crawforth fighting hard. He reeled in Dave Fletcher and between them they worked over Bibby, catching the 3rd placed rider and then dropping him like a hot potato as they sped on. A mistake on the notorious Worry Gill saw Crawforth taking flying lessons over the bars, leaving Fletcher out alone and racing for 3rd, while Crawforth kicking himself for such a rudimentary mistake, came in to pick up 4th, just ahead of Bibby who in turn just held off a fast finishing Gareth Montgomerie.
Earlier in the day the Elite women's race was one of the hot spots of the day and coming early in the morning gave spectators a taste of battles to come. Lining up for a taster of the potential World Cup course, were of course National Champion Jenny Copnall, looking forward to getting stuck into some tough terrain, along with Sue Clarke fresh from her outing at the World Cup circuit in Houffalize plus of course first year elite riders Annie Last and Lily Matthew's. Last's teammate Sharon Laws was unfortunately not on the start line with due to an accident a few weeks ago that will keep her sidelined for a few more weeks.
Kathy O'Shea took the women's race

Mixed in with the GB ladies were a smattering of international riders, Mel Spath our resident German living in Ireland, was hoping for a good ride. After crashing heavily the day before she sported a heavily bruised collarbone and the punishing nature of the course was obvious. And then of course there was a welcome visitor to the series, Australian pro rider Kathy O'Shea. It looked like yet another tough battle was about to unfold! At the stroke of 10 the 13 committed riders were off all vying for that all important front spot as they sped around the opening start loop before diving into the first of many sections of singletrack.
O'Shea started hard with the idea of splitting the race early. Annie Last and Lily Matthews responded and went with the Australian with the rest of the field following closely behind. Last was looking strong and looking forward to testing her superb bike handling skills over the testing course, and she swiftly took the lead, only to have her intentions thwarted. The mountain bike gods of fate struck as she punctured not even half way through her first lap, as she fought to inflate her tyre she watched as the rest of the race flowed past, leaving her hopes of a round win in tatters. Meanwhile up ahead Sue Clarke had manoeuvred herself into 2nd spot, until she too suffered a number of punctures. By the end of her race she'd had 3 punctures seeing her limp into a disappointed 8th spot.
Up ahead the battle was still being fought, with the gloves well and truly off. Mel Spath nursing her sore shoulder now hovered in 2nd with Lily Matthews and Jenny Copnall close behind.
With 4 laps and just over 97 mins later and it was all over with Kath O'Shea coming home to take the win. Two minutes later Mel Spath come in to claim 2nd then another 3 minutes passed before we saw our first GB finisher. A delighted Lily Matthews came storming into the arena, putting recent race demons firmly behind her to take her first step on the Elite podium. Copnall cruised into 4th and hard battling Last clawed her way back to eventually finish 5th.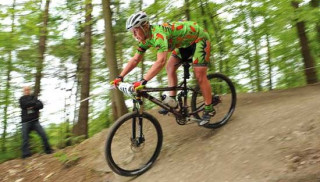 The closing section of the lap resembled a 4-Cross course

Meanwhile the rest of the day's action was littered with similar tales of mechanical and physical defeat as the challenging course took its toil:
Jessie Roberts made short work of the Expert race, taking command early on going on to take the win. Round 1 winner Emma Smith had a disastrous start leaving her 8 minutes adrift from Roberts after lap one. Despite attacking the remaining 2 laps, recording the fastest lap times for the expert field, she could only limit the damage to come home in 3rd, just behind Anna Buick.
The junior girls race was very nearly decimated when in practice both Ruby Miller and Carla Haines suffered quite bad falls. Both girls bravely stepped up to the mark and got stuck in despite heavy bruising and in Carla's case a few stitches to tackle the 2-lap race. Miller once again claimed the victory.
It looked as if Caroline Goward has been waiting for a course like this and she took control of the race early one, despite a crash where she ripped off her gear levers she carried on to take the win in the masters race. Maxine Filby was glad of the company of the other women's categories as she practically ploughed a lone furrow in a sparsely populated sports race. Nicky Hughes took her second win of the series in the vet's category leaving Belinda Tarling to pick up 2nd.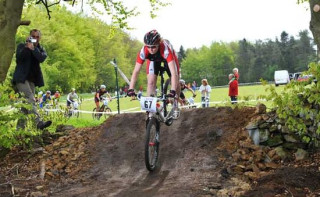 Lily Matthews made her first visit to the elite podium

After racing hard the previous day on the road both Alice and Hannah Barnes rode through their tiredness to have some fun on the exciting course, to both take home a win each, Hannah in the youth and Alice in the Juvenile. The juvenile boys race was a close fought battle over just one lap. Stuart Wilcox added another win to his tally, leaving Harvey Lowe slug it out with Harry Franklin for the remaining podium spots.
Grant Fergusson had a nightmare ride in the Youth race with a broken chain on lap one seeing him slip from an easy lead to a race of survival where he stoically finished his race down in an uncharacteristic 18th. Meanwhile Joe Home, max Sykes, Hugo Humphreys and Alex Baker all had their eyes on that vacated winner's spot. After 2 hard laps it was Home who took the win from Sykes, while 3rd came down to a seat of the pants sprint with Humphreys just edging out Baker.
Scott Thwaites and Ian Nimmo, Winners both

Scott Thwaites once again left the rest of the expert field in his wake as he rode to victory leaving Sion O'Boyle to better his previous rounds 3rd coming in to take 2nd.
In the sport race Darrell Upton fell foul of the precarious nature of mountain bike racing with a mechanical ending his race after 2 laps, leaving the previous round's runner up Martin Delves able to step up and take the win.
Last but not in the bit least was the busiest and the biggest race of the day with the vets, masters and open race taking to the trails, with nearly two hundred riders blasting round the course.
Mark Hutt showed that they may not have big hills down south but they can still mix it with the best by taking the masters win. In the vets race Ian Nimmo made the journey down from Scotland to take the race apart. He missed out on a ride at round 1 due to the popularity of the category - race entries were closed before he got a chance to enter. He made no mistake here but found himself way down on the gridding. This didn't thwart him and by the end of the start loop had eased himself into 4th spot. By the start of the next loop of singletrack he was in first and he just didn't look back taking the win over 3 laps in just over the hour.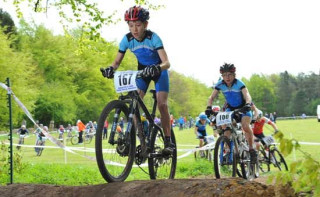 The younger riders seemed to relish the challenge

The ding-dong battle between rivals Ian Wright and Roy Hunt continued in earnest in the Grand vets, with Hunt's love of all things technical and hard giving him the edge and with it the win, making it one win all so far. Super Vet Vic Barnett continued his complete domination of this category with yet another win while in the open race Ian Mills showed he was a cut above the rest taking a comfortably win with over 4 min lead after 2 laps.
For many just completing the race was a victory in itself - one that all will look back with in satisfaction and delight. Yes it was tough and unfortunately some riders took a nasty tumble or two, but this is mountain biking at it's best, a challenge worthy of champions both present and future, lets hope we get a few more courses like this to test the best and stretch the rest, then one day we'll hopefully will be holding it's head up high on the world stage of XC racing!!!
Post-Race Feedback
Jessie Roberts - Expert woman winner: I thought today's course was really good- technical and very demanding, perfect for a world cup course. I've been doing a lot of road racing recently so wasn't sure what to expect of my race today having not ridden my mtb much recently. But I think all the road has really helped my speed and my legs felt good. Plus it was nice to be racing in my home county for once! It was good that we started with the master women's so we had more people to race with.
Alice Barnes - Juvenile: That was much harder than Sherwood! I found it doubly hard as rode the National Road series yesterday so my legs were aching a bit especially up the climbs. I quite liked the technical sections, except the drop off as I didn't have time to practice that and the rocky section after that was quite tricky too but it was such a fun course. It was probably the hardest mountain bike race I have ever done, both in terms of the course and also with the competition. I was chasing hard the whole race and only took the lead with just 2km to go.
Hannah Barnes - Youth: I got a good start but I was constantly thinking "oh God this is going to be tough!' especially as I'd been racing yesterday too, the National circuit series and I won that, so I'm not having a bad weekend actually. I haven't actually done any mountain biking for a while so I'd thought I'd lost all my skills, but I did okay. On the first lap there were the 3 of us, me Amy and Beth, I got away on the drop and for the rest of the race I was on my own. I still prefer road, I guess I rode this as Alice was coming and to get out of revision!
Oli Beckingsale - Elite: Yeah tough race, it was the usual national field and of course Daniel (Torq Australia). It was a solid course, I came into this a bit worried as the last couple of weeks I've been constantly traveling doing World Cups and today I guess I was under a lot more pressure than anyone else but also more motivated, however with all that traveling and competing in big race, with no disrespect to the others you get a bit puffed out. But the circuit was pretty good; it's great to do a proper mountain bike course in the UK. It keeps people thinking, people were falling off and it had a big hill in it. It really felt like a big race here so it was good to do it. Having come from the last 2 world cup races that have been 'proper' courses it didn't feel to dissimilar to that so I think that's a positive thing and I think Martyn and his team and British Cycling have done a good job. It's like a big deal today and it's great to be part of it
David Fletcher - Elite: That was a good ride yeah. I had a bit of luck on the last lap with Jody having a little accident, but I rode pretty strongly and was riding in 4th spot for most of the race. I think Jody caught me on the 3rd or 4th lap, we then worked together to bring Bibby back, we succeeded in that and pretty much dropped him straight away. From there, Jody came off at Worry Gill and I quickly decided this was my only chance to get away, so I just put full effort all the way to the finish. It was so hard, one of the hardest I've ever ridden. Strangely it was very similar to Sherwood, effort wise it was, it was just eyeballs out all the time. The course was excellent, good downhills, good uphills, very technical in places, it'll be a good course for the World Cup and it was so much fun to ride! There are not many places to rest out there, your constantly being pushed to your limits, which is good. The descents are hard and really test your skills as a descender, the climbs are really steep, together it made a tough but exciting course.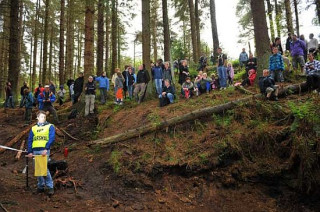 Worry Gill proved popular with spectators

Nick Craig - Elite: I've had a fair bit to do with input on the course so I thought it'd be rude not to come and sample the whole thing. That's the first time I've been able to ride a whole lap unbroken so the course designers have done a good job of putting it together but they've left it to the death. I was speaking to Martin on Wednesday and he was still finishing it! For me it was really nice to ride it complete. I came up this morning had hadn't had a chance to preride it so there were bits I'd never seen! Worry Gill was a bit of a shocker! I knew it was coming but I'd never ridden it, I got over the lip and thought 'okay.. that's what we talked about, I think..." But no the whole thing was dead good. There were a few nice comments floating round, like ' It's all your fault!' shouted at me by a lady rider! But no, brilliant course, fun, hard and what British Mountain Biking needs.
Ruby Miller - Junior: It was a good race for me, I got mixed up with some of the expert women and they really pushed me, so it was good fun. I was a bit gutted that I was only doing 2 laps, the race came in under an hour, which is a bit shocking for a junior race, I'd have liked another lap but I enjoyed it. The course was excellent, a proper World Cup course, it felt as hard as the race I did in Houffalize last weekend. I'm so glad they didn't take any of the technical sections out it was so good, and just shows you the standard you need to be at and shows we need to push harder to be able to compete and mix it with the best in the world. I had a few crashes in my practice sessions, it knocked my confidence a bit but I know I have to work on my weak sections and just come back stronger and just concentrate on my race. The race itself went well, I did run a few sections, and I know I need to go away and practice, practice, practice and come back and next year I'll be able to ride it fully. Hopefully I'll be able to come here and practice on a World Cup course, it's such a good place that the 6-hour drive will be so worth it!
Scott Thwaites - Expert men: Good day again, another win so I can't complain. The course was excellent and I really enjoyed it, it had a bit of everything, some stiff technical sections for the tech riders and some stiff climbs which suited me, I'm usually a bit stronger on those than some of the other riders and yeah it was good. A nice mix and a good fast course as well excellent for a World Cup. Totally different to Sherwood! There I could use my power here I had to use my gears and spin it out a bit more. I'd been racing some premier road races so I knew I had the power to get round it was just a matter of taking it steady on the technical bits and just protecting my lead I'd gained on the first lap. I went out hard at the start as I wanted a clean run through all the technical, I know I'm not that strong technically so I like to see what I'm up against up front. I got out ahead and got time checks from my parents all the time so when I thought I had a big enough lead I just sat back and took it steady and made sure I made it to the finish.
The Medusa descent was another tough feature

Annie Last - Elite Woman: I had a good start and had got myself into the lead but about half way through the first lap I punctured and lost a load of time. I carried on riding and the rest of the race went fine and managed to pull myself back up into 5th in the end. I really liked the course it was proper tough, I really enjoyed it. I was pretty gutted to puncture like that but it was my own fault.
Kenta Gallagher - Junior: Great race for me this time, especially as I won it! The steep climbs on the course didn't suit me so much but the technical sections were brilliant. My tactics were to drop Steve and get him out of the way at the start. The plan was to set off hard and just maintain it and if I blew well I'd see what would happen, but I didn't and managed to hold it to the end. I feel loads better than I did at the start of the year; I'm building into the season come the British Champs I'm hoping to be peaking. The course seemed a lot grippier today in the race than it did in practice, I guess the rain helped pack it in a bit and there were grooves being cut so that was good but over the rocks n stuff it was getting a bit slippy and a bit dodgy here and there but I just played safe and tried to get through it without crashing. The course was excellent, it has everything you want on a testing course, technical, climbs, swoopy bits, yeah great. It comparison to Houffalize, that was a lot harder, there were lots more riders and the course was much longer and it was a lot hotter over there, but this is good in its own right. I especially liked the jump park section at the end. The last lap I just went for it and had so much fun.
Lily Matthews - Elite Woman: I was so pleased with my ride today that was excellent. I was lucky, as I'd had the chance to come here and practice the course a few days before the race. There were some very testing sections on it and every lap I just had to keep my nerve, especially on the one section and every time I nailed that I was like 'Yes!'
I've had a couple of bad races recently so to come out of this with such a good result is brilliant it just shows that at the moment I'm going to experience peaks and troughs as I progress, I so glad that I showed I can do it. This is such a confidence boost for me. I just need to learn the art of responding when someone overtakes me and to be able to hang onto wheels. At one point I'd taken the lead, until Kath came past me on the climb, she just got away after that, but that experience will come. It's great that we have a potential World Cup course that is accessible; the circuit is certainly something else, really challenging but so much fun.
Roy Hunt - Grand Vet: I loved it that was superb. It didn't seem so spectacular when you were practicing, I guess you were expecting a lot more, but boy when you race it, it transformed and it was so tough, but excellent. We only did 3 laps but I'd have loved to have done another. It was really hard but you don't mind when you're having a good race. It's a proper mountain bike course, a bit of everything and it's what we need. I've had a tough year for lots of reasons but it's good to be back on the top at last, you just keep plugging away and it's a bonus to get a result.
Ian Nimmo - Vet: The course was sweet I really liked it, my gridding was unfortunate but I had a good start and got down the side and was 4th into the singletrack, after the first feed I got into the lead going into the next bit of singletrack and that was me, It was good. It was close enough here to make the trip down from Scotland, I've raced in the area before a few years ago now, and I remember it being pretty good so I thought yeah be good to go down and see what they've done. I couldn't believe the number of riders we get now in the vets race. I thought about going down for the first race in the series, but by time I thought this I saw on the web that the field was full so we couldn't do that one, I made sure I got my entry in for this one and saw it was full again before the race which is excellent. I'm glad I made the effort I was well rewarded. There were some sections that made you think but you just got on with it and it was sweet.
Mark Hutt - Master: Very very tough course, the first couple of laps I just rode conservatory to keep some energy I could tell I was catching Scott and Dan Lewis on the technical climbs especially. I loved the technical descents too but I think they're pretty tricky when there are other races going on around you, especially on the 3rd and 4th lap as it's littered with back markers especially on the most technical bits. It makes those sections doubly hard, the last thing you want is to come off or a back marker crashing in front of you. I attacked about 2/3rds into the lap into a bit of singletrack and got a gap there and for the rest of the race I just concentrated on pushing on. Great race, brilliant course I loved it, so different from races down south we're just not used to such big climbs!
Katherine O'Shea: I came quite a way to have a go, but it's been great! I really enjoyed the course, there was some good variation of terrain, technical stuff, fast flowing stuff and yeah it was good. For the race I went out pretty hard, I've done that in a few races in Australia and had some good results, so I hit it pretty hard early here and there were a couple of girls who were able to come with me it was going to be a good race. One of them punctured which was a bit unfortunate. There was definitely some times when riders were attacking and trying to make a break so it made it an interesting race. One of the girls passed me on the climb and we had a bit of a battle and that was good. It was a good World Cup course, quite a bit of good climbing and some interesting technical sections, I think it's got potential to be a good course.
Dan McConnell: It didn't go to bad, unlike Kat I didn't want to go out too hard I wanted to see what the other guys were up to and take it from there. I was with Oli for quite a few laps but I had a few issues with my breathing on some of the climbs but other than that it went pretty well. It's a good track it should make a pretty good World Cup course, especially as you're never going straight for too long, there's lots of corners and tricky sections to keep you thinking and it works pretty well and there's enough passing opportunities, so yeah pretty good all round. I lost contact with Oli on the climbs, I was riding to my heart rate and you're never gonna win a race doing that, I was catching him up on the descents, but again your never gonna win a race playing catch up. I was just happy to consolidate 2nd On this type of track 10secs is a sizeable gap and it's always hard to make that back up. I'm a tad disappointed with my result if I'm honest, but other than that I've had a great week!
Results
Elite - Female
1 Katherine O`Shea - Torq Australia 4 laps in 01:37:22
2 Melanie Spath Cycleways/Torq/Kcnc/Tcd - 4 laps in 01:39:22
3 Lilly Matthews - Team Halfords 4 laps in 01:42:41
4 Jenny Copnall Look Rt - 4 laps in 01:43:10
5 Annie Last Team Halfords - 4 laps in 01:44:51
6 Lee Craigie - Square Wheels 4 laps in 01:46:32
7 Maddie Horton Team Certini - 4 laps in 01:46:47
8 Sue Clarke Scienceinsport.Com - 4 laps in 01:46:52
9 Melanie Alexander Element Racing - 4 laps in 01:50:25
10 Nicola Duggan Ako Ducati Corse Women`S Cycling Team Uk - 4 laps in 01:53:34
11 Lesley Ingram Glentress Riders / G Force Training - 4 laps in 02:00:03
12 Jenn O`Connor Altura Patterson Training - 3 laps in 01:15:02
13 Gemma Collins Ako Ducati Corse Wct Uk - 3 laps in 01:21:09

Elite - Male
1 Oli Beckingsale Giant - 5 laps in 01:38:32
2 Daniel McConnell - Torq Australia 5 laps in 01:40:16
3 David Fletcher Team Halfords - 5 laps in 01:41:28
4 Jody Crawforth - 5 laps in 01:42:12
5 Ian Bibby Team Halfords - 5 laps in 01:42:38
6 Gareth Montgomerie Colnago Marzocchi - 5 laps in 01:42:38
7 Adrian Lansley Pedalon.Co.Uk - 5 laps in 01:44:05
8 Paul Oldham Hope Factory Racing - 5 laps in 01:44:31
9 Robin Seymour Colnago Marzocchi - 5 laps in 01:44:47
10 Billy-Joe Whenman Whyte Uk - 5 laps in 01:45:06
11 Nick Craig - SCOTT UK 5 laps in 01:45:10
12 Lee Williams Team Wiggle - 5 laps in 01:45:38
13 Christopher Minter Pedalon.Co.Uk - 5 laps in 01:46:00
14 Dave Collins Teamsis.Com - 5 laps in 01:46:07
15 Hamish Batchelor Sportscover - 5 laps in 01:47:13
16 Robert Friel Ktm-Pod - 5 laps in 01:48:24
17 Sebastian Batchelor Team Halfords - 5 laps in 01:48:39
18 Sam Gardner - Snow and Rock, Fatface, Cannondale 5 laps in 01:48:45
19 Simon Ernest Aw Cycles.Co.Uk/Giant - 5 laps in 01:48:59
20 Andrew Cockburn Cambridge Cc - 5 laps in 01:49:46
21 Nigel Martin Leisure Lakes - 5 laps in 01:50:15
22 Richard Mardle Felt Racing - 5 laps in 01:50:26
23 Anthony O`Boyle Mojo-Orange - 5 laps in 01:50:27
24 James Sharp - York Cycleworks 5 laps in 01:50:47
25 John Whittington Bath University - 5 laps in 01:51:00
26 Ben Simmons Team Wiggle - 5 laps in 01:51:22
27 Dave Henderson Pedalpower.Org.Uk/Endura Rt - 5 laps in 01:51:29
28 Tim Dunford Mountain Trax/ Yeti/ Magura/ Torq - 5 laps in 01:51:56
29 Chris Andrews Orange Monkey - 5 laps in 01:52:04
30 Ben Thomas Mountain Trax / Superstar Components - 5 laps in 01:52:15
31 Nick Collins Team Torq - 5 laps in 01:53:35
32 Peter Hawlains - 5 laps in 01:55:18
33 Paul Beales Orange Monkey - 5 laps in 01:56:33
34 John Groves - Rollin Cycles 5 laps in 01:59:07
35 Allan Clark Sandy Wallace - 5 laps in 02:01:17
36 Phil Coad - Torq 5 laps in 02:01:33
37 Andrew Howett Swcc/Station Fitness - 5 laps in 02:03:57
38 Ryan Sherlock Cycleways/Torq/Kcnc - 4 laps in 01:28:49
39 Paul Robertson Msc Bikes/Sportstest - 3 laps in 01:06:39
40 Matt Loake Southfork Racing - 3 laps in 01:14:28
41 Stuart Bowers Scott Uk - 2 laps in 00:42:48
42 Oliver Holmes Mini Adventure Racing - 2 laps in 00:42:53
43 Stuart Wearmouth Pulman Vw - 2 laps in 00:46:07
44 Calum Chamberlain Mountain-Trax - 2 laps in 01:16:27
45 Jonathan Pugh Clee Cycles Kcnc High 5 - 1 laps in 00:20:50
46 Ross Adams Red Kite Cycles/Torq Bar - 1 laps in 00:52:26

Expert - Female
1 Jessica Roberts - www.mischiefcard.com 3 laps in 01:25:33
2 Anna Buick Thetford Mtb/Salsa - 3 laps in 01:29:12
3 Emma Smith Emma Smith - 3 laps in 01:29:45
4 Katie Collins - 3 laps in 01:30:05
5 Fran Mundy - TORQ 3 laps in 01:34:08
6 Ruth Owen-Evans - Yeti Cycles UK 3 laps in 01:36:52
7 Lou Robins - RAFCC 3 laps in 01:38:06
8 Lucy Marshall Rhyl Cc - 3 laps in 02:01:14

Expert
1 Scott Thwaites Crosstrax - 4 laps in 01:24:54
2 Sion O`Boyle Mojo-Orange - 4 laps in 01:29:21
3 Ryan Bevis Bad Ass Bikes - 4 laps in 01:30:28
4 Douglas Shearer Inners Mtb Racing I-Cycles - 4 laps in 01:31:46
5 Jon Pybus Pedal Power/ Loughborough Uni - 4 laps in 01:31:57
6 Simon Allard Offcamber/Scott - 4 laps in 01:33:40
7 Jason Hucklesby Msc Bikes - 4 laps in 01:33:52
8 George Budd Salsa Factory Racing - 4 laps in 01:34:22
9 Charlie Evans Will`S Wheels - 4 laps in 01:34:29
10 Michael Coward Velo29 Cycling Team - 4 laps in 01:34:42
11 Christian Aucote - Kenda/Haro/Goldtec 4 laps in 01:36:05
12 Peter Goode - 4 laps in 01:36:16
13 Gary Record Vc Deal - 4 laps in 01:36:17
14 Eric Pettett www.psyphi.net - 4 laps in 01:36:23
15 Joel Shotton - Clee Cycles/KCNC/HIGH5 4 laps in 01:37:05
16 Warren Bates Mountain Trax - 4 laps in 01:39:16
17 Scott Chappell Pedalon.Co.Uk - 4 laps in 01:40:19
18 Sean Frost - 4 laps in 01:40:35
19 Nick Coley Team Mule Bar - 4 laps in 01:41:21
20 Chris Lane Torq - 4 laps in 01:42:39
21 James Hampshire Xcracer.Com 29Ers - 4 laps in 01:42:45
22 Daniel Shoreman Yorkshire Velo - 4 laps in 01:51:39
23 Nick Evans Beyond Mountain Bikes / Specialized / New Ultimate - 4 laps in 01:53:11
24 Brodie Gardias Orange Monkey - 4 laps in 02:36:43
25 Giles Drake Msc Bikes - 3 laps in 01:11:27
26 Niall Frost Team Milton Keynes - 2 laps in 00:46:37
27 Ben Roach Wyre Forest - 2 laps in 00:47:42
28 Phil Lenney Activ/Springstarter.Com - 1 laps in 00:22:52
29 Joe Richards Wheelbase.Co.Uk/Gore Bike Wear - 1 laps in 00:24:58
30 Luke Webber - 1 laps in 00:26:03

Grand Veteran
1 Debbie Burton Activ/Trek - 2 laps in 00:57:56
2 Hilary Bloor Crosstrax - 2 laps in 01:08:58

Grand Veteran - Male
1 Roy Hunt Orbea - 3 laps in 01:11:58
2 Ian Wright Raleigh Avanti Racing Team Cyclelife.Com Mtrax - 3 laps in 01:13:21
3 Gregor Grant - 3 laps in 01:13:51
4 John Galway Keswickbikes.Co.Uk - 3 laps in 01:16:05
5 Adge Last Matlock Cc - 3 laps in 01:16:43
6 Bruce Rollinson Jdcycles.Co.Uk - 3 laps in 01:19:56
7 Duncan Stuart Www.Keswickbikes.Co.Uk - 3 laps in 01:20:23
8 Kevin Townsend Sip Events - 3 laps in 01:21:05
9 Tim Stowe Team Endura-Thule-24/7-M I Racing - 3 laps in 01:22:05
10 Greg Fitzpatrick Robin Hood`S Merry Men - 3 laps in 01:23:04
11 Peter Harris Pearce Cycles - 3 laps in 01:25:12
12 Karl Wittering - team vampire 3 laps in 01:25:37
13 Colin Murley - Sandy Wallace Cycles 3 laps in 01:26:00
14 Garrett Hill - TEAM ZEROFOUR 3 laps in 01:26:35
15 Steve Whitehouse - 3 laps in 01:27:00
16 Steve Kettlewell Palo Alto Bc - 3 laps in 01:34:10
17 Philip Buick Thetford Mtb/Salsa - 3 laps in 01:45:21
18 Philip Jones - 3 laps in 01:51:21
19 David McLean Hetton Hawks - 3 laps in 01:59:32
20 Martin Eadon Hargroves Cycles - 2 laps in 01:06:44
21 Trevor Patey Mountain High - 2 laps in 01:12:10
22 Pete Wilkin Fietsen Tempo/Chapters/The House - 1 laps in 00:27:38

Junior - Female
1 Ruby Miller - 2 laps in 00:54:13
2 Carla Haines - AKO Ducati Corse Womens Cycling Team UK 2 laps in 01:01:20
3 Danielle Rider Sherwood Pines, Polaris - 2 laps in 01:06:46

Junior - Male
1 Kenta Gallagher 777 Racing/Kudubikes - 3 laps in 01:01:35
2 Steve James Pedalon - 3 laps in 01:03:36
3 Luke Gray Hargroves Cycles/Trant/Next/Gsi - 3 laps in 01:04:23
4 Ben Roff Orange Monkey - 3 laps in 01:05:42
5 Nat Jarvis Orange Monkey - 3 laps in 01:08:12
6 Robert Hassan Rockhard Racing - 3 laps in 01:08:21
7 Rowan Marshall - Bynea CC 3 laps in 01:10:29
8 Ian Lee Derwenside CC - 3 laps in 01:11:52
9 Matthew Jones Cwmcarn Paragon Rc - 3 laps in 01:12:39
10 Aron Marshall Sherwood Pines Cycles - 3 laps in 01:14:11
11 Joe Peake - 3 laps in 01:14:57
12 Ross Brinson Mammoth Lifestyle Rt - 3 laps in 01:15:44
13 James Harman Teammk - 3 laps in 01:15:54
14 Sam Sayers Leicestershire Road Club - 3 laps in 01:18:53
15 Josh Senior - 3 laps in 01:19:31
16 Bruce Dalton Matlock Cc - 3 laps in 01:20:05
17 Oliver Webster Crosstrax - 3 laps in 01:24:41
18 Robbie Nelson - hetton hawks 3 laps in 01:26:10
19 Mike Garrett Dirty Jo Bikes/Bude Cc - 2 laps in 01:14:49
20 Max Filleul Southdown Bikes - 1 laps in 00:23:03
21 Jamie Maxwell Nevis Cycles Rt/Eucc - 1 laps in 00:23:08
22 Lewis Burke Macclesfield Whls - 1 laps in 00:23:44
23 Brad Lovell - Numplumz 1 laps in 00:29:19
24 Peter Farquhar - PCC/Singletrack Bikes 1 laps in 00:29:27

Juvenile - Female
1 Alice Barnes Palmer Park Velo - 1 laps in 00:29:41
2 Yuka Gallagher - 777 Racing 1 laps in 00:29:56
3 Jenna Fenwick Stepping Stanes / Stewartry Wheelers - 1 laps in 00:31:48
4 Imogen Buick Thetford Mtb/Salsa - 1 laps in 00:32:25
5 Gretel Warner - Team Darenth 1 laps in 00:33:22
6 Rosie Crumpton Halesowen A & Cc - 1 laps in 00:38:12
7 Sarah Lomas Matlock Cc - 1 laps in 00:40:03

Juvenile - Male
1 Stuart Wilcox I-Cycles Msc - 1 laps in 00:24:15
2 Harvey Lowe G.A. Cycles - 1 laps in 00:25:15
3 Harry Franklin Hhycc - 1 laps in 00:25:32
4 Tom Arnstein - Carnegie Cyclones 1 laps in 00:25:58
5 Dylan Kerfoot-Robson - Rhos on Sea CC 1 laps in 00:26:36
6 Mike Thompson - 1 laps in 00:26:49
7 Josh Parkin Hhycc - 1 laps in 00:26:52
8 Jon Donachy - 1 laps in 00:26:54
9 Sam Beckingsale Abergavenny Rc - 1 laps in 00:27:04
10 Ross Wilcox I-Cycles - 1 laps in 00:27:18
11 Liam Cowell Team Darenth - 1 laps in 00:28:20
12 Jack Ravenscroft Halesowen A&Cc - 1 laps in 00:29:07
13 Chris Oakley Xmtb Mcconvey Cycles - 1 laps in 00:29:23
14 Ben Pygott Pedalsport - 1 laps in 00:30:17
15 Jake Poole - VC lincoln 1 laps in 00:31:06
16 Stephen Lee - Derwentside CC 1 laps in 00:31:09
17 Noah Phillips - Herne Hill Youth CC 1 laps in 00:33:45
18 Danny Fox Solihull Cc - 1 laps in 00:34:32
19 George Flinton - 1 laps in 00:34:48
20 Lewis Butcher - Sandy Wallace Cycles 1 laps in 00:38:27
21 Scott Gledhill - 1 laps in 00:41:54

Master - Female
1 Caroline Goward Scott Uk - 3 laps in 01:22:27
2 Kim Hurst - 3 laps in 01:25:02
3 Nina Davies Ogmore Valley Wheelers - 3 laps in 01:28:08
4 Emma Bradley Torq Kona - 3 laps in 01:29:28
5 Malin Tindberg West Drayton Mbc/Beyond Mtb/Specialized - 3 laps in 01:29:29
6 Hannah Reynolds - 3 laps in 01:33:10
7 Sarah Randle - AKO Ducati Corse Womens CT UK 1 laps in 00:37:10

Master - Male
1 Mark Hutt Aw Cycles.Co.Uk/Giant - 4 laps in 01:28:48
2 Dan Lewis - RAF CA 4 laps in 01:29:35
3 Christopher Rathbone Www.Websterscycles.Co.Uk - 4 laps in 01:31:12
4 Paul Hopkins Offcamber - 4 laps in 01:31:47
5 Phil Morris Xcracer.Com 29Ers - 4 laps in 01:32:06
6 Lloyd Bettles - 4 laps in 01:32:11
7 Neal Crampton Crosstrax - 4 laps in 01:32:34
8 Darren Alexander Mini Adventure - 4 laps in 01:32:57
9 Hywel Silvrster - 4 laps in 01:32:57
10 Adrian Scott - 4 laps in 01:33:11
11 Robert Oakes Numplumz - 4 laps in 01:33:20
12 Rob Enslin - AW Cycles 4 laps in 01:33:32
13 Neil Richardson Rafcc - 4 laps in 01:34:29
14 Jay Horton Team Certini - 4 laps in 01:34:43
15 Scott Rose Westbrook Cycles - Team Scott - 4 laps in 01:35:06
16 Gerald Tudor Owens Cycles / Scott - 4 laps in 01:35:26
17 Danny Goode - 4 laps in 01:36:11
18 David Howard - Westbrook Cycles-Team Scott 4 laps in 01:36:52
19 Scott Forbes Pedalon.Co.Uk - 4 laps in 01:37:32
20 Jon Bowie - 4 laps in 01:37:39
21 Jamie Norfolk Pedalon.Co.Uk - 4 laps in 01:37:53
22 Nick Onslow Pedalon.Co.Uk - 4 laps in 01:38:17
23 Paul Davies Panasonic Toughbook / Mountain Trax / Scott - 4 laps in 01:39:27
24 Anthony Morris Evans Cycles Rt - 4 laps in 01:39:32
25 Simon Maudsley Crosstrax - 4 laps in 01:39:37
26 Chris Clark Banjo Cycles Old Boy - 4 laps in 01:39:57
27 Mark Spratt - 4 laps in 01:40:40
28 Jason Hynd - 4 laps in 01:41:22
29 Andy Jones - Clee Cycles/KCNC/High5 4 laps in 01:41:57
30 Matt Williams - 4 laps in 01:42:24
31 Sebastian Dysart - triangle 4 laps in 01:43:09
32 Jamie Wightman Revel Outdoors - 4 laps in 01:44:50
33 Robert Rowe - Forza Cycles/TORQ 4 laps in 01:45:41
34 Adrian Rudd - Dirtwheels 4 laps in 01:45:55
35 Damian Baker - 4 laps in 01:45:57
36 Ben Cook - JD Cycles 4 laps in 01:46:33
37 Stefano Detomaso Beyond/Specialized/Wdmbc - 4 laps in 01:48:08
38 Neil Johnson Witney Wheelers - 4 laps in 01:48:23
39 Richard Doyle - websters/specilized 4 laps in 01:48:36
40 Gwilym Morris - 4 laps in 01:51:34
41 Richard Fiander - Crosstrax 4 laps in 01:51:56
42 Jason Richardson - Columbia Sportswear 4 laps in 01:52:31
43 David Stevens - bishop auckland cc 4 laps in 01:57:24
44 Martin Reed Army Cycling Union - 4 laps in 01:58:16
45 Gordon Hollingworth Cambridge CC - 4 laps in 01:59:43
46 James Hynam - 4 laps in 02:00:27
47 Stephen James Torq - 3 laps in 01:13:16
48 James Gleave - 3 laps in 01:16:07
49 Steve Toze - Shred Racing 3 laps in 01:30:05
50 Mark Stodgell Lichfield Ccc - 3 laps in 01:30:55
51 Jonathan Cousins - 3 laps in 01:36:02
52 Tom Smith Awcycles.Co.Uk/Giant - 2 laps in 00:46:13
53 Steve McCulley - Royal Navy & Royal Marines CA 2 laps in 00:52:58
54 Paul Bennett Clifton Cc - 1 laps in 00:24:56
55 Darren Ryden Seventeen11 - 1 laps in 00:25:53
56 Neil Macleod Www.Raceright.Cc - 1 laps in 00:29:44
57 Paul Bailey - Geoff Thomas Foundation 1 laps in 00:30:26
58 Ged Walker - UNITSTOP 1 laps in 00:38:34

Open - Female
1 Jody Harris Rafcc - 1 laps in 00:36:00
2 Kathryn Doris - Ticket2RideBC 1 laps in 00:36:21
3 Vanessa Leat - 1 laps in 00:39:18

Open - Male laps in
1 Ian Mills - 10fifty 2 laps in 00:45:50
2 Tom Stockill - 2 laps in 00:50:27
3 Nick Piper - 2 laps in 00:51:27
4 Damon Manning - 2 laps in 00:52:57
5 Kamil Pompe - PedalPower.org.uk/Endura 2 laps in 00:53:14
6 Ian Childes - 2 laps in 00:53:36
7 Jake Elliott Dinnington Rc - 2 laps in 00:54:32
8 Jon Barnbrook M & G Vehicle Hire - 2 laps in 00:54:40
9 Rob Bradley Cunning Ugly Monkeys - 2 laps in 00:55:17
10 Rik Thompson Cyclesense - Piece of Pi$$ - 2 laps in 00:55:30
11 Ben Howe - Matrix ABC 2 laps in 00:55:57
12 Les Evans - 2 laps in 00:56:14
13 Oliver Richards - Dirtwheels 2 laps in 00:57:36
14 Stewart Knubley - numplumz.com 2 laps in 00:58:27
15 Dave Simpson - Momentum 2 laps in 00:59:10
16 Andy Dolphin - worcester cycle centre 2 laps in 00:59:40
17 Adam Ward - 2 laps in 01:00:29
18 Phillip Davies M & G Vehicle Hire - 2 laps in 01:00:42
19 Colin Pendlebury - 2 laps in 01:01:04
20 Paul Brown - Numplumz 2 laps in 01:01:08
21 Paul Roberts - Hambleton RC 2 laps in 01:01:43
22 Douglas Drysdale - 2 laps in 01:01:48
23 Paolo Ditale Beyond/Specialized/Wdmbc - 2 laps in 01:01:51
24 Ian Jefferson - 2 laps in 01:02:19
25 Craig Norris - 2 laps in 01:03:46
26 James Boldison - Scarborough Removals 2 laps in 01:04:29
27 Mike Barrie - 2 laps in 01:05:40
28 Jamie Green Rafcc - 2 laps in 01:06:58
29 Tom Wright Numplumz.com / Pitsford Cycles - 2 laps in 01:08:06
30 Andrew Spencer - 2 laps in 01:08:24
31 Patrick Dooley Droop Soggy Knob - 2 laps in 01:09:21
32 Richard Flint - rwj`s 2 laps in 01:10:12
33 Tom Locke Numplumz/Pitsford Cycles - 2 laps in 01:11:09
34 Richard Simms - 2 laps in 01:11:29
35 Richard Burnham - 2 laps in 01:12:21
36 David Simpson - Ricahrdsons CC Scarborough 2 laps in 01:12:23
37 Darren Clarke Sherwood Pines Cycles - 2 laps in 01:15:06

Sport - Female
1 Maxine Filby A5 Rangers - 2 laps in 00:58:20
2 Sarah Turner Bath Uni - 2 laps in 01:18:10

Sport - Male
1 Martin Delves Beyond /Specialized/West Drayton Mbc - 3 laps in 01:05:01
2 Russell Turner - Team Certini 3 laps in 01:07:09
3 Luke Eggar Bikinmotion Cc - 3 laps in 01:08:35
4 David Thomas - Bad CC 3 laps in 01:09:00
5 Oliver Young - Edinburgh rc 3 laps in 01:10:18
6 Edward Roberts Edinburgh Rc - 3 laps in 01:10:20
7 Neil Hayward Mammoth Lifestyle - 3 laps in 01:10:20
8 Andy Patterson - Patterson Training 3 laps in 01:11:19
9 Nick Stacey - Mule Bar 3 laps in 01:11:48
10 Chris Edwards - 3 laps in 01:11:50
11 David Winter Cleecycles/Kcnc/High5 - 3 laps in 01:11:54
12 Nick Butcher - Clifton cc 3 laps in 01:12:03
13 Mike Harper - Moonglu RT 3 laps in 01:12:08
14 E ---------- TESTING ------- TESTING ------- TESTING