British Cycling can today announce the dates and venues for the 2024 mountain bike endurance national series and championships, with national champions' jerseys to be awarded in Dalby Forest for short track and cross-country and Kielder Forest for marathon.
The National Cross-country Series will kick off on 6-7 April with a fan-favourite opening round at Cannock Chase in Stafford. Having hosted the 2022 Commonwealth Games races, the venue has seen riders from all over the world compete here and will provide a fun and versatile course.
Riders will then head up to Scotland for the second round over the weekend of the 20-21 April in Kirroughtree Forest, which was the venue that saw Annie Last and Cameron Orr take national titles on a dramatically muddy day in 2022. Margam Park in Wales will remain a staple on the calendar, with riders tackling the famous Old School course on 11-12 May, before heading to the north east of England in Hamsterley. A fantastic venue that's been a regular on the regional downhill calendar, Hamsterley is a venue that offers a fresh course for the cross-country riders to tackle on 8-9 June.
The national series will finish over the 29-30 June with a classic event on the cross-country calendar in Tong. The venue hosted the 2023 national championships, where under-23 world champion Charlie Aldridge and short track world bronze medallist Evie Richards secured the national stripes.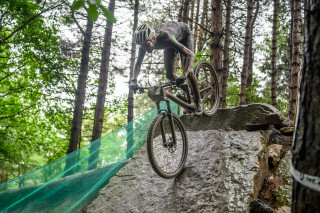 Riders will do battle once again at the 2024 national championships in Dalby, which was voted the best world cup course by the UCI in 2010. Taking place over the 19-21 July, riders will have the opportunity to be crowned the short track and Olympic national champions on a spectacular course that will be a favourite for spectators and riders alike.
To round off the season for the endurance mountain bike fans, the National Marathon Championships will return to Kielder Forest on 8 September, which saw Amy Henchoz and Ben Thomas take the titles in 2022. Situated in the picturesque Northumbrian countryside, Kielder Forest will host tough racing for riders and fantastic scenery for spectators.
British Cycling's Sports and Participation Director, Jonathan Day, said:
"Today we can publish the first of our 2024 national calendars, and I'm delighted that we're once again able to include a selection of Britain's best loved courses to put our country's most talented riders through their paces. We're particularly pleased to welcome Hamsterley to the series, and both Dalby Forest and Kielder Forest provide excellent backdrops for our national championships.
"After elite success at the UCI Cycling World Championships at Glentress and another strong year of participation domestically, we're all looking forward to another great year on the trails in 2024."
Full calendar:
National Cross-country Series
Round 1: Cannock Chase, Stafford – 6-7 April
Round 2: Kirroughtree Forest, Dumfries and Galloway – 20-21 April
Round 3: Margam Park, Neath Port Talbot – 11-12 May
Round 4: Hamsterley Forest, County Durham – 8-9 June
Round 5: Tong, Bradford – 29-30 June
National Cross-country Championships
Dalby Forest, Pickering – 19-21 July
National Marathon Championships
Kielder Forest, Northumberland – 8 September