Dame Sarah Storey and Fran Brown showed world championship dominance on day eight of the 2023 UCI Cycling World Championships while Tom Pidcock and Evie Richards claimed brilliant bronzes in the mountain bike cross-country.
Para-road
Dame Sarah Storey claimed her 17th world title in dominant fashion after a fantastic victory in the women's C5 individual time-trial.
After missing the world championships in 2022 due to injury, Storey's time of 39:48.89 was over a minute better than the rest of the field, showing the Cheshire native was back with a vengeance to reclaim the rainbow jersey. Morgan Newberry came in fifth place.
Storey said afterwards that her extra reconnaissance of the course paid dividends: "I came here early to prepare for the course - I wanted to make sure that I didn't leave anything out there for chance. I wanted to know every nook and cranny of this circuit and I really felt that preparation paid off. I knew what to expect, where all the bumps where and where all the rough surface was. I'm so pleased that I came here early - I feel like I've lived in Dumfries for a lot longer than I have!"
It was double trouble in the women's C1 time-trial as Fran Brown added her first road rainbow jersey to her three-strong collection from the track, defending her 2022 title with a time of 27:28.57. Teammate Katie Toft also saw success in her first event in Dumfries, coming away with a bronze medal after a classy ride.
Strathpeffer's own Fin Graham stormed to a silver medal in the first race of the day in Dumfries, delivering the second fastest time of 22:52.65 over the 17km course. Also competing in the men's C3 time-trials were Paralympic time-trial champion Ben Watson who took 10th place, and Jaco Van Gass who came 13th.
After three excellent gold medals in the track, the dynamic tandem duo of Sophie Unwin and Jenny Holl added to their medal haul with a silver in the women's B time-trial, with debutants Lizzi Jordan and Amy Cole produced an excellent ride to finish in fourth place.
Pilot Holl said afterwards: "We put in the best ride we could possibly have done today, and I think we can be so proud. Anyone who saw Sophie at the finish could see how much effort she put in, and I'm over the moon with how I rode personally too - ultimately the Irish were just better today. The produced an incredible ride, but we can absolutely be happy with second."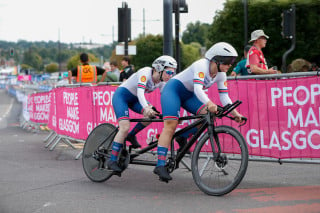 Amelia Cass lit up the road in her debut world championships on the road, setting the best time of the early starters in the C2 category and having a long wait to see if she could hold on to claim a medal. Her time of 28:24.04 was enough for a bronze medal, and the Sheffield rider was ecstatic with her performance at her first world championships.
In his first road world championships after injury, Matt Robertson put in an incredible ride in the men's C2 time-trial. His time of 23:55.08 saw him at the top of the hot seat for a good time, before ultimately being knocked down the leader board and just missing out on a medal with a fourth place finish. Teammate Ryan Taylor took ninth position with a time of 24:58.10.
Sam Ruddock had a strong start to the men's C2 race, clocking the second fastest time at the first checkpoint and looked like he was in contention for medal, but the undulating course caught up with him, and he finished fifth overall.
In the men's B time-trial, Chris McDonald and pilot Adam Duggleby rode to a seventh place finish and Steve Bate and pilot Chris Latham were just outside the medals in fifth at 34:01.87.
In the men's C5 individual time-trial, Will Bjergfelt produced a strong performance to come home in seventh in 37:36.82, while the C4 saw Archie Atkinson, straight off the back of his track exploits came home in fourth place. Hannah Moore finished in 11th place in the women's equivalent.
Road
Izzy Sharp claimed a fantastic silver medal in the junior women's time-trial in her final year as a junior on the second day of racing in Stirling.
Sharp went full gas from the start, putting serious power down to put her in first position through both check points, taking a chunk of time out of her Italian rival. The excruciating final climb took its toll, with an additional dropped chain piling on the pressure with less than 150m to go, but Sharp held her nerve and crossed the finish line with a time of 19:48.10 to win her first world championship medal. Teammate Cat Ferguson came in as favourite after her silver medal win at the road race earlier in the week, but another podium wasn't to be and, after a strong ride on the technical course, she finished 10th overall.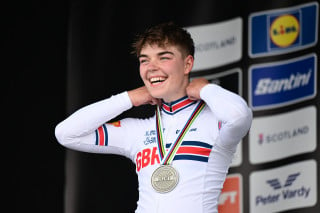 On the medal, Sharp said. "I'm absolutely over the moon. I came for the rainbow jersey but I gave everything I could to that bike ride. I was in the hot seat for quite a while so I had to just hope and hold on to second place and I'm so pleased to do it and I can't wait to celebrate with everyone.
"I felt quite tired after the first climb so I knew I had to sort of recover a little bit on the downhill for the final climb and save as much as I could. 500m to go I would've had the same reaction coming off that bike so I literally had to hold on and give everything I could. The home crowds and seeing my family as I was coming up, it just made it that much easier to get up!"
Anna Henderson was an agonising two seconds off the podium in the elite women's time-trial after an impressive ride into Stirling, stopping the clock with a time of 48:14.85 to finish fourth.
It was a superb ride, and at the first time check, Henderson was 25 seconds behind eventual winner Chloe Dygert. She maintained the silver medal position throughout her ride, until she was eventually knocked off the podium by Christina Schweinberger. Lizzie Holden finished 14th after a conservative start to her time-trial. As the race progressed, Holden pulled time back to finish outside the top 10.
Speaking on her fourth place, Henderson said: "I'm so proud of myself, after speaking to the girls, my coach and my boyfriend that my goal was that if I could see a single digit next to my name that I'd be over the moon, and to be that close to a medal I'm really proud.
"I couldn't see, think, hear going up the last climb, whoever designed the finish is a big fat beanie. I was really proud to be here at a home worlds and the crowd really lifted me today and I just fought all the way.
To be close to a medal, I never, never expected it. My dream was to be in top 10, fourth place. I'm really happy."
Cross-country mountain bike
Tom Pidcock and Evie Richards both scored brilliant bronze medals after humid and dusty cross-country short track races.
Pidcock started well, picking his way through the pack one by one in the first three laps, passing teammate Cameron Orr, and making a big effort to get to the front of the group, sitting in sixth place going into the fifth lap. Going out in lap eight, Pidcock moved forward to take the front, pushing the pace on. New Zealand's Samuel Gaze attacked in the final lap, forcing a gap, with Pidcock down in fifth position. As he came into the final bend, Pidcock found a gap to take the third place on the podium. Orr came home in 35th place after a great ride in the main pack.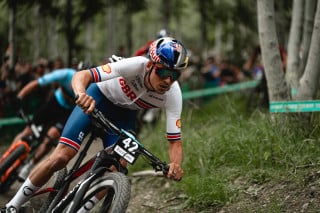 Reflecting on his bronze medal ride, Pidcock said: "I think the guys in front were following at the top of the climb at every lap, not wanting to go first.
"I didn't really know what was going to happen on the finishing bell lap, so I thought I'd sit back a little bit and hope that it would stop in front and that I would come from behind a little bit.
"I'm pretty happy, and it's nice to have a medal. For the weekend, this gives me optimism, it's not really my sort of race, it's good for Saturday. My legs are not super.
"I've recovered well after the Tour this year, I didn't last year. You kind of come out of the Tour and your body is in shock, you've been through trauma and you just have to nurse it back together a bit."
In the women's race, Evie Richards started strongly, heading straight into the front group, and staying within the top three places from the off. The 26-year-old made an attack on the ninth lap, storming the charge in front of a home crowd going up the climb, and led the group with one lap remaining. As Pauline Ferrand-Prévot pulled away on the final lap, Richards stayed in contention and crossed the line in third place.
Pebble local Isla Short rode a gutsy race to finish an incredible 13th place in front of her home crowd.
Richards said: "I'm super happy, in front of a home crowd, all the adrenaline and to come away with a medal it feels really good. It's feels like a long time coming after Worlds 2021.
"It was amazing, to have it in the UK - it was super special, with friends and family, it gives you sometimes a bit too much excitement. But I managed to hold it back a bit and have enough energy for the final lap. But very special to have final lap with them all cheering.
"It's amazing, I feel very lucky. I had a load of confidence coming into this race, but now the confidence pot is topped up a bit and we're ready to go for Saturday."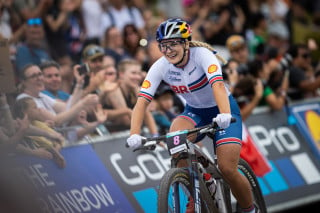 Max Greensill finished in 12th place in the junior boy's cross-country Olympic race, riding well from the start before suffering an unfortunate crash. Greensill was up in fifth place, just 18 seconds off the medal positions on the fourth lap, before dropping a chain to take him back to seventh. Just minutes later, Greensill fell heavily on a rocky section, but got straight back on the bike and stormed the last two laps before a brilliant finish in 12th place. Scotland's Reuben Oakley finished in 50th place after suffering from a fall in training earlier in the week, while Ben Allan finished 63rd. Nathaniel Henderson took 78th place and Oliver Murphy finished in 80th.
The junior women's cross-country Olympic race saw local rider Emily Carrick-Anderson take 28th place after a sprint finish, while Daisy Taylor came in a commendable 30th place. Kacey Eyeington and Bethany-Ann Jackson finished in 41st and 44th, respectively.
The ninth day of the 2023 UCI Cycling World Championships will see riders battle for medals in the para-road races, mountain bike under-23 Olympic races, and junior men and elite men time-trials. You can keep up to date with all the action across the British Cycling social media accounts and #GlasgowScotland2023.