Both the British National Downhill Championships and the British National Cross-country Championships take place this weekend with the best British riders taking to the start line to battle it out for the coveted red, white and blue national champions jersey. Here we've pulled together all the key information you need, and a few of our ones to watch across both events.
For updates from the events this weekend head to our social media channels, where you'll also find updates from the British National BMX Freestyle Championships in Darwen.
British National Downhill Championships
The British National Downhill Championships will take place at the iconic Rhyd-Y-Felin. A staple on the British downhill calendar, riders will be familiar with the course which has huge jumps and tight berms to ensure thrilling competition for riders and spectators alike.
With runs typically coming in at around three minutes, the top section is very quick with some loose slate turns, while the riders' technique will be tested on narrow sections with roots and stumps. After riders cross the fire road into the final wooded section they will encounter some grassy turns, where many races have been won and lost in the past.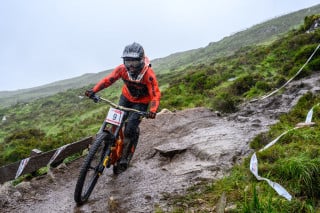 Ones to watch
The women's field looks stacked with the best downhillers in the country, with legend of the sport Rachel Atherton hoping to claim another national title ahead of the 2023 UCI Cycling World Championships in Scotland next month. Atherton will be challenged by reigning national champion Stacey Fisher, 2018 world silver medallist Tahnee Seagrave, 2021 junior national champion Phoebe Gale, and seasoned cross-country rider who has stormed the downhill scene this season, Harriet Harnden.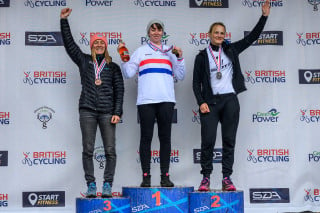 In the men's category, 2022 junior world champion Jordan Williams will be competing in the senior ranks in a bid for the national stripes, but reigning champion Greg Williamson will not be going down without a fight. The current National Downhill Series leader Matt Walker will also be looking to take the top spot on the podium, with other challengers including triple world medallist Danny Hart, Charlie Hatton, and last year's national podium takers Adam Brayton and Taylor Vernon.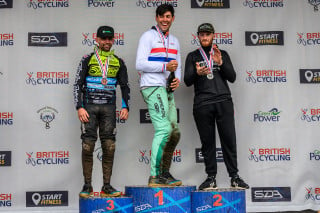 In the junior ranks, Nina-Yves Cameron and Aimi Kenyon look to be the favourites in the women's event after their selections for the UCI Cycling World Championships, while Dom Platt, Luca Thurlow and Alfie Heming lead a strong junior men's field.
British National Cross-country Championships
The British National Cross-country Championships will see riders compete over a challenging course in Tong, Bradford.
The venue, based in an old quarry, is a popular one with riders having hosted the opening round of the 2022 National Series. Riders will be forced to work hard for their placings and can expect plenty of mud and another technical course this time around.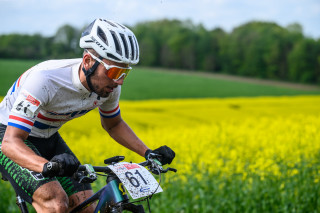 Ones to watch
Friday will see the second edition of the short track championships, with reigning national champion Annie Last leading the women's field. She will be challenged by last year's silver medallist Evie Richards, and recent mountain bike marathon national champion Isla Short. In the men's field, Charlie Aldridge will be attempting to defend his title, but will face stiff competition from last year's medallists Cameron Mason and Cameron Orr.
In the junior events, Ella Carrick-Anderson and Kacey Eyeington look to be the women's favourites, while Max Greensill and Oliver Akers will go head-to-head in the men's category.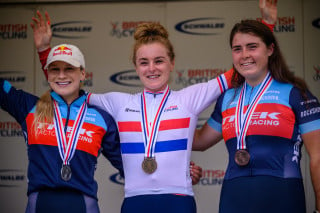 Sunday's elite cross-country races will see Annie Last attempt to repeat her double of national titles from last year, while previous world champion Evie Richards will look to go one better than her silver medal. Isla Short will be hoping to be on the top spot of the podium after taking bronze in 2022, as will Anna Kay. Coming from the road, Sophie Thackray will also be one to watch.
Cameron Orr will face tough competition to retain his national title, with 2019 junior world champion and last year's under-23 national winner Charlie Aldridge stepping up to the senior ranks, and last year's silver medallist Thomas Mein also looking to be in fine form. A mechanical diminished Cameron Mason's chances of winning last year's event, and he will be hoping to have luck on his side in this year's nationals.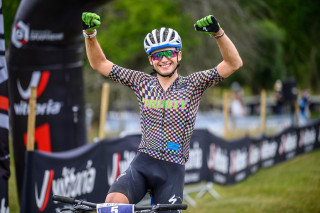 In the under-23s, an absent Harriet Harnden could give Elena McGorum the chance to go one better than last year's silver, but she will be tested by her sister Anna, and Team Inspired's Ella Maclean-Howell, who was junior champion in 2022. Over in the men's, Joseph Blackmore looks to be the favourite, but will be contested by 2022 bronze medallist Rory McGuire and Corran Carrick-Anderson.
Emily Carrick-Anderson and Kacey Eyeington will battle it out for the chance to be crowned the junior national title holder after their recent selections for the UCI Cycling World Championships, as will Max Greensill and Reuben Oakley in the men's equivalent.
Where to watch
You can watch all the cross-country's action through the livestream on YouTube here, thanks to the great work of Xcomtb.com.