The third round of the National Downhill Series saw riders battle thunder and lightning to compete for podium places at Llangollen One Giant Leap Bike Park.
On Saturday, racing had to be cancelled due to lightning storms in the area, with the seeding runs rescheduled for Sunday, but were once again interrupted by lightning before the junior men's race runs.
Elite
Harriet Harnden (Trek Factory Racing) stormed to the win in the elite women's category, just edging out Jessica Stone into second place with 0.3 seconds between them. 2021 and 2022 national champion Stacey Fisher claimed third with the top three all clocking under two minutes and 40 seconds.
The elite men's category saw riders face extreme weather conditions, forcing their results to be decided through their first run seedings. Matt Walker (Madison) claimed the men's win in 2:11.643, while Joe Breedon finished two seconds behind. Taylor Vernon (Sorted Racing) came in third after a fantastic run, with Luke Williams (555 Gravity) taking fourth.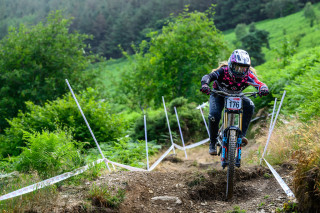 Junior
The junior men's category was also affected by the weather, with results taken from the seedings. Dom Platt (Continental) conquered the course with a time that was three seconds quicker than his nearest competitor. Second place went to Archie Townsend (Gawton Gravity), who came in on 2:20.667, while third place went to Josh Lancett-Edwards (Pearce Cycling).
Kerenza Scott had a brilliant run in the junior women's category, finishing ahead of Elin Berry and Nina-Yves Cameron as the only junior women to go under three minutes.
Senior and expert
Joshua Brazien snatched the win from James Elliot (SCOTT Racing) after two incredible runs, with Brazien finishing just half a second ahead to claim the men's expert win. Rueben Taylor claimed third on 2:21.186 after the results were taken from seedings due to the weather.
The senior women's category saw Mary Lynes dominate the field, finishing almost four seconds ahead of second place's Vaska Prostova. Jane Page claimed third after a brilliant run on the course.
In the senior men's category, Josh Turner took the win comfortably ahead of Charlie McIver, while Finn Clarke (Sorted Racing) took third place, with riders battling the thunderstorms throughout this race.
Juvenile and youth
Heather Wilson secured the juvenile and youth women's win, finishing over ten seconds ahead of the field. Hollie Alderson (West Highlands) and Olivia Taylor (Madison) took second and third to round off the podium.
In the boys' juvenile category, Harrison Schofield (TNT) was crowned the winner ahead of Nick Etherton (FT Vitus) and Charlier Toomer.
George Madley and Felix Griffiths (Madison) represented the best of their team with a 1-2 podium in the youth boys' category, with both clocking under two minutes and 20 seconds. Sam Hatfield finishing in third.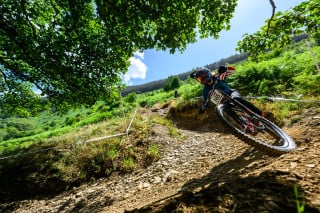 Masters and veterans
Stuart Houlston took the win in the men's masters ahead of Andy Weames and Michael Vickers, while Leon Rosser took the veteran's win, with David List and Neil White joining him on the podium in second and third, respectively.
John Cobb was crowned victorious in the men's grand veteran category, while Mark Weightman just missed out with less than a second between them. Justin Barratt rounded off the podium in third.