British Cycling can today announce the dates and venues for the 2023 mountain bike endurance national series and championships, with national champions' jerseys to be awarded in Tong for short track and cross-country and Pippingford for marathon.
The National Cross-country Series kicks off with a first visit to Tong on the weekend of March 25-26. The series then returns to Wales for the second round in Margam Park on its famous Old School course on 15-16 April, before heading to Hollywell in Fareham (6-7 May), which has been a popular venue in the Southern Cross-country League and now forms part of the national series for the first time.
The series then moves on to Woody's Bike Park (27-28 May) for a third year, on another popular course for riders with its testing and technical conditions, before the final round once again takes place on the Commonwealth Games course, funded by the Places to Ride scheme, at Cannock Chase on the weekend of 1-2 July. The round at Woody's will be a UCI C1 event, with the remainder of the series UCI C2, and age categories from under-16 through to veterans running across all events.
Having hosted the opening round of the 2022 series, Tong will play host to next year's national championships, with the short track races taking place on Friday 21 July and the cross-country races on the Saturday and Sunday - and an even bigger and better course in store for riders and spectators alike. The 2022 national championships saw Annie Last secure the women's short track and cross-country victory, while Charlie Aldridge won the men's short track, and Cam Orr took home the cross-country national champion jersey.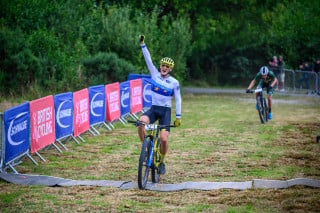 Woody's Bike Park organiser, Mark Hudson, said:
"Woody's is a modern cross-country course with plenty of technical and fun features including rock gardens, drop offs, jumps and berms galore. A good amount of descending always means there's going to be some climbing, and Woody's will appeal to the climbers too. It's a wide-open venue with stunning views that allows for great spectating and for riders to spot the positions of their competitors.
"We're really excited to be hosting a UCI Category 1 race in 2023, especially with the qualification for the Paris Olympics, and hope this will bring in some top name riders and a lot of spectators. With the race hosted over the Bank Holiday, this allows people to make a weekend of it and ride the bike park on the Monday."
The National Marathon Championships will be held in Pippingford, which has previously hosted the Vittoria Marathon, with more challenging conditions for riders almost guaranteed. Amy Henchoz and Ben Thomas were crowned the 2022 national champions after the 100km race in Kielder Forest.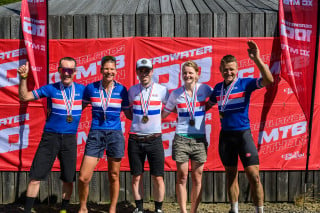 British Cycling's Competition Team Leader, Rick Clarkson, said:
"We're once again looking forward to delivering a fantastic series of mountain bike endurance events, across short track, cross-country and marathon. Featuring a broad range of new and familiar courses, from Margam Park in Wales to the Commonwealth Games host venue at Cannock Chase, there are plenty of opportunities for people to test themselves against the country's best or bring the family along to cheer on the riders and enjoy a great day out."
Full Calendar:
National Cross-country Series
Round 1: Tong, Bradford (UCI C2) – 25-26 March
Round 2: Margam Park, South Wales (UCI C2) – 15-16 April
Round 3: Hollywell, Fareham (UCI C2) – 6-7 May
Round 4: Woody's, Fowey (UCI C1) – 27-28 May
Round 5: Cannock Chase, Stafford (UCI C2) – 1-2 July
National Marathon Championships
Pippingford, Sussex – 8-9 July
National Cross-country Short Track Championships
Tong, Bradford – 21 July
National Cross-country Olympic Championships
Tong, Bradford – 22-23 July