Josie McFall and Connor Hudson were victorious in the elite women's and men's categories at the National 4X Championships in Falmouth, a day after podium finishes in Round 6 of the National 4X Series.
National Championships
Sophie Cade came into the elite women's final as the fastest qualifier, but Josie McFall (Sorted Racegear) outgated her to put herself in the lead from the start. Cade tried to take back the lead, but an inside move in turn two resulted in a tangle with third place finisher Katherine Byng, leaving McFall to comfortably take a long anticipated national title.
In the elite men's race, an intensely fought battle saw Connor Hudson (Royston Rockets BMX Racing Club) have the edge over Tom Bell (Carrick Riders Mountain Bike Club), who chased in close pursuit early on. Duncan Ferris caught and passed Bell with an inside move into the proline, while Zac Hudson (Sorted Racegear) also fought to get past Bell. During the tussle for podium positions, local rider Hudson grabbed his first national title with a huge margin over second placed Ferris.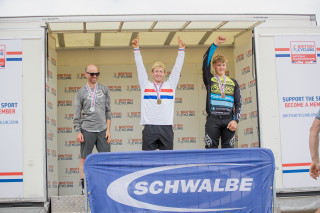 Junior riders William Goode (Birmingham BMX Club) and Joshua Abbott (Royston Rockets BMX Racing Club) entertained the crowds, with Goode taking the win.
In the juvenile category, Tyler Anderson battled with winner Gabe Simpson in a contest that ended with only half a bike length between them. In the Youth category, Izak Williams had a fantastic day to finish second, but the youth field was dominated by James Sankey. In the rippers, there was in an intense three-way fight between Felyx Williams, Jay Holt-Davies and eventual winner Benjamin Larkins.
The masters' competition was won resoundingly by Scott Roberts, while a battle for second saw Simon Nash (MB Swindon) pushing past both Alastair Keen (Midlands 4X MTB Club) and Matt Hillyard (Team V-Sprint Racing) to clinch silver.
Dave Richardson netted the veterans' title by the closest of margins, while David Michael took the proline to move from third up to first to grab a national jersey in the grand veterans' race.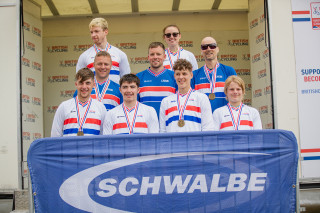 National Series Round 6
It was a doubly successful weekend for McFall, who also claimed the elite women's win in Round 6 of the National 4X Series the day before, while Zac Hudson won the elite men's race.
After a full day of battling it out, McFall claimed the victory in the 's elite women's field, followed by Byng in second and Cade in third.
Returning from trying his hand at the downhill World Cup, Zac Hudson went on to take the elite men's win in an unpredictable day for results, followed by Connor Hudson in second and Ferris in third.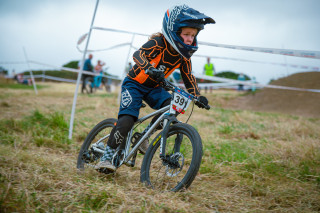 National Championship results
Elite women – Josie McFall
Elite men – Connor Hudson
Grand veterans– David Michael
Veterans – Dave Richardson
Masters – Scott Roberts
Juniors – William Goode
Youths – James Sankey
Juveniles – Gabe Simpson
Rippers – Benjamin Larkins
National Championship photos can be found here.
Round 6 photos can be found here.