Britain's best downhill mountain bikers descend on Rhyd-Y-Felin this weekend for the 2021 HSBC UK | National Downhill Championships, with a total of 13 coveted national champion's jerseys up for grabs on Sunday.
The event returns following the cancellation of last year's championships due to the Covid-19 pandemic, meaning that Danny Hart and Stacey Fisher will be defending their titles from the 2019 championships at Wales's Revolution Bike Park.
The Course
Rhyd-Y-Felin is certainly no stranger to the British downhill community, having hosted rounds of the HSBC UK | National Downhill Series for a number of years, including 2018 and 2019, and the national championships in 2017.
The course is renowned for challenging riders with its huge jumps and tight berms, ensuring thrilling competition for riders and spectators alike.
With runs typically coming in at around three minutes, the top section is very quick with some loose slatey turns, while the riders' technique will be tested on narrow sections with roots and stumps. After riders cross the fireroad into the final wooded section they will encounter some grassy turns, where many races have been won and lost in the past.
The Favourites
Both Danny Hart and Stacey Fisher will have their eyes on retaining the titles they won at Revolution Bike Park in 2019, but each will have their work cut out in high-calibre fields.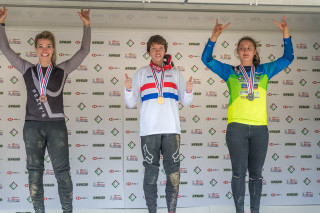 Tahnee Seagrave will enter the event as one of the hot favourites after her huge victory in the UCI Downhill World Cup round in Les Gets last month, and was victorious the last time the national championships were held in Rhyd-Y-Felin back in 2017.
Katherine Sharp will be looking to build on her impressive start to the season, after taking the victory in the first round of the 2021 HSBC UK | National Downhill Series in Hamsterley at the weekend, ahead of Fisher and Becci Skelton in second and third respectively.
In the men's category, reigning champion of Hart will do battle again with Charlie Hatton and Joe Breeden, who finished second and third respectively in the 2019 championships. Breeden was 10th in the last world cup round in Les Gets, while Philip Atwill, Michael Jones and Greg Williamson will also take to the start line in Rhyd-Y-Felin off the back of solid performances in France.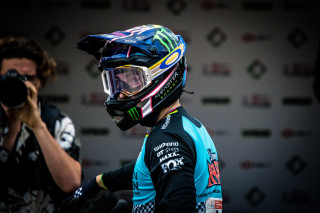 A string of impressive performances saw Matt Walker take the overall UCI MTB Downhill World Cup Series title in 2020, and the 2018 national champion will arrive in Rhyd-Y-Felin with high hopes of reclaiming the jersey.
Matt Rushton was second in the first round of the national series in Hamsterley, and he will be looking to take that form into the weekend along with third place George Gannicott.
In the junior categories watch out for Jordan Williams, a first year junior who secured second place with an incredible performance at the world cup round in Les Gets (in what was just his second world cup event), while Ethan Craik won the overall UCI MTB Downhill World Cup Series last year.
Phoebe Gale took the victory in the junior women's event in Les Gets, and will be hoping for another strong performance this weekend.
How To Follow
We'll be bringing you behind the scenes content and updates from Rhyd-Y-Felin this weekend through our social media channels, with a full report to follow on Monday. Images will be available to view at the end of each day's action on SWPix.
You can find the event schedule here, along with the venue details and spectator information.
We'd like to say a huge thanks to Dave Pearce and Pearce Cycles RT for organising this weekend's event, along with the volunteers and officials who are giving up their time to make it all happen! #EveryoneWins
Get Involved
Taking part this weekend? Upload your best footage and biggest sends with the link below to be included as part of British Cycling's event coverage.