Reigning world champion Rachel Atherton overcame the "worst weather" she has ever experienced to triumph at the UCI Mountain Bike Downhill World Cup in Fort William.
The 31-year-old, who was racing on her own bike brand for the first time, was in irresistible form as she conquered the formidable Aonach Mor course for a fourth time.
Despite being tested by the conditions and a deteriorating track in the Scottish town, the five-time world champion posted a time of 5:15.560mins to top the podium once again.
Atherton finished more than 1.6 seconds faster than nearest challenger Tracey Hannah (5:17.171), who had qualified in first a day earlier when the Briton was third.
Hannah had looked in good shape to beat Atherton's time after her second split was quicker, but the Australian was unable to maintain her pace as Germany's Nina Hoffmann took third.
Special Fort William win

And after following up her wins at Fort William in 2013, 2015 and 2016, Atherton admitted her heart had been in her mouth several times as watched her rival try to oust her.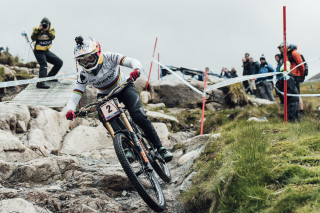 "That was the most nail-biting thing ever, sat in the hot seat there with me and Tracey neck-and-neck, she must have ridden that middle section so strong," she said.
"I couldn't have ridden it any faster than that so I'm absolutely buzzing. A win at Fort William is special enough without doing it on the Atherton bike.
"That's all I've been thinking about all winter, Fort William and the Atherton bike, oh my god my head is frying and I can't believe this has just happened, it's absolutely mental!
"The conditions have been mad, I don't know if you can really get the feel of it through the TV but the weather has been really, really horrific here.
"Friday's practice was like torrential rain and it makes it really hard to concentrate on your bike set-up, your line choices, it's hard to feel like you're at a World Cup.
"Everyone's just covered in mud, we've been riding in waterproofs all weekend and it's just carnage, but the whole crowd are here even though it's raining.
"All the marshals, all the officials, everyone is just really digging deep and all the riders got down safely, but it is just mental, it's the worst weather I've ever experienced."
Racing right on the edge

The 2.8km long course at Aonach Mor, the ninth-highest mountain in the UK, is renowned for providing a tough terrain for riders, including rock gardens, slabs and big jumps.
Atherton has had her fair share of misfortune in Fort William previously, including dislocating her shoulder in 2017, but she stressed the importance of the crowd willing her on.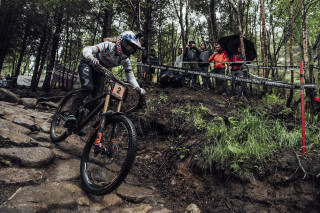 "You have so many moments and Fort William is a track where you race right on the edge, if not over the edge, and you have so many moments in a race run," she added.
"The crowd are always like, 'Come on!', and you're just trying to stay upright, but they really keep you going and all the way to the finish, through the woods, the noise is incredible.
"I feel like I've been too stressed this weekend to really interact with the crowd, but the race is over now and I can now talk to them and have fun as it's been a hard winter.
"It's the first time I've won on an Atherton bike and it's nice to have that ticked off as I didn't know if that was too much of a big thing we were trying to do here, too much pressure."
Top tens for British duo

In the men's downhill race, Danny Hart and Matt Walker were the pick of the British competitors after finishing in fifth and seventh, respectively, in a thrilling final.
Frenchman Amaury Pierron, who was second in qualifying, topped the podium after navigating the tricky course in 4:26.578 to finish ahead of Australian Troy Brosnan.
Pierron's compatriot Loris Vergier took third place despite qualifying for the final in pole position, while Hart just missed out on the podium after completing the course in 4:36.096.
Walker was not far behind him in seventh (4:37.025), while Bernard Kerr and Greg Williamson finished just outside the top ten, in 11th and 12th respectively.
The result means Hart is now fourth in the overall individual downhill standings, with Walker sixth, while Brosnan leads the way ahead of Pierron and Loic Bruni.