Tahnee Seagrave begun her UCI MTB Downhill World Cup campaign with perfection after securing victory in the season curtain-raiser in Maribor.
The Brit had qualified in third but was well ahead on all her intermediates in the run that mattered most, stopping the clock in 3:25.888 to put pressure on the lead duo.
And that performance was enough to win, with compatriot and overall World Cup winner Rachel Atherton coming second ahead of Australia's Tracey Hannah, who had qualified fastest.
Now, it's all eyes on the home comforts of Fort William for the victorious Seagrave – who went through the ringer as she sat in the hot seat waiting for the last of the action to unfold.
"I knew I had a lot of time to make up from yesterday's qualifying and I was working super hard," said the Transition Bikes rider.
"Watching Rachel come down, it was so tight – it was an amazing feeling. Whether I'd won or lost, all those emotions were mental.


All smiles for @rachelatherton, @tahneeseagrave and @TraceyHannah.

We loved the thrill of the finals! How about you? #MBWorldCup pic.twitter.com/0l0UhTq1Cl

— UCI MTB (@UCI_MTB) April 28, 2019
"When Tracy came down, I was so scared. She pulled loads of time on us so I was thrilled to get the win.
"I knew I had to be smooth. You can't go flat out into some sections, which you had to remind yourself of – I made a few mistakes but nothing that cost me too much time, so I'm stoked.
"I've always said that I do a race and move on, regardless of what happens. Fort William is a new race. We've got four weeks to prepare for it and I'm stoked."
Seagrave's win is her seventh in a World Cup event, making the ideal start in her bid to go one better than the second-place she accrued in last year's overall standings.
The top gong that time around went to Atherton, settling for silver this time around in a run that saw her dip in and out of her fellow Brit's laid-down marker.
The world champion eventually stopped the clock 0.855 seconds adrift of Seagrave but comfortably ahead of Hannah, who had qualified fastest in Slovenia.
Seagrave's win unsurprisingly takes her to the top of the nascent downhill World Cup standings with 230 points, 30 ahead of Atherton.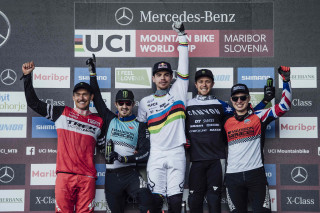 The men's competition was equally dramatic in Maribor with Great Britain's Danny Hart, riding for Madison Saracen Factory Team, 0.404 seconds away from taking the win.
Hart had the lead following the first split en route to stopping the clock in 2:59.603.
That showed a marked improvement on his qualifying run but it was France's Loic Bruni who took the win in a time of 2:58.839.
But Hart – second in last year's standings – was not the only Brit to take his place on the podium as teammate Matt Walker finished fifth, while Laurie Greenland also occupied a place in the top ten ahead of Reece Wilson and Bernard Kerr.
The UCI MTB World Cup continues into Germany for cross-country events in Albstadt on May 18 and 19, with the next round of downhill taking riders to Scotland and the memorable Fort William run on June 1.