This weekend sees battle resume in the 2019 HSBC UK | National Cross-Country Series, as round 2 returns to the scene of the London 2012 Olympic race – Essex's Hadleigh Park.
Competitors ranging from under-14 to 60+ will compete in 22 categories across both Saturday and Sunday, and will race on the latest and closest version of the iconic purpose-built London Games course possible.
Race Organiser Matt Ewings, of Mud, Sweat and Gears, said:
"It's the first time we've used the whole course as originally intended for a national-level event since the national championships in 2015, so it will be interesting to see how the riders cope with it and if lap times have improved at all.
"The course should be running well given its all-weather surface; the wind is always a factor but the forecast is looking ok at the moment."
Elite
Round 1 winner, Cameron Orr, is absent this weekend, so the lead in the Elite Men's category is there for the taking. Grant Ferguson was out-sprinted by Orr at Sherwood Pines in round 1, but with 16 continental riders taking to the start line – including Kevin Panhuyzen, Mathias Wengelin, Martin Fanger, Joshua Dubau and Arthur Tropady - the Scotsman is sure to have plenty of people pushing for the race victory.
Indeed, amongst the home nation riders, it could be Tom Bell's day given the nature of the course, while Jason Boutell or Frazer Clacherty will also fancy their chances on a familiar course.
With the top five finishers from round 1 not taking part this weekend, the Elite Women's race will see a real shake up in the standings. The course will suit Kerry MacPhee's technical skillset, but the Torq Performance trio of Amy-Jo Hansford, Eilish and Heulwen Gilbert will be in the mix, as will Jane Barr and Emily Ashwood, both back after injury.
Technical riders such as Helen Barron and Joanne Thom will fancy their chances, and the speed of the likes of Heidi Gould could make this one of the most unpredictable races of the entire weekend.
Junior
Round 1 winner, Charlie Aldridge of Stirling Bike Club, will be looking to make it two out of two in the Junior Men's race at Hadleigh however his nearest rival at Sherwood Pines - Harry Birchill of Mid Devon CC – will again provide a stern challenge.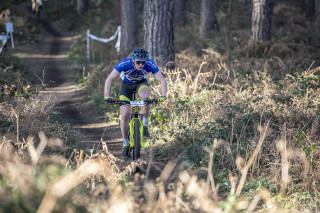 Riders left in their wake at round 1, such as Marcus Holmes and Thomas Timberlake, as well as continental visitors Djeff Verhayeden, Auzoux Theo, Sander Keilich ands Uzon Aurelien will all be hoping that the change in terrain will play to their strengths, rather than those of Aldridge and Birchill.
The experts' race was a real, race-long battle last time out and this time the competition looks to be just as tough. Jacob Scott is looking to double up after his round 1 win, however Jonathon Brain, Nick Drew and William Lewis will be hoping that the more technical course will blunt the speed of Scott who is more well known for his road racing results.
The Junior Women's race should be more straightforward in terms of picking a winner, with Hattie Harnden due to start as firm favourite after sitting out and spectating at round 1, where she saw an in-form Anna McGorum take victory.
Behind them, Anna Flynn of Edinburgh RC is always at home on courses such as Hadleigh, and Josie Nelson will be looking to produce her trademark ferocious pace.
The experts' race at round 1 saw Melissa Baker take third, and she'll be looking to upgrade that this weekend. Alanda Scott, Agne Kurdikaite and Nicky Hughes will all know that this round is critical in laying a foundation for overall victory in the series, however, making this another race to close to call.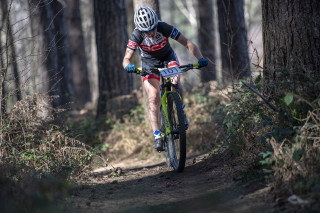 U-14 Juvenile and U-16 Youths
Once again, huge numbers of entrants in both the boys' and girls' categories underline the popularity of the discipline among younger riders, and more fast, frantic and flat-out racing is expected.
In the u-16s categories, Corran Carrick-Anderson, Benjamin Bright, Millie Couzens and Anna Wadsworth showed they are carrying their speed from round 1 by being active in the Youth Tour of Scotland last weekend.
Also looking in top form are the u-14 girls podium from round 1 of Emily Carrick-Anderson, Libby Bell and Christina McGorum who will be looking to keep ahead of the rest of the field.
In the u-14 boys category, last round's runaway winner Max Greensill will be looking to emulate that success.

Veterans (40-49), (Grand Vet 50-59), Super Vet (60+)
The Women's Vet race is going to see the top riders from round 1 return to action, with series leader Julia Hamlyn defending her lead against Verity Appleyard, Dani Humphrey and Ruth Miller.
In the Men's Vet category, the likes of Adrian Lansley, Sam Humphrey and Mark Chamberlain will all be targeting to take the win and series lead this weekend.
All three podium riders from round 1 in the Women's Grand Vet race are back in action on Saturday, with Maddi Smith looking to extend her lead over Virginia Roberts and Lucy Rogers.
On the men's side, Sherwood winner Nick Craig doesn't start, so the likes of Tim Davies, Jimmy Piper and Tim Gould will be among those likely to be challenging for the victory.
Defending series champion and winner of round 1 in the Super Vet Women's category, Carolyn Spiers, is back in action again at round 2, while in the Super Vet Men's race Bruce Rollinson will be looking to extend his lead ahead of John Galway, Chris Wreghitt and last year's series winner, Kirby Bennett.