Newly crowned national under-23 mountain bike champions Evie Richards and Frazer Clacherty lead the Great Britain Cycling team in Graz-Stattegg, Austria this weekend.
Richards has been performing exceptionally in this year's UCI Mountain Bike World Cup, a second and third place at the previous two rounds in the under-23 category will give her confidence in being able produce at the European championships.
Clacherty and Richards will be joined in the under-23 races by Cameron Orr and Isla Short. Commonwealth Games riders Orr and Short both won medals at the HSBC UK | National Mountain Bike Cross Country Championships win Orr winning under-23 silver and Short taking under-23 bronze.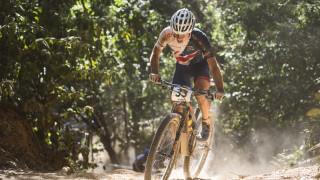 Both junior national champions Sean Flynn and Harriett Harnden will compete in the junior competition, as well as Charlie Aldridge.
The young squad will head to the 2018 UEC MTB Junior and Under-23 European Championships in good form and be able to use their knowledge of the course to good effect.
Lead mountain bike coach Simon Watts said: "The course in Graz hasn't been used for an international junior or under-23 race before, however it's held the UEC Youth European Championships throughout its existence and as such a number of the squad are familiar with the layout. We have selected two reigning Youth European Champions, Charlie Aldridge and Hattie Harnden, who are now in their first year as juniors and I think they can take confidence from their performances last year into this year's race.
"I'm pleased to say we are entering a team into the relay race this year. Due to geographical constraints, we won't be bringing any elite riders over – instead we are providing extra opportunities for our under-23 riders to race. The team line-up as it currently stands is Evie Richards and Frazer Clacherty stepping up into the elite positions, Isla Short and Cam Orr filling the under-23 positions and junior Sean Flynn completing the line-up. The relay is a chance to score Olympic qualification points for both men and women, so will form a key part of the championships for us.
"As part of our strategy, the programme riders have represented their trade teams at the most recent rounds of the world cups, so I'm looking forward to getting the team back together ahead of the championships and I'm pleased we've been able to welcome guest riders to the team for this race. We've seen some good results from the riders on the under-23 world cup circuit so I'll be looking for this to translate across to the European Championships in Graz."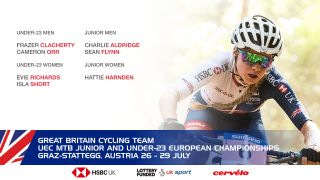 Schedule
Thursday 26 July
3pm – Team relay
Sunday 29 July
8am – Junior women's final
10am – Junior men's final
12pm – Under-23 women's final
2pm – Under-23 men's final
How to follow
Results on British Cycling's Twitter
Full report on the British Cycling website