The world's best mountain bike riders are back in action this weekend as the Mercedes-Benz UCI Mountain Bike World Cup continues in Andorra.
Downhill and cross-country stars will compete in Vallnord with a number of British riders set for the start line.
Cross-country
Fresh from action in Italy last weekend, Great Britain Cycling Team's Annie Last, Evie Richards and Frazer Clacherty will continue their world cup challenges in Andorra.
KMC-EKOI-SRSUNTOUR's Last finished 10th at Val di Sole in the elite women's race and currently sits 11th in the overall world cup standings.
Richards (Trek Factory Racing) showed her class once again in Italy, finishing second in the under-23 women's race behind Switzerland's Sina Frei.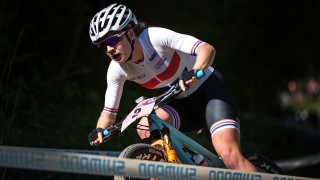 Richards is currently third in the world cup standings and, like leader Frei and Denmark's Malene Frei in second, has not finished outside the top three at any world cup race this season.
Frazer Clacherty (Silverback OMX Pro Team) is just outside the top 20 in the under-23 men's standings after a strong 18th place finish last weekend.
Other British riders set to compete in Andorra include Isla Short (Habitat Mountain Bike Team), who heads to Vallnord on the back of an excellent fourth-place finish in Italy in the under-23 women's race, and 2016 Olympian Grant Ferguson (CST Sandd American Eagle MTB Racing Team).
Great Britain Cycling Team mountain bike lead coach Simon Watts said: "Vallnord is a high-altitude course with the start line set at 2000 metres above sea level. The course is mostly natural which becomes tricky when it rains thanks to the slabs of exposed granite around the course.
"British Cycling held an altitude camp in Andorra a couple of weeks back which saw the programme riders plus a couple of guest riders invest well in terms of acclimatisation work, however with the Val di Sole world cup falling last week, it has meant the preparation for the Vallnord round hasn't been ideal. However, this is a problem all the riders from all the nations will be up against and managing pacing will be a very important aspect of success this weekend.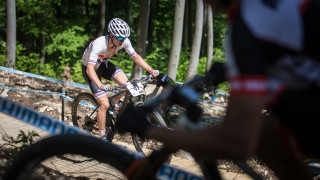 "Evie won the silver medal in the junior women's world championship event in 2015 on this course, so she will be taking confidence from that and also from her second-placed finish in the under-23 women's race in Val di Sole last weekend. Frazer has performed well on this course in the past, but at last year's world cup he did make some errors which I'll be looking for him to rectify at this year's round. Annie was caught up in a crash last weekend in Val di Sole, but she knows there's more to come from this season and she's a very experienced racer so I'm confident she will put in a good ride this weekend.
"I think it's also worth noting Isla Short's result from Val di Sole, she finished fourth in the under-23 women's race last weekend, and the course in Vallnord could play to her strengths as there are a lot of steep climbs per lap which suits her style of riding."
Downhill
The battle of the British riders continues this weekend in the elite women's downhill world cup.
Tahnee Seagrave (Transition Bikes / Muc-Off Factory Racing) took the win in Italy – but it was a second-placed finish for Rachel Atherton (Trek Factory Racing) that saw the former world champion move to top spot in the world cup standings.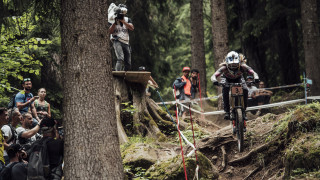 Atherton leads the world cup on 776 points with Seagrave exactly 100 points behind in second.
Val di Sole also proved to be a happy hunting ground for the men's downhill riders, with both Laurie Greenland and Danny Hart taking top three finishes.
Greenland (MS Mondraker Team) just pipped Hart (Madison Saracen factory Team) to second place in Italy. Both riders are in the world cup top five, with just 40 points separating second-placed Greenland from fifth-placed Hart.
France's Amaury Pierron is the runaway leader after winning the last three rounds in a row.
Schedule
Friday 13 July
11.15am – Junior women's downhill seeding run
11.30am – Junior men's downhill qualifying
12.30pm – Elite women's downhill qualifying
1pm – Elite men's downhill qualifying
4.30pm – Women's cross-country short track
5.15pm – Men's cross-country short track
Saturday 14 July
8.45am – Junior women's downhill final
9.15am – Junior men's downhill final
11.30am – Elite women's downhill final
12.30pm – Elite women's downhill final
Sunday 15 July
7.30am – Under-23 women's cross-country
9.15am – Under-23 men's cross-country
11.20am – Elite women's cross-country
1.50pm – Elite men's cross-country
How to follow
Watch the elite men's and women's downhill and cross-country finals on Red Bull TV
Reports on the British Cycling website