Great Britain's Tahnee Seagrave won her second world cup round of the season with a dominant display in Canada.
The Transition Bikes / FMD Factory rider produced a blistering time in Mont-Sainte-Anne to add to her maiden world cup win in Leogang earlier this year.
On a course full of steep descents and technical rocky sections, Seagrave found time where her rivals couldn't, crossing the line in 4:46.723 - a time worthy of a comfortable win.
The 22-year-old was thrilled with her performance.
"It feels so much better for me, feels more like a deserved one as Rach (Atherton) wasn't competing (in Leogang). It doesn't feel real yet.
"It's so cool it comes down to the last race, as long as I've been racing it's never been like that. I'm stoked."
France's Miriam Nicole (Commencal / Vallnord) finished second, 5.7 seconds behind Seagrave, to retain her world cup lead with Australia's Tracey Hannah (Polygon UR) third.
Save of the day
Britain's Rachel Atherton (Trek Factory Racing DH) finished over 12.5 seconds behind Seagrave to take fifth place - but produced one of the most sensational piece of bike handling ever seen in a world cup.
The world champion looked certain to come off her bike in the rocky descents as part of the ground gave way following a landing from a jump.
But Atherton managed to stay upright, not once, not twice but three times showing a technical ability worthy of the rainbow stripes - but she admitted she was relieved.
"Terrifying! You're so committed off that rock roller, my arms were gone. There's a massive rock, I couldn't change my line, the rock rolled me, I bounced, bounced the opposite way, bounced again, I thought I can't crash! I'll fall to pieces!
"I could hear the crowd gasping! As I held it and rode out, they cheered so loud and I thought, I can't risk it, I'm not crashing. I couldn't hold on, fair play to the girls."
Elite men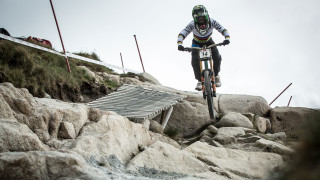 Heavy rain created chaos in Mont-Sainte-Anne with treacherous conditions awaiting the best qualifiers in the elite men's race.
Australia's Dean Lucas (Intense Factory Racing) posted a time of 4:19.484 before the downpour - and that time looked virtually impossible to beat at times.
Great Britain's Michael Jones (Chain Reaction Cycles / Mavic) was, for much of the competition, Lucas' closest rival, getting down in 4:21.858.
World champion Danny Hart then took to the course determined to make an impact and produced a brilliant run, riding the conditions perfectly to keep in touch with Lucas' time.
Suddenly, it looked as if the impossible was on, as Hart (MS Mondraker) actually went fastest at the penultimate split.
But the muddy conditions slowed him down in the finish as he crossed the line 0.432 seconds behind the Australian - but having wowed the Canadian crowd.
If Hart had impressed, then Aaron Gwin (The YT Mob) stunned the mountain bike world.
The American produced one of the greatest world cup wet runs of all time to get down the course in 4:18.426 - winning the round by 1.058 to take his third Mont-Sainte-Anne career win.
Hart had to settle for third, with Jones denied a first podium finish since 2015 in fourth.