Evie Richards maintained her impressive form with a well-fought second place in the UCI Mountain Bike World Cup under-23 cross-country race in Albstadt.
Fresh from a win in the British Cycling MTB Cross-country Series and a bronze medal at the UEC Mountain Bike European Championships earlier this month, the Great Britain Cycling Team rider yet again showed her class on the international stage.
In an impressive field of almost 60 riders, Richards sat back in the early exchanges as American Kate Courtney (Specialized Racing) and Italian Chiara Teocchi (Bianchi Countervail) made an early break in the first lap.
Newly-crowned European champion, Swiss rider Sina Frei (JB Brunex Felt Team) responded with an attack of her own, followed by Richards in pursuit. Frei quickly built up a lead of more than 20 seconds over Richards and Courtney, in third.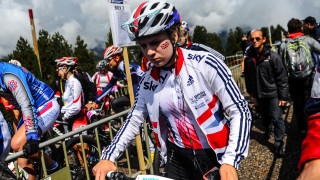 After two laps, Courtney dropped off Richards' shoulder, but the Malvern rider couldn't close the gap on the impressive Swiss, as Frei took the gold medal by 34 seconds in a time of 1:22:01.
There was also a strong performance for British riders Beth Crumpton, who finished 16th, nine minutes and 14 seconds behind Frei and for Isla Short (Novus OMX Pro Team) who took 24th place, 12 minutes behind the winner.
Albstadt also played host to the latest round of the UCI Junior XCO Series, with British interests in both the men's and women's races.
European champion Sophie Wright was forced to withdraw from competition due to illness, with Ella Conolly left as Great Britain Cycling Team's only female junior representative – but Conolly was unable to finish the course. Victory went to Italian Martina Berta.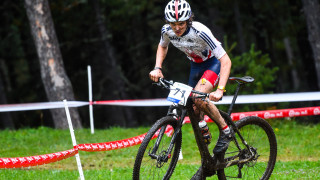 In the men's race, Will Gascoyne finished 10th, two minutes and 41 seconds behind event race winner Christopher Blevins (USA).
Attention on Sunday turns to the elite men's and women's races, along with the men's under-23 race.