Five years ago, a young Tahnee Seagrave told Rachel Atherton she would beat her one day – and although she's still waiting for that day to come, it's certainly getting closer.
So close in fact, that Atherton joked she will no longer share lines with a rider who is now one of her foremost rivals.
And although this rivalry isn't a bitter one, in the same way that Atherton would once jokingly entertain and even encourage Seagrave's dreamy ambitions, she's setting new boundaries in their professional relationship.
They even extend away from the race track, as Rachel has invited Tahnee to join her for rides.
"Maybe that's because she thinks I can keep up with her now" is Tahnee's good-humoured assessment of the invite that until now hadn't materialised – despite living nearby.
History
Seagrave's credentials to ride in the presence of two-time world champion became unquestionable when she scored back-to-back second places at the Fort William and Leogang world cups, behind Atherton, of course.
The 2013 junior world champion and 2014 senior world championship bronze medallist had however started the 2015 world cup season off of the pace in seventh.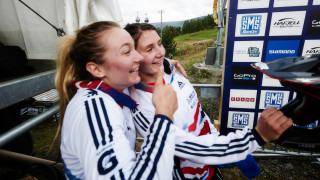 Afterwards, Tahnee met up with Manon Carpenter for an XC ride and debrief after they had both performed below expectations.
"We both shared the same emotions because we both expected to do a lot better than we did. I had a shocker of a weekend and so did Manon – because once you've won everything…it's easy to expect to pick up from where you left off.
"We were just saying it's quite hard because you do feel pressure and expectation from other people and it's hard to block that out. So we just reassured each other and tried and make each other feel better!"
Following that chat, Tahnee went on to finish second in Fort William and Leogang. A crash at round four of the world cup series in Lenzerheide meant it was a race Seagrave would rather forget.
But a glimpse at what could have been at the British championships gave Tahnee a newfound confidence.
"I believed in myself for once" Tahnee said, after qualifying in second (behind Atherton again) – but crucially with the knowledge that it was possible to make that time back in the final.
"I had a lot of confidence going in to the final and I knew it was up for grabs. I knew I was on a good run and that has never happened before and I knew all I had to do was to get to the finish line to prove myself, but a bit of bad luck and it's all over."
Travelling to the latest round of the world cup in Canada fifth in the world cup standings and with a podium placing within reach – Tahnee is already thinking about the possibilities that come with realising a new level.
"After Leogang and Fort William I realised I am somebody to look out for and I am there to win and not just to be happy with a podium.
"I think it has always been there – my riding ability –I think it's just the race head. I've always believed that I can do well but it's not until you get there that you think you can have that top step. I would still be happy with a top five but I've got bigger and greater goals now and images of what I can achieve.
"So I'm really fired up for Mont Sainte Anne, I'm excited. I think it's trying to get to the bottom and as soon as I do, I don't doubt what position I'll be in."
Of course attaining a career best finish now would mean winning and with that beating the only woman Tahnee has never beaten – Rachel Atherton. Not that such a thought is anything new.
"Beating Rach was something I always focussed on and looked forward to so I never lost sight of that. I think before it was said as a joke and more a dream than a reality but the more races I do the closer I get.
"It's kind of fun, it's like a little chase. But Rach is the only one I haven't ever beaten in a race at all. I beat her once in qualifying and I don't think that counts – but I hang on to that.
"After the British championships I realised I'm capable of a lot more than my mind thinks or what I have settled for in the past. And I love Mont Sainte Anne, I got my best result of the series there last year."
Watch Tahnee Seagrave, Rachel Atherton and Manon Carpenter race round five of the 2015 UCI Mountain Bike World Cup in Mont Sainte Anne, Canada on Saturday 1 August.