The 2015 British Cycling MTB Cross-Country Series continues this weekend at Newnham Park, where the season-long competition enters its second round.
The five-round contest resumes in Plymouth, where riders compete to be crowned Britain's best cross-country mountain biker.
Elite categories
Round one winners Ruben Scheire and Githa Michiels will not return for round two.
Only four riders from the top ten elite men's positions at round one will travel to the second race.
Highest finisher David Fletcher –who scored a surprise second place at his home Sherwood Pines course – will lead the way.
Adrian Lansley was another name returning to the top. In his 15th year of elite racing at the British cross-country series he finished fifth – one position ahead of British champion Grant Ferguson.
The final rider returning is Wieber Scholten from the Netherlands – tenth in round one.
Joining the best from the series opener are British cyclo-cross champion Ian Field, along with Martin Gluth and Martin Gujan – fresh from the Cape Epic.
Belgian Jonas de Backer is likely the biggest threat however, having finished second at rounds one and four of the series last year.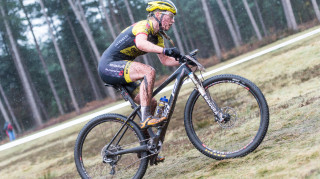 In the elite women's race Alice Barnes starts as the highest finisher from round one. Second at Sherwood, Barnes returns - along with defending champion Bethany Crumpton – from the Energiewacht Tour road race.
Annie Last also rides round two – with new starter Kerry MacPheeback from racing in South Africa. Dutch champion Anne Terpstra also starts as a threat to the domestic riders. Isla Short will not start following illness.
Event information
The second round of the British Cycling MTB Cross-Country Series takes place on April 18-19 at Newnham Park.
Elite races take place on Sunday, with the women's competition at 10:45am and the men's race at 1:00pm. Races last approximately 90 minutes, with riders taking a mass start before negotiating a series of 15-minute laps. Courses are designed to be spectator friendly and events are free to watch.
There is also age and ability-based racing across both days – for full details or to enter a future round of the series, see the event homepage. Start lists can be found here.
Want to start mountain biking? Check out our guide to getting involved.