Knowledge Level: Beginner
As a mountain biker in Britain, you're now spoilt for choice where to ride. As well as the existing network of bridleways, byways and country lanes, there are now a multitude of trail centres offering purpose built and way-marked trails along with cafés, bike washers and even showers. Most trail centres operate a colour based grading system similar to that used in ski resorts but how do you know if a trail is suitable for you?
What gives a trail its grade?
A trail will typically be graded based on three main criteria, technicality, distance and the amount of climbing involved. It's perfectly possible that a trail that isn't especially hard technically will receive a higher grade simply because it covers a lot of ground or may cross remote or exposed wilderness terrain. Similarly a trail may be short but be packed with tough features and obstacles that bump up its grading. Obviously it's possible for a trail to score highly on all three counts, The Beast at Coed-Y-Brenin being a good example. Many trails will be given an overall grade but will also have optional higher grade loops or features.
Are gradings consistent throughout the UK?
Unfortunately not so, although you may have comfortably ridden a red graded trail at one centre, it doesn't mean that you can directly apply that information to another. From one trail centre to the next there can be a considerable amount of blurring and overlap between the grades. The best way to gauge where a trail centre's grading lies on the scale is to look at the terrain the trails are built around. For example the red graded Kitchener Trail in the relatively flat Sherwood Pines Forest in Nottinghamshire will be a much less challenging proposition to the red trails at Whinlatter Forest in the Lake District or any of the North Wales trail centres. Apply some common sense, try to talk to some trail centre staff or local riders and, if in doubt, err initially on the side of caution and ride a grade lower to get dialled in to the level of the centre. Also, consider the time of year, recent weather conditions and the forecast for the day ahead. Many newer purpose built trails are all-weather and fast draining but, even on these, rain or even snow can easily turn even the most benign trail into a slippery energy sapping monster.
What should I expect at each grade?
As we've already said there's considerable variation and blurring of grades from one trail centre to the next but, in general, this is what you can expect from each grade.
Green
Are often referred to as family trails and are usually flat, well surfaced and wide enough to accommodate two abreast riding, buggies and tag-alongs. They don't tend to include single-track sections or tight corners and will usually stick to forest fire roads. Suitable for all abilities, ages and even often ridable on hybrid bikes.
Blue
There's a huge amount of discrepancy at this grade between trail centres. Many blue routes are just a slight step up in distance or amount of climbing from a green but stick to similar well surfaced and wide tracks. At other centres though, the blue routes are genuine mountain biking trails, with singletrack and even some roots and rocks. There shouldn't be any unavoidable drops or especially technical descents though. If you're new to a centre and the blue trails aren't too long, riding one as a warm-up after your drive can often be the best way to assess the level of a centre.
Red
Are often described as being suitable for fit and technically proficient mountain bikers. Expect a reasonably significant amount of climbing, plenty of singletrack and, depending on the terrain, some fast and technically challenging descending. Trail surfaces will be rough with exposed roots and rocks. Trail features such as jumps, berms, drop-offs and boardwalk sections should also be expected although generally, on red grade trails, most of these should be rollable.
Black
Suitable for skilled and experienced mountain bikers only. As well as tough technical climbs and long distances, you should also expect to come across unavoidable trail features such as jumps and drop-offs that are not rollable at slow speeds. High levels of fitness are also required as you don't want to be pushed to your limits physically when your technical riding skills are being challenged.
Orange
Orange trail markers usually indicate bike parks and downhill runs. On the latter expect steep, extremely fast and technically challenging trails built especially for long travel, full suspension downhill bikes. There will often be separate push-up trails or an uplift service and riders will be fully kitted out in full face helmets and body armour. Bike parks can include fun pump tracks, vertiginous North Shore and jump runs. Within a bike park there are often different levels of runs, tracks and obstacles so, if in doubt, start with the easiest ones. If there are no indications to level, spend some time watching other riders on them.
Is a trail for me?
Our advice if you're visiting an unfamiliar trail centre is to always underestimate your own fitness, ability and other trails you may have ridden. Shake the cobwebs out from the drive by riding a lower graded trail or, if the centre has one, spend some time on the skills loop. These are excellent, show the typical level of features on the different grades of trail at the centre and give you the chance to see where your level is. Spend some time on forums, speak to friends or club-mates who've ridden there and, if there's a bike shop at the trail centre, get some inside knowledge from the staff about the trails. Once you've committed to a trail, ride within your abilities and, if necessary, look before you ride. Technical sections are often marked so, if you're unsure, move your bike off the trail and, walking off the trail, have a look to see what it involves.
Trail centre dos and don'ts
Do carry spares, clothing and fuel: Riding at a trail centre can often give you a false sense of security but, especially on longer red and black routes, you can ride a long way from the trailhead and often over upland and remote wilderness terrain. Always carry the minimum of a spare tube, pump, multitool, power-link and mobile phone with I.C.E number saved. Make sure you've got suitable clothing for changeable weather and enough food and liquid for the entire ride.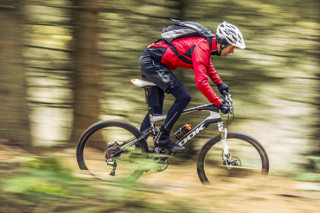 Don't rely on way-markers: Quality of way-marking varies from centre to centre and, if you're hurtling down a forest track, it's all too easy to miss a faded arrow. Also, if you have over estimated your ability, you might want to cut the ride short. Most trail centres will supply maps, often as free downloads and, in conjunction with an OS map of the area, can prove invaluableand should always be carried.
Do pay attention to signs: Many trails are located in working forests so always pay attention to signs indicating trail closures or diversions due to felling or other forestry work.
Don't clog the trail: You might have just ridden a fantastic section of trail and want to talk to your mates about it but don't all stand around on the trail. If you want to take a break, avoid singletrack sections and make sure you're not obstructing other riders.
Do ride the right way: Most trail centre singletrack trails are one-way only so, even if a particular section was brilliant fun, never ride, or even worse push, back up it.
Don't skid: Skidding is bad riding and, even on all weather surfaced trails, will soon cut them up and develop braking bumps. This will ruin the flow of the trail and require more time to be spent on repairs and maintenance rather than constructing new sections.
Do ride considerately: If you're a faster rider, don't harass slower riders and buzz their back wheels. Let them know you're coming, reassure them and, when you come to a suitable section of trail, ask them to hold their line and tell them which side you intend to pass on. If you've got a faster rider behind you, ride predictably and listen for their instructions.
Don't cut corners or ride off the line: Don't be tempted to stray off the riding line or cut corners. The damage and erosion doing this causes will have to be repaired, it can affect drainage of the main trail and it can lead to confusion for other riders.
Do be aware of other trail users: Most singletrack sections at trail centres are cycling only but always expect to encounter the occasional dog walker. Fire roads and wider trails are often multipurpose and multidirectional so adjust your speed accordingly especially on descents and sharp bends.
Don't moan about parking fees: At most trail centres parking fees are pumped straight back into maintaining the facilities, trails and building new sections. Some of the more remote trails still operate and honesty box so, if you've ridden the trail, pay up. If you're a regular at a particular trail centre, consider volunteering for some trail maintenance work. You'll definitely be made to feel welcome and riding a trail you've helped to build is a great feeling.