Knowledge Level: Beginner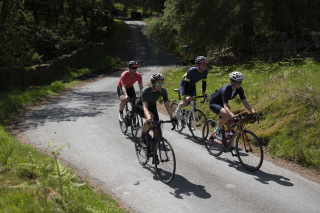 If you have been focusing on a target event, you want to put in the best performance you possibly can on the big day. Although unavoidable bad luck can befall us all, if you adopt the British Cycling approach of "controlling the controllables" you can certainly significantly improve your chances of not just finishing but finishing to the best of your ability. Guard yourself against disappointment or a ride in the broom wagon by avoiding these top ten common mistakes.
Inadequate training
You wouldn't attempt to run a marathon without proper training so don't do it for a sportive. Be honest with yourself about your current fitness and skill level, select a suitable training plan and a realistic target event. Following our structured sportive training planis the best way to be as prepared as you can be for the challenge ahead, they are not just for racers.
Unrealistic or poor pacing
Your training will have taught you the pace and intensity that you are able to sustain on the bike. Heart rate and power provide an objective and reliable measure of intensity and either or a combination of both should be used to pace your sportive. Don't expect a miracle event day boost and, right from the start of the ride, stick to the heart rate or power zones you established in training
Fuelling errors
As with pacing, your fuelling strategy for pre, during and after long rides is something that you should have practiced, refined and nailed down in training.
Stick to your plan religiously, don't do anything different and, if you are unsure what food will be available at feed stations or haven't been able to try the products on offer in training, plan to be self-sufficient.
Pacing and fuelling are intrinsically linked so if you push harder than you are used to, your fuelling strategy will probably fail. This will leave you feeling bloated, unable to stomach food and potentially with gastric distress.
Hydration problems
Keeping well hydrated is not just essential on hot rides but also on the coldest winter day. Again, training is the time to determine your hydration needs and to experiment with which drink mixes and concentrations work best for you. Event day is not the time to try new products so, consider making up measured doses that you can simply add to the water supplied at feed stations
Mechanical failures
If you have trained really hard for a specific event, you don't want your bike to let you down on the big day. If you are mechanically gifted, give it a complete overhaul in the lead up to the event or, if you are not confident in your own skills, book it in with your local bike shop a couple of weeks before the sportive. Work through this checklist of the basics you should carry on every ride and ensure you know how to use them
Unwise clothing choices
It is always better to have too much spare clothing rather than too little, especially if your sportive takes in mountainous or upland roads. A sweltering day in the valleys can easily be cold up high and getting chilled on a long descent can easily end your ride. At the very least always carry a windproof gilet. Arm and leg/knee warmers are great on mixed days and a pair of full finger gloves and a windproof beanie for under your helmet can make a real difference when descending
Getting lost
Don't rely completely on the route being 100% correctly way-marked. Route markings are sometimes tampered with or removed and, when riding hard, it can be easy to miss a turn. Study the route beforehand, print out a map as back-up, make some key turn instructions to tape to your stem and, if available, download a .gpx file onto your GPS device or mobile phone. Make sure you attend and listen to the pre-event briefing, pay particular attention to any last minute route alterations and make sure you know what colour route markers you are following
Crashing
Some crashes simply can't be avoided but you can certainly lower your risk by riding appropriately to the conditions, ensuring your bike is well maintained and set-up correctly and by possessing good bike handling and group riding skills
Event day nerves
Some nerves aren't a bad thing but you need to ensure they don't impact your final preparations. The best way to do this is to try and make sure that all your kit, equipment and food is checked, laid out and methodically packed the night before the event. Work logically through the list and go to bed reassured that everything is packed and ready to go. Give yourself plenty of time in the morning and go through exactly the same routine as you would before a long training ride. Have confidence in the training you've done and avoid getting sucked into "who's done how many miles" conversations with other riders
Not making the start
Give yourself plenty of time if travelling on the morning of the event, set a couple of alarms or, if you are planning on staying over near to the event, book your accommodation plenty of time in advance. Avoid nervous start line fiddling with your bike, the last thing you need is a stripped seat-clamp bolt five minutes before the off and, if you are riding with friends who you know are slightly chaotic in their preparations, just look after yourself and roll off when you are ready
If it still doesn't go to plan
Take any positives, you may still have got a decent training ride in, learn from any mistakes you did make, honestly re-appraise your pre-event expectations and move on. The sportive calendar is packed with events so, as long as you're not injured, you will be able to find one to replace your ride that went wrong.