Knowledge Level: Beginner

On today's roads with much higher volumes of traffic cyclists need a set of skills and knowledge in order to ride effectively and safely. They need to act in a way that's respectful of the Highway Code and other road users. The British Cycling guides to effective traffic riding will help you become a more visible and safer rider, whether commuting, training or riding for pleasure. In this article we look at the primary and secondary position.
The primary and secondary positions
An effective rider always occupies the moving traffic lane, either in its left hand third, roughly in line with the near-side of a car in the same place – thus ensuring that she/he can be seen and that drivers have to manoeuvre to overtake – or, if need be, the middle of the lane – thus preventing being overtaken and leaving themselves free to turn, overtake, change lanes etc. These riding positions are variously known as 'normal' and 'taking the lane' or, technically, 'secondary' and 'primary'.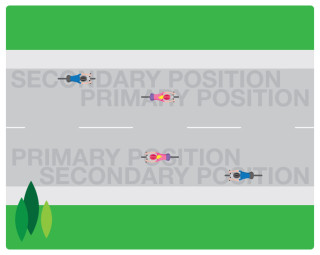 Using the primary position - passing side roads and parked cars
In addition to the manoeuvres mentioned previously, on narrow estate roads, it's recommended that cyclists take the lane when passing a side road on their left. This enhances their visibility, especially for drivers approaching the junction from the side road who, quite naturally, will be looking in the middle of the lane for other motor vehicles. It also deters an impatient following driver from overtaking, rushing up to the junction and turning sharply in front of the cyclist; sometimes referred to as being 'left hooked'.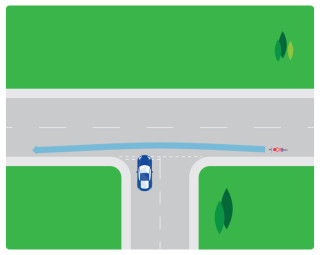 This technique is now taught to children but equally applies to adult riders making the same manoeuvre. Of course, on busy main roads it wouldn't be practical to adopt a full primary position whilst passing every side road, but a somewhat nuanced version of the technique is still recommended. A glance behind as one approaches a junction, making eye contact with closely following drivers, and 'edging' out into the lane slightly further, in effect 'pushing' the moving traffic further right, should deter the potential left hook and make one just that bit more easily seen.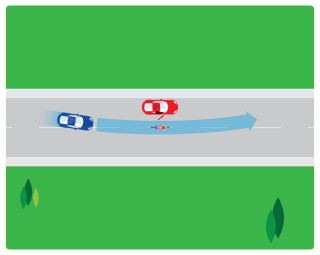 This way of riding is, to a large extent, communicating the cyclist's intention to other road users. In the secondary position, she/he is saying "I want to see and be seen and I don't mind if you overtake me, but you need to do it safely". By taking the lane, riding in the primary position, the cyclist is saying "I want to see and be seen and I don't want to be overtaken right now".
In addition to these techniques, the overarching watchwords of observation, anticipation and negotiation need to be taken into account. The rider should always know what's going on around them; where possible making eye contact with drivers and other road users. Looking well ahead, anticipating what the traffic in front is going to do and planning accordingly, should become second nature, and negotiating when necessary with the drivers around them makes for a harmonious journey. This skill set can easily be practiced and mastered by the averagely fit and competent bike handler and, once adopted, turns her/him into a very effective traffic rider.
Find out in effective traffic riding part two how to ride in slower moving traffic.
To find out more about British Cycling's Cycle Training programmes, or to become an instructor, click here.