Lucy Neatham secured the win in the opening round of the Women's Junior and Under-23 National Road Series at the Witham Hall Grand Prix this Easter weekend.
Neatham (LDN-Academy) took the win by a huge margin, finishing the 76km race over two minutes ahead of the bunch in Witham on the Hill in Lincolnshire.
The first lap of four and a half saw the riders stay together, before Imogen Wolff (Shibden Hope Tech Apex) attacked, making her bid for a breakaway on the descent into the village of Ryhall, but she was unable to make it stick.
Eva Callinan (Loughborough Lightning) was next to put in an attack, taking with her a small group consisting of Lotty Dawson (Brother UK-Orientation Marketing), Esther Wong (Shibden Hope Tech Apex) and Mari Porton (Tofauti Everyone Active) to gain a 10-second gap on the peloton as they passed through Witham Village.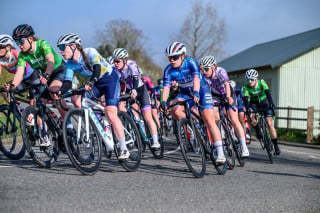 The peloton soon brought back the break, and as they crossed the finishing line for the second time it was Carys Lloyd (Tofauti Everyone Active) who reached the top first to receive the Prime award.
With three laps remaining, Neatham put the power down, forcing a gap to get away solo in a heroic effort. Matilda McKibben (Liv Cycling Club – Halo Films) followed suit, filling the gap between Neatham and the peloton, but was soon brought back into the pack.
Over the course of the next lap, Neatham showed no sign of slowing and continued to build the gap, gaining a lead of well over two minutes with two laps to go. Despite being on her own for a significant proportion of the race, Neatham looked comfortable, and she took the final bell with an impressive lead of two minutes and 54 seconds.
As the peloton entered their final lap, a trio of riders began an attack to claim the remaining podium positions, with Lloyd and Shibden Hope Tech Apex teammates Isabel Mayes and Lucy Glover stretching away from the main peloton.
Despite Neatham's lead dwindling slightly over the final lap, she remained well ahead of the peloton, and crossed the line with her arms aloft to take a commanding win in this first round of the series.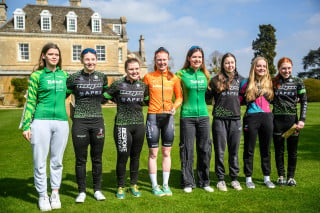 The chasing trio maintained their split from the peloton, with Lloyd claiming second and the fastest junior of the day. Glover rounded off the podium in third, with Mayes taking fourth.
After her victory today, Neatham leads the way into the next round of the Women's Under-23 National Road Series, with Erin Avill (Storey Racing) in second and Callinan in third. In the Women's Junior National Road Series, Lloyd sits in first place so far, Glover in second and Mayes in third.
The Women's Junior and Under-23 Road Series continues with the second round at the MAS Design Yorkshire Classic, Sheriff Hutton, on Sunday 28 May.