Zoe Backstedt showed off her dominant form at the Junior National Road Championships this weekend, with wins in the women's time trial and road race, while Joshua Tarling took the men's time trial victory and Zac Walker won the men's road race in North Yorkshire.
Time trials
All riders clocked one lap of the demanding 17.5km circuit, tackling the tough, steep climb on Bulmer Bank, followed by twisty lanes, an exposed cross wind section, and then a drag up through Terrington, to total 275m of climbing.
World junior champion Backstedt (Acrog-Tormans) clocked the fastest time of 27:05.01 in the junior women's time trial on Saturday – just over two minutes ahead of second place Izzy Sharpe (Brother UK-Orientation Marketing) on 29:13.31. Ella Jamieson (Liv Cycling Club – Halo Films) took third in 30:23.84.
Backstedt's fellow Welsh rider Joshua Tarling (FlandersColor Galloo) took the men's victory in a time of 23:39.42. Tarling – a world junior silver medallist in the time trial – won by a convincing margin, with Ben Wiggins (Fensham Howes – MAS Design) taking second in 24:55.13. Wiggins' teammate Jacob Bush completed the podium, narrowly missing out on the silver with a time of 24.55.61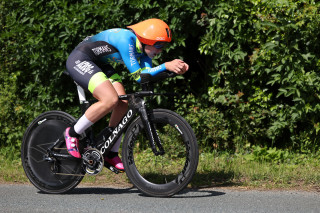 Junior women's road race
Sunday saw Backstedt reign again with a win in the women's road race, tackling four laps of the circuit to total 70km and 1,100m of climbing.
After 14km of racing, Backstedt and Awen Roberts (Liv Cycling Club – Halo Films) managed to get clear, with four chasers determined to join them off the front, while the remaining bunch of 17 riders were unable to match the pace.
Backstedt and Roberts gained a 1:35 advantage around the 30km mark, with the four chasers reined in to form a group of nine riders over the top of Bulmer Bank, including Freya Evans (Cero – Cycle Division Racing Team), Ella Maclean-Howell (Tofauti Everyone Active), teammate Eilidh Shaw, Lowri Richards (Backstedt Bike Performance RC), Niamh Murphy (Liv Cycling Club – Halo Films), teammates Jamieson, Matilda McKibben and Amber Junker (VC Londres), and Emma Jeffers (Jadan – Vive le Velo).
Jeffers attacked at 37km in an attempt to close the 2:45 second gap on the two leaders but was caught after 5km.
With less than 20km remaining, Roberts and Backstedt had a 4:30 gap over the chasing group.
On the final lap, the chasers frequently attacked, with a notable surge from Jamieson, but Roberts' teammates drove them back in.
A cagey last kilometre saw Backstedt take the initiative and a phenomenal final sprint saw her claim a second national champions' jersey of the weekend, while Roberts took a commendable second place. McKibben won the bunch sprint to round off the podium in third.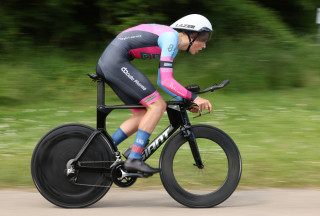 Junior men's road race
Zac Walker (Utmost IOM Junior Cycling Team) took the win in the junior men's road race, covering seven laps of the circuit and 1,925m of climbing.
An active start to the race saw plenty of breaks in the first couple of laps, with a lead group of Walker, Bjoern Koerdt (Shibden Cycling Club), George Gray (Zappi Junior Race Team) and Dylan Humber-Kelly (JRC-INTERFLON Race) taking a minute advantage around the 40km mark.
The gap extended to almost two minutes by the halfway point, with a strong bunch of more than 65 riders attempting to close the margin.
Humber-Kelly lost contact with the lead group on the climb into Sheriff Hutton, while the three remaining riders worked well to maintain their gap with 80km completed.
With two laps remaining, Koerdt was dropped from the leading group to keep Walker and Gray 1:28 ahead of the bunch.
On the bell, Gray was unable to match Walker's pace, who forged ahead alone and maintained the gap on the peloton, while the active bunch started to attack.
But Walker's ferocious attack proved too much and he took the win with a 1:36 margin over second place.
A bunch sprint saw Mattie Dodd (Backstedt Bike Performance JRT) take second and Joseph O'Brien (FlandersColor Galloo) finish third to round off a sensational weekend of junior racing.