---
Volunteers are one of the most valuable assets that clubs boast and it is the hard work of all volunteers that allows young people in Go-Ride clubs to enjoy their cycling.
With the majority of clubs experiencing an increase in the number of attendees at their Go-Ride sessions, even more importance is now placed on the role of volunteers to accommodate this surge in participation.
There is a real importance placed on the recruitment, training and implementation of a support plan to ensure that volunteers feel rewarded and integrated within their clubs. This helps to ensure volunteers have continued enthusiasm and dedication, and are committed for the long term - contributing to the sustainability of the club.
Our Volunteer Coordinator workshop is cycling-specific and provides volunteers with useful techniques and practical support. It helps volunteers to ensure their time is used as effectively and efficiently as possible, ensuring they feel supported in their roles.
We recently hosted a volunteer co-ordinator workshop for our young volunteers at the Go-Ride Conferences and it was so well received, we are now planning to run it again towards the end of the year for Go-Ride club volunteers, who are both experienced or new to the role.
If you are interested in attending one of these workshops, please register your interest by e-mailing the Go-Ride team (go-ride@britishcycling.org.uk) with your name, club and region.

Case study: Liz Lane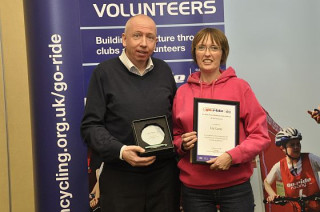 Liz Lane is the junior co-ordinator at Stratford Cycling Club and is responsible for organising the club's army of volunteers. Liz attended the Volunteer Coordinator course two years ago, as part of the Go-Ride conferences, and has been putting the principles she learnt into use ever since, with great success.
When asked about her role and the attributes required to become a volunteer, Liz said:
"The Go-Ride conferences gave me the confidence to become more involved and take on this particular role. The workshop highlighted that in order for volunteers to be engaged and motivated, they need to be placed in roles that they not only enjoy, but also have the appropriate skills to carry out. This way, there is a benefit to both the volunteers and the club.
"In order to take on the role, you need to make sure that you delegate to those around you that have specific skills, whether it be in cycling or administration. Ensure that nobody becomes overloaded with too much to do or that you take on too much yourself. It is a volunteer role, so take on what is in your comfort zone, in terms of both skills and time you have available."
---