---
Go-Ride Volunteers
(Contacts, Secretaries, Club Volunteers and Helpers)
At the club volunteer workshop, discussions will be facilitated about how clubs ensure there are opportunities for their junior members all year round and delegates will also have the opportunity to reflect on the volunteer training currently available. Information will be provided on potential funding opportunities and there will be the chance to discuss the key aspects that make a Go-Ride club a successful one.
Quick-fire updates
Alongside the dedicated workshop, there will be a number of quick-fire updates, giving everybody the opportunity to hear each update and ask questions. The topics will include the Go-Ride Tour, Skills Awards, National Youth Forum, the Club Management Tool and Disability.
The Club Management Tool update aims to be particularly useful for Go-Ride volunteers. This will provide an overview of the tool, along with benefits, new features and how to make the most of this free tool. The use of the Club Management Tool will make it easier for Go-Ride volunteers to keep track of membership fees, communicate with members and help clubs to run their day to day activities.
The Go-Ride Tour update will provide volunteers with an overview of how the Go-Ride programme will be supporting clubs to maximise the interest and excitement of the Tour de France visiting our shores.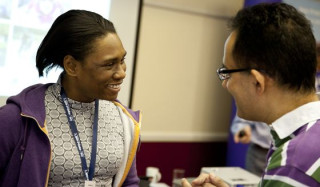 Clubmark drop-in
Alongside the updates section, there will be the chance for clubs to discuss how to complete any outstanding elements of their Clubmark folder – an opportunity for you to getone-to-one support.
If you haven't yet let us know you're coming, please download the online invitation to register for your free place and return it via email to: go-ride@britishcycling.org.uk
---