---
The National Young Officials Academy took place at the end of December in conjunction with the Youth Sport Trust; the first opportunity of its kind. Over 30 young officials from different sports came together alongside 200 young coaches at Loughborough University to learn, develop and enhance their officiating skills. The weekend was a huge success and saw some very inspirational speakers take centre stage to share their accomplishments.
Eight Young Volunteers from Go-Ride Clubs across the country were invited to attend the event, including Tilly Brown, Josh Fanner, Jason Brown, Joseph Parker, Andrew Pink, Alex Foden, Molly Pattison and Laura Kotch.
The three day academy started with activities led by the team leaders who were current students, recruited openly from universities across the country, then straight into discussions on 'Honesty and Ethics' and time for the young officials to work closely with their respective national governing body. The day closed with both the coaches and young officials being introduced to other coaches and sports professionals.
The following two days saw our youngsters cover topics such as managing emotions, concentration, focus and observation and decision making under pressure. Young officials had the opportunity to chat to an official of the Super Saturday athletics event at the Olympic stadium in London, after which the volunteer shared his experiences and challenges from that day.
The weekend closed with representatives of the Youth Sport Trust presenting a number of awards for the young coaches and officials, which emphasised and celebrated the efforts of those involved. The whole weekend was a fantastic experience and one of the cycling young officials, Molly Pattison, said:
'It was brilliant and I recommend anyone to apply in the future!'
The Go-Ride team are working with the Youth Sport Trust to develop this opportunity and hopefully widen its access to more young people in cycling for 2014.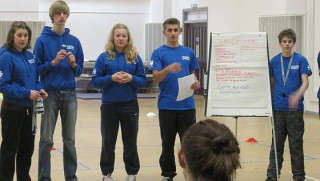 Go-Ride volunteer from Charlotteville Rascals, Andrew Pink, told us about his experience of the academy:
I was delighted to be selected to attend the National Young Officials Academy at Loughborough University. It was an amazing experience and I was able to meet some great people. Not only this, but I learned a lot about skills I have, skills I can continue to develop and new skills I can learn.
After a long drive, I registered for the weekend, but was not sure what to expect. Firstly I met the other representatives from British Cycling, they were all very nice. Officiating is not an element of sport, which I thought I would do and enjoy. Even though I don't think I want a career in officiating, I want to continue doing it and this course has enabled me to improve my officiating skills and learn a lot more about it. This experience gave me a new insight into this important role.
I stayed in Loughborough for three days, in which time we undertook many activities to improve our officiating skills and mentality. We were able to learn from other sports, including swimming, athletics and tennis and what their officiating includes. At the end of the weekend, we had to use all the knowledge that we had gained through the guest speakers, our team leaders and our National Governing Body representatives to put together a presentation to show what we had learnt during the academy.
It was an extremely valuable weekend and was hugely rewarding and useful. I would recommend people to apply to this in the future because you are able to learn so much about your sport and yourself and you get the chance to meet fantastic people.
---
For more information about the National Young Officials Academy, please email: youngvolunteers@britishcycling.org.uk