---
Mild and sunny conditions greeted 24 riders taking part in the final round of the Essex Roads CC circuit races. The venue for the day was Redbridge Cycling Centre with its twisty 1.1km circuit.



The under 8's and under 12's competed in the same race, as did the under 14's and under 16's; although each age group were eligible for the overall results in their categories. The under 14's were the biggest age group represented on the day and therefore had there own events.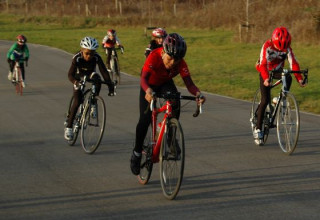 The first race for each category was a scratch race. There was some close and tactical racing, with a sprint finish deciding a few of the places. The racing was concluded with a handicap race taking into account the racer's performances in their first event. A special mention goes to Nathan Brown, age 4, competing well against children much older than himself.

For further information about Essex Road CC visit the website here or to find your nearest Go-Ride Racing events have a look at the British Cycling events calendar.
---