---
This year over 50 Wirral school children have participated in a season long series of eight grass track events and one circuit race. The project had its genesis in 2012, when we hosted the first Go-Ride Racing series and we learnt a number of lessons to take us into 2013.



The 2012 series was based on running four events at different venues around the Wirral. The identification of suitable courses was an exercise in itself, each requiring a large open space with amenities close at hand and available preferably at no cost. From the four venues identified, three required extensive use of stakes and barrier tape to mark out a course – this was both time consuming and needed lots of help from volunteers. Only two venues allowed us to sell refreshments to raise club funds.

To publicise the events we worked closely with the local triathlon club MerseyTri. They encouraged their members and became a strong presence at the events; leading our own youth section in all departments. Posters were sent out to local primary schools, but unfortunately we didn't get a good response.

Although the 2012 series was an overall success, it was hard work with several lessons learnt.

Following a conversation with Max Pendleton at the Masters National Track Championships in 2012, the 2013 series was conceived as a grass track league. After learning of how his club leased a field that allowed three size concentric tracks to be set out, suitable for different age groups; we though how much easier it would be to use a cricket pitch that someone else mowed and white lined?

So the 2013 series established with eight events at two week intervals, to be held on grass surrounding the cricket pitch at the Bebington Oval. We also had permission to use the club house as HQ, and to sell refreshments to parents, children and volunteers. Publicity remained an issue, so working in partnership with Bike It Officer Simon Wallis from Sustrans we were able to spread the word and raise awareness of the series using his contacts at the local schools; and the final problem was solved.

The preparation required was much reduced by simply placing coloured plastic cones on the white perimeter line of the cricket pitch. Bike check, signing on, timekeeping and catering were all provided by a minimal number of club volunteers.

The 2013 series has resulted in 51 youngsters registering in total, with regular attendances of about 50%. Apart from a single circuit race in Birkenhead Park, the format was standardised as a one lap time trial per child, followed by age group handicap races based on the time trials. This resulted in some close sprint finishes and weaker riders scoring league points to retain their interest. The final event in the series was followed by prize presentations for all participants and the overall series podium places for boys and girls.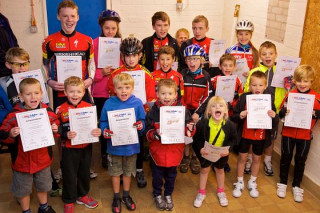 British Cycling have supported the series by providing trophies, medals, certificates and prizes, in addition to guidance notes and hardware such as flags, lap board, bell, numbers and bibs for race officials, which are all included in the Go-Ride Racing equipment bag.

We look forward to 2014, and more of the same.
---