We are currently developing a new Platinum Profile site, exclusive to Young Leaders. The details will be finalised alongside our new British Cycling website in December.
To access the latest blogs please follow the link here and to blog, use the log in details provided on registration to the programme. For these details again, please email youngvolunteers@britishcycling.org.uk.
Getting your Platinum Profile uploaded...
Step One: If you are a Gold Volunteer and have not yet recieved your Platinum Registration form, please contact Kelly at youngvolunteers@britishcycling.org.uk and we will send one out to you to complete.
Step Two: Send the completed registration form along with 3-5 photo's back to us and we will produce and upload your unique Platinum Profile (currently being re-developed).
Step Three: Get volunteering and blogging about your experiences. Record your activities on the Reflective Blog Templates provided in your development pack, or blog directly on our blog site. Each blog you send in will be recognised on your Platinum Profile on the British Cycling's website for all to view.
Blogs can be sent in various forms, can be uploaded directly and guidance of what to include is below.
Blogging about your experiences
In order to learn and develop from your experiences as Young Leaders in Cycling, we want you to reflectively blog about your volunteering. With a wide range of activities to get involved with in and around your cycling clubs, we want to hear about the different ways you have helped to develop cycling and what impact this is having in your local communities.
To help you to reflectively blog, you could consider answering the following questions whilst blogging:

1. Describe what you did and what role you played.
2. What went well, what do you think you could improve on?
3. How did you feel it went? How did it affect others?
4. What challenges did you face, how did you overcome these?
5. What would you do differently next time?
6. What one piece of advice would you give to other Young Volunteers wishing to get involved in this activity?
Uploading your blogs
For a quick guide to using wordpress, to upload your blogs, please click here.
Platinum Profiles and Blogs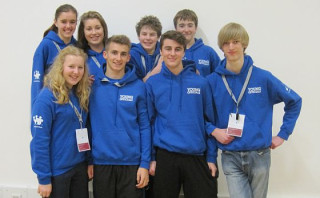 Young leader profiles:
Lauren - Icknield Road Club
Michael - Big Foot Cycling Club
Ana - Heanor Clarion Cycling Club
Chris - Wigmore Cycling Club
Gregg - Kings Macclesfield
Matthew - Sutton CC
Josh - Gosforth RC
Feargus - Derwentside CC
Daniel - Cornwall BMX
Daniel - Newcastle Phoenix
Alex - Chester Go-Ride
Chris - Wigmore CC
Josh - Velo Club de Londres
Reese - Hetten Hawks CC
Josh - Summit 65
Matt - Stockton Wheelers
Ceri - Port Talbot Wheelers
Harry - Nottingham Outlaws CC
Megan - Spalding CC
Young leader's blogs:
Andrew - Charlotteville Rascals (5)
Joseph - East Bradford CC (5)
Hazel - Chapel Tri Stars Junior Triathlon Club (2)
Fran - Stratford CC (2)
Hannah - Hillingdon Slipstreamers (5)
Beth - Cornwall BMX/ Carrick Riders/ Richard Lander School (2)
Alex - Salt Ayre Cog Set (2)
Jacob - Kent Velo Kids (2)
Matthew - Essex Road CC (5)
Josh - Preston Park Youth CC (5)
Rebecca - Welwyn Wheelers (2)
Click here to see all the lastest blogs!
We want to hear about your volunteer experiences... So get blogging!
Remember to upload your completed blogs at bcyoungvolunteers.wordpress.com or for support in uploading them, send them into youngvolunteers@britishcycling.org.uk or contact Kelly Burdett on 0161 274 2126.