With six months to go until the 2019 UCI Road World Championships in Yorkshire, British Cycling and HSBC UK hope to inspire a nation to take to two wheels with the return of their nation-wide programme of closed-road, city cycling events.
We're closing the roads to traffic in 14 city centres throughout Britain again this summer and throwing cycling festivals for everyone. It's totally free to take part, you get to see your city from the saddle and it's a fun, active day out for the whole family! Think stunt shows, street food and endless family-friendly activities.
New figures from the national governing body reveal that three quarters of parents (75%) would not be happy to let their child/children cycle independently on the roads and 43% state they do not think their child/children has/have been adequately trained to cycle on the road[i]. The HSBC UK Let's Ride events will enable families to embrace their bikes in a safe, friendly and traffic-free environment during what is set to be the biggest year for cycling in the UK ever.
The series of events – which aim to build excitement across the country in the run-up to the road world championships in September – will once again tie in closely with local cultural attractions to give participants the unique opportunity to swap their car for the saddle and discover more of their city from a different perspective, on a bike.
The programme aims to demonstrate how cycling can begin to remedy some of the biggest challenges facing the UK today, and is a key part of British Cycling and HSBC UK's vision to get two million more people on a bike by 2020.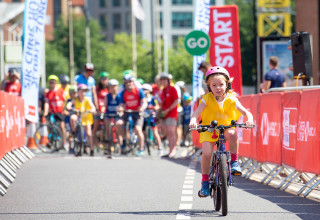 Julie Harrington, chief executive of British Cycling, said:
"This is the first time the road world championships – the pinnacle of the global road cycling calendar – has taken place on home soil since 1982. Since then we've seen cycling levels in Britain boom and we know that people across the country will embrace the event with open arms.
"We want to ensure that this once in a generation event guarantees that every child in Britain is given the opportunity to ride a bike, regardless of their location, cycling ability or background, and it is with events like HSBC UK Let's Ride that empowers people to make that choice.
"What's more, there is a clear relationship between increased levels of cycling and a marked difference to our day-to-day lives: getting more people on bikes will make us healthier, ease congestion on our busy road and reduce levels of pollution in our communities.
"Alongside HSBC UK, we are passionate about bringing about positive change to people's lives through cycling and transforming Britain into a great cycling nation."
Luke Harper, head of HSBC UK's partnership with British Cycling, said:
"The HSBC UK Let's Ride events on closed city roads up and down the country will provide great opportunities across the summer for families and friends to get on a bike in a car-free environment, and to take part in a superb festival of cycling.
"Hundreds of thousands of people have taken part in these events over the last couple of years, and we are looking forward to seeing many thousands more in 2019, all helping work towards a greener, fitter, healthier Britain."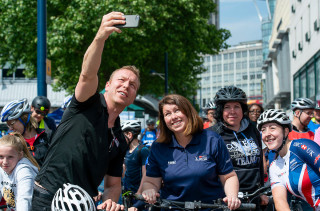 Riders can take the opportunity to cycle on traffic-free streets lined with local entertainment along the route. The events are non-competitive, and riders are invited to cycle around the route as many – or as few – times as they would like.
Six-time Olympic champion Jason Kenny, said:
"As a dad myself, I understand why some parents don't feel entirely comfortable when it comes to their children riding on roads where there is traffic, as there can be some issues around safety. Albie is still very young, so Laura and I aren't at that stage with him yet but having events like HSBC UK Let's Ride right on our doorstep in Manchester, as well as across the country, are perfect for families like ours looking to enjoy a great day out on bikes, at their own pace and in a safe environment."
Over 135,000 people took part in last year's events, cycling over 1,494,150km in the process. on traffic-free streets. During the event in Cardiff on a 'car free Sunday', research revealed proved that there was a 69% reduction in harmful gases, highlighting again the benefits brought about by increased levels of cycling.
Five affiliated events for 2019 will take place alongside existing events in Winchester, Jersey, Stockton, Rochester and Eastbourne.
Free cycling festivals
Join us this summer for a free HSBC UK Let's Ride family cycling festival in a city near you!
So, what are you waiting for? Sign up at letsride.co.uk!
The schedule is as follows:
May
12 May: HSBC UK Let's Ride Cardiff
June
9 June: HSBC UK Let's Ride Birmingham
9 June: HSBC UK Let's Ride Winchester*
16 June: HSBC UK Let's Ride Bristol and Bristol Grand Prix
30 June: HSBC UK Let's Ride Norwich and HSBC UK | National Road Championships
30 June: HSBC Let's Ride Jersey*
July
7 July: HSBC UK Let's Ride Newcastle
14 July: HSBC UK Let's Ride Sheffield
14 July: HSBC UK Let's Ride Stockton Festival*
21 July: HSBC UK Let's Ride Southampton
21 July: HSBC UK Let's Ride Medway*
28 July: HSBC UK Let's Ride Liverpool
28 July: HSBC UK Let's Ride Eastbourne*
August
4 August: HSBC UK Let's Ride Glasgow
25 August: HSBC UK Let's Ride Leicester and Leicester Grand Prix
September
1 September: HSBC UK Let's Ride Leeds
8 September: HSBC UK Let's Ride Coventry
22 September: HSBC UK Let's Ride Edinburgh
September TBC: HSBC UK Let's Ride Manchester
*HSBC UK Let's Ride affiliated event
To find out more information and to register for your nearest HSBC UK Let's Ride event, visit: www.letsride.co.uk