British Cycling and HSBC UK have today launched HSBC UK Ready Set Ride; a fun and easy way to help children from as young as 18 months to eight years old learn to ride a bike.
The launch of the free interactive microsite and mobile app follows research conducted by YouGov which showed that a third (33%) of parents said their child cannot ride a bike.
HSBC UK Ready Set Ride is all about introducing pedaling to playtime, where learning together is a fun, family adventure that can be completed in three short, simple steps: Prepare 2 Ride, Balance and Pedals. With clear guides, fun games and colourful rewards, the programme provides families and schools with all they need to support children to start cycling.
Get started on the HSBC UK Ready Set Ride website
Supporting the launch, BBC TV presenter and mother of two Helen Skelton said:
"There are few experiences that can rival the sheer adventure of getting out on a bike with your kids and seeing them enjoy the sense of freedom and fun that cycling gives. Learning to ride is not only a vital life skill for children, it's also an opportunity to spend time together with the whole family.
"Guidance can really help. HSBC UK Ready Set Ride gives parents the confidence and techniques needed to teach their children how to cycle in just a few simple steps. You don't even need a bike for the first step so it's easy to get started. It's an investment parents make in their own children's development that leads to great experiences the whole family can enjoy for years to come."
The games and activities are designed to help improve children's physical literacy and fundamental movement skills; an area in which research shows those aged four to seven years are currently falling behind. The failure to develop these skills at a young age is shown to have a knock-on effect on a child's likelihood to continue being active in later years.
Using their knowledge of children's psychological and physical development, experts from national children's charity The Youth Sport Trust have guided the development of the product and its implementation into schools.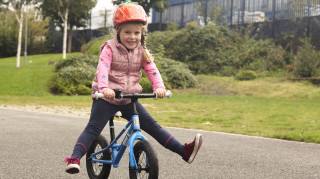 Julie Harrington, chief executive at British Cycling, said:
"We can't turn Britain into a great cycling nation without first equipping our children with the vital skills they need to ride a bike from a young age. We want families, as well as schools, to introduce pedaling to playtime and be part of a child's journey as they learn to ride, helping them to become confident and happy cyclists for life.
"It's often said you never forget how to ride a bike. Likewise, you never forget those moments when you teach your child how to first ride a bike either, and we hope that HSBC UK Ready Set Ride will support parents around the country on that journey for many years to come."
HSBC UK Ready Set Ride is a key part of British Cycling and HSBC UK's eight-year partnership, which aims to inspire two million more people in the UK to get on their bikes by 2020.
Luke Harper, HSBC UK's head of British Cycling partnership, said:
"We have developed, with British Cycling, a great set of bike hacks that will help get children onto two wheels in no time at all. There are significant benefits of riding a bike in terms of keeping our kids active, giving them an important life skill as well as having a positive impact on the environment. It also gives us a great opportunity to create a greener, fitter, healthier Britain."
Win a learn to ride package
Visit the website and register by 15 July to be in with a chance of winning a brilliant learn to ride package from Ridgeback Kids. The winner will receive a bike, helmet and Tiny Explorers goody bag to get ready to ride.
Share your story #readysetride
If you're out and about learning to ride this summer, share your photos, videos and My journey montage with us using the #readysetride hashtag.
All figures, unless otherwise stated, are from YouGov Plc. Total sample size was 6426 adults, of which 1,480 were parents of children aged 18 or under. Fieldwork was undertaken between 8th - 10th May 2018. The survey was carried out online. The figures have been weighted and are representative of all GB adults (aged 18+).