Hillingdon Slipstreamers has won the Volunteering Award at the 2017 Community Sport and Recreation Awards, reflecting the club's commitment to instilling volunteering at the heart of a local community club.
The Go-Ride Clubmark Club was this week named as winner of the 2017 Volunteering Award, sponsored by Join In, at the Sport and Recreation Alliance's Community Sport and Recreation Awards. The local cycling club was presented with a cheque for £1,000 at the ceremony hosted by HRH The Earl of Wessex in London.
Running for over 20 years, the awards celebrate the work clubs, groups and organisations across the UK deliver in their local communities to promote the power of sport and recreation.
Hillingdon Slipstreamers, first established in 1998, is a Go-Ride Clubmark Club for children and young people aged 5-16 years old. It is run entirely by volunteers and works to promote safe cycling by teaching young people and the public about road safety, improving riding skills and working to maintain the health of under 16s.
Founded by a small group of volunteers that actively work to engage the local community, the club now encourages young cyclists to give back by being part of British Cycling's Cycling Award for Young Volunteers. The youth leadership programme helps to mentor younger members and develop their practical skills.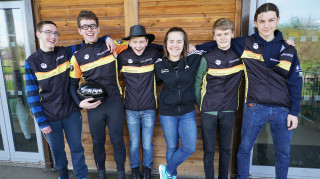 The club invests in the development of their volunteers and also makes sure that they are regularly thanked and their contribution is recognised, which includes nominating them for awards inside and outside of the club. This ethos of valuing volunteers has been instrumental in allowing the club to thrive and grow.
Asti Kanaris, club adminstrator and membership secretary at Hillingdon Slipstreamers, commented:
"Hillingdon Slipstreamers is passionate about providing opportunities for children and young people to have fun outdoors, develop life skills, build resilience and be the best they can be through cycle sport. Volunteers make this possible and that's why we entered the Volunteering Award.
"Winning this award is a powerful validation for every single volunteer who is passionate about cycling and making a difference to children and young people. Every penny of the prize will be re-invested in our programmes to recruit, retain and reward our volunteers."
Josie Heffernan, regional development manager for the HSBC UK Go-Ride programme in the Central region added:
"Our network of Go-Ride Clubs is driven forward by dedicated and passionate volunteers. It's fantastic to see Hillingdon Slipstreamers recognised at this level for their outstanding commitment to volunteers and in particular the value they have placed on the development of their young volunteers, who are of course fundamental to the future development of our sport."
Andrew Moss, chair of the Sport and Recreation Alliance, said:
"This club represents the best of volunteering in sport and recreation. Not only has it helped many young people in the local area to enjoy being physically active in the outdoors but it has also helped them to obtain valuable skills that will help them in their later life."