How to get into road cycling
Introduction to road cycling
Road cycling has something for everyone, from epic endurance rides, mountainous climbs, and headlong sprints to leisurely rolls along the lanes of Great Britian.
Lizzie Deignan, Chris Boardman, Nicole Cooke, Chris Froome; great champions produced on the roads of Great Britain.
Every journey to a world title, yellow jersey or Olympic glory all began by getting on a bike.
The British Isles have some of the most spectacular, challenging and pleasurable cycling routes in the world; from the coastal roads in the highlands of Scotland, to the flats of the Norfolk Broads – there is a ride to suit everyone.
Road cycling can be enjoyed in a number of ways by cyclists (and non-cyclists) of all abilities.
Whether you fancy trying you hand at racing, want to test your endurance over a sportive, hope to raise some money on a charity ride or simply want to enjoy a peddle with your family, the possibilities are endless.
More and more of us are taking to the roads on our bikes and enjoying the great benefits cycling can bring; a healthier lifestyle, increased fitness levels, reducing emissions, and even saving a few pennies.
British Cycling are working hard to ensure British roads are safer than ever before, help more women get out on their bikes, encourage volunteers and increase national awareness and participation in the sport.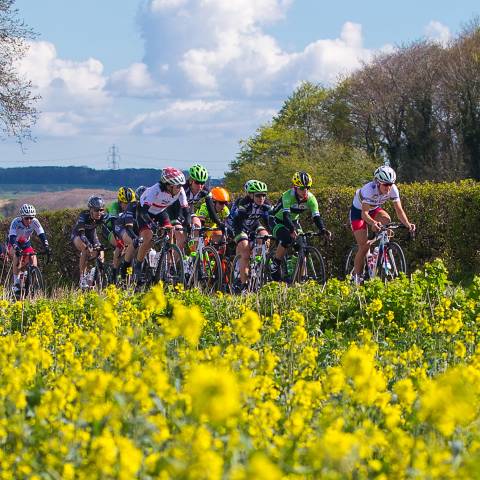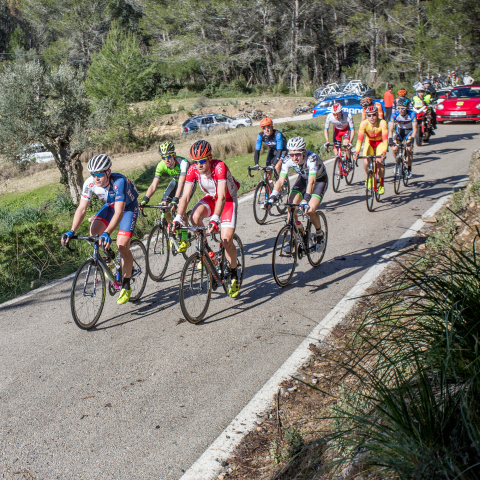 The venue
The venue for road cycling begins as soon as you leave your front door.
Whether you decide to commute on two wheels, potter around town at the weekend or cover hundreds of miles on your weekends – the roads are there to be used and absolutely free.
Road racing takes place on a variety of different courses. The majority of traditional road racing takes place on the open road, with vehicular marshals marking the nose and the tail of a race.
Circuit racing takes place on closed-road circuits, either purpose built for cycling or repurposed motor racing circuits. Time trialling also takes place on the open road on one of a number of pre-determined time trial courses.
The National Cycling Network has approved routes that cross the whole country, providing safe, clean and fun rotes for all riders to enjoy.
The road rider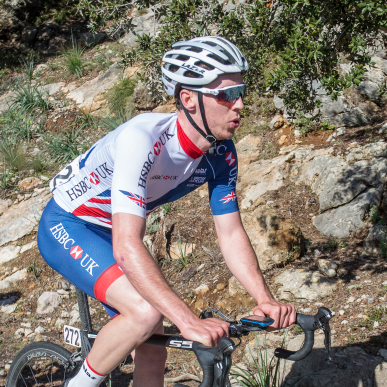 Road racing demands great endurance, bike handling, skill and tactical know-how.
At the very top, it's often a rider's ability to read a race and follow the right move that gets them the win.
There's a type of road racing to suit many kinds of rider – from circuit racing for punchy, powerful riders to multi-day stage racing for the ultra-endurance athlete.
Cyclists might find themselves suited to one or more of the different disciplines based on their body type; compact, well-muscled riders like Mark Cavendish suit sprinting, lithe, wiry cyclists like Chris Froome would be better suited to climbing and those somewhere in between might make great time trialists, like Sir Bradley Wiggins.
What is a road race?
Bunch events that take place on the open road over a pre-determined lap or laps. Riders sign on at a HQ before the race begins in a 'neutralised' form – allowing the peloton to group-up before racing commences.
Races can either be stand-alone events of part of a league or series.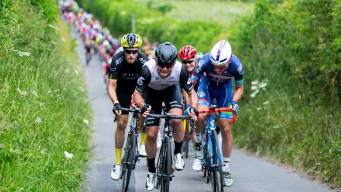 What is a road time trial?
A specialist branch of road racing, time trialling pits the riders, one-by-one, against a course of a predetermined length in an against-the-clock test.
Time trials come in a number of standard lengths; 10, 25, 50 and 100 miles, with ultra-endurance 12 or 24 hour events, where riders try to complete the longest distance in the prescribed time.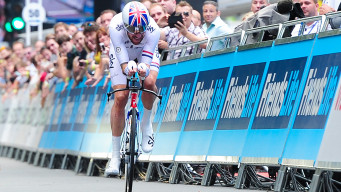 What is a circuit race?
Races begin from a standing start and are shorter than road races, often only lasting for an hour for senior riders. Closed road circuits often have demanding corners with lots of braking, accelerating and cornering, demanding power and riding skill.
Often called 'criterium' (or crit for short), these races are most often part of a league that lasts all season, allowing riders to compete for overall victory.
Road bike
Road racing bikes are all about speed. Ultra lightweight frames made of steel, aluminium or carbon fibre.
Bikes have narrow 700c (622mm diameter) wheels, with slick tyres around 23mm wide for low rolling resistance and light weight.
They have drop handlebars and multiple gears with up to 22 different gear ratios to cope with varying terrain.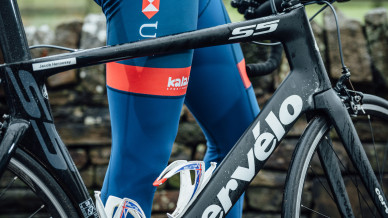 Time trial bike
A time trial bike differs from a road racing bike in several ways. It alters the position of the rider; with the arms resting on time trial bars, rather than drop bars, the position becomes much more areodynamic.
The frame tends to be a little heavier than the average road bike, as they are built for speed through aerodymic gains, rather than weight reduction; riders tend to be able to travel 1-3mph quicker on a time trial bike than on a road bike.
The back disc wheel is also a heavier but more streamlined addition that enables riders to make the necessary margins that are vital to success in the time trial.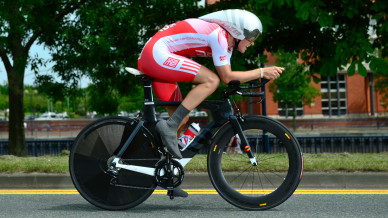 Jersey
Jerseys are a source of great pride in the cycling community. Whether you ride in your club's colours, favourite team strip or in bright pink because who doesn't love pink, getting the right jersey is important.
They come in long and short sleeves, summer and winter weights and sometimes take a while to get used to if you've always worn a t-shirt for sport.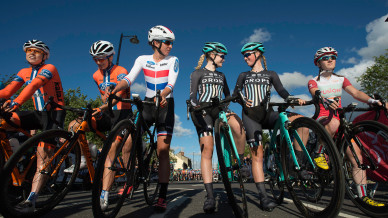 Shorts
They might feel strange to begin with but padded shorts will make the hours in the saddle a whole lot more bearable.
With wicking material designed to minimize chafing and a cushion which provides a smooth, seamless surface to sit on, padded shorts are a must-have for most cyclists.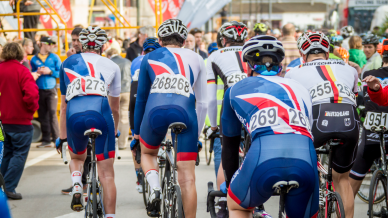 Road helmet
Built for comfort and protection. The many holes in the helmet are vents to keep your head cool.
Helmets come in sizes to fit all head shapes and sizes and are adjustable – there are even helmets available with a ponytail hole – great for commuters who don't want to redo their hair at work.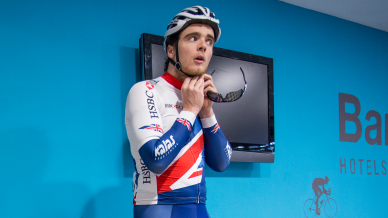 Time trial helmet
When shaving precious seconds off your time is paramount, getting the right helmet for time trialling can make all the difference.
The bike is thought to account for only 20% of a rider's drag, so reducing the drag of the rider's body and clothing can be greatly helped with a streamlined helmet.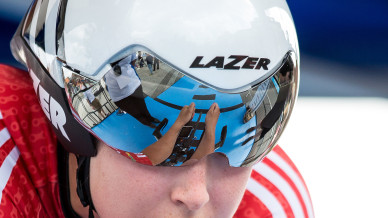 Get involved with road cycling
Watch road cycling
From going to support your local closed-circuit to watching the Tour of Britain, road racing has always been an exciting and free-to-watch spectacle.
It can be great fun watching your friends and family compete at your local league, or finding out which national events featuring big names take place in your area.
Road cycling clubs
Joining a club is a great way to get the most out of your cycling. Whether you are a seasoned racer or a complete beginner, there is nothing better than riding with like-minded cyclists to develop your skills and challenge yourself.
With over 1700 cycling clubs affiliated to British Cycling, there is a club to suit everyone, ranging from informal groups who ride for leisure, Go-Ride clubs that cater for young people right through to competitive racing teams. Many of these Go-Ride clubs have hire or loan bikes for club members, allowing riders to give the sport a try without major financial commitment.
Road cycling events
Road racing is mainly a spring and summer sport, although a number of regions run autumn and winter leagues.
There are categories for riders from under 12 to adult for men and women, ensuring that there's a category to suit everyone.
Sportives and Audax generally continue throughout the autumn and winter.