Team Pursuit and Individual Pursuit
Steven Burke was born into a cycling family, taking to the velodrome boards for the first time at the age of 14, the first steps in a career which saw the Lancastrian win at least one gold team pursuit medal in a major event in every year between 2005 and 2016.
Although not a specialist in the individual pursuit event, Burke's first Olympic Games success came in that discipline, in Beijing in 2008, when he won bronze behind team mate and gold medallist Bradley Wiggins; a prelude to Burke's part in the historic Great Britain team pursuit efforts at London 2012 and Rio 2016, when he was part of the four-man squad that twice broke the world record at each Games.
Career in numbers
3
Total Olympic medals
1
Total Commonwealth Games medals
6
Total UCI Track Cycling World Championships medals
10
Total UEC European Track Cycling Championships medals
Biography
Burke's mother Sharon and grandfather, Brian Wesson, both competed in cycling at the national level and, raised in Colne, Lancashire, the youngster started attending the National Cycling Centre, Manchester, as a teenager after deciding to turn his back on his first sporting love, football.
At the age of 17, Burke won his first gold medal on the international stage, at the UEC European Junior Track Championships in Fiorenzuola d'Arda, Italy, as part of a triumphant team pursuit squad that included Ian Stannard, Andy Tennant and Ross Sander.
That was the first of four consecutive European golds won by Burke at the junior and under-23 levels which, along with silver and bronzes in the UCI Junior Track Cycling World Championships of 2005 and 2006, earmarked the talented youngster as a star in the making.
So it proved, in 2008, when Burke won his first UCI Track Cycling World Cup gold medal in the team pursuit in Copenhagen and then upset the form book to win bronze at the Beijing Olympic Games individual pursuit, beating Russia's Alexei Markov by over three seconds in the ride-off for third place in a time that bettered his pre-Olympic personal best by 11 seconds.
By the end of the 2008-09 season, Burke had established himself as an integral part of the Great Britain team pursuit squad, winning golds at two UCI Track Cycling World Cup meetings in Manchester and Copenhagen.
They were the first of what has so far been nine team pursuit medals at UCI Track Cycling World Cup meetings and extended success between the Beijing and London Olympics which encompassed an individual pursuit gold at the UEC European Under-23 Track Championships in 2009; golds in the team pursuit at the UEC European Track Championships of 2010 and 2011 and a silver and bronze, respectively, at the UCI Track Cycling World Championships in Copenhagen, Denmark, in 2010 and in Apeldoorn, Netherlands, a year later.
A year to remember
In keeping with many of his Great Britain Cycling Team mates, Burke hit his stride and the form of his lifetime in 2012, starting with the UCI Track Cycling World Championships in Melbourne in April when he was part of the team that beat hosts Australia in the team pursuit final in a world record 3:53.295.
That same line-up - Burke, Ed Clancy, Geraint Thomas and Peter Kennaugh - was entrusted with British hopes at the home Olympics later that summer and did not disappoint.
After breaking their own world record, by over three-quarters of a second in qualifying, the foursome comfortably reached the final where they beat old rivals Australia to the gold medal, shattering the record in the process with a time of 3:51.659.
There was little fall-off in Burke's team pursuit medal collection over the next two years - highlights including gold in the 2013 UEC European Track Championships, silver at that year's UCI Track Cycling World Championships in Minsk, Belarus and a silver riding for England, alongside Wiggins, at the 2014 Commonwealth Games.
January 2015, however, saw Burke break his collar bone during a training ride in Majorca, placing his participation in the UCI Track Cycling World Championships in Paris late in February in serious doubt. Thanks to the British Cycling Team support staff, Burke managed to make the start line at the Vélodrome de Saint-Quentin-en-Yvelines where the team of Burke, Tennant, Clancy and Owain Doull took the silver medal behind New Zealand.
After struggling in eighth place at the UCI Track Cycling World Championships in Cali, Colombia a year earlier, that performance announced Great Britain were rediscovering their form, a fact confirmed when they won gold at the UEC European Track Championships in Grenchen, Switzerland later in 2015 and claimed a silver at the UCI Track Cycling World Championships in London in March.
Although Burke's focus centres very much on the track, in 2015 he signed a contract with the Wiggins team established by his teammate with an aim to help prepare for the 2016 Rio Olympic Games.
That approach certainly paid off in Rio where he partnered Clancy, Wiggins and Doull to help the Great Britain team qualify fastest and then twice break the world record in the next two rounds, eventually riding 3:50.265 to edge out old rivals Australia for the gold medal.
In 2017, Burke won team pursuit gold alongside Ed Clancy, Kian Emadi and Kian Emadi at the home Tissot UCI Track Cycling World Cup in Manchester.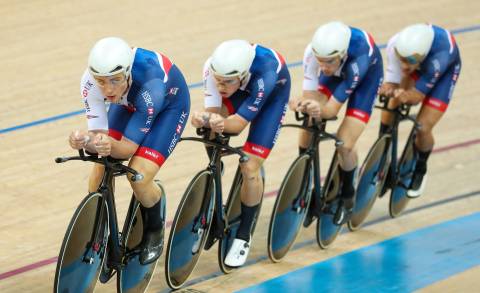 Palmarès
2017
UCI Track Cycling World Cup, Manchester (UK)
Team pursuit
Gold
2016
UCI Track Cycling World Championships, London (UK)
Team pursuit
Silver
Olympic Games, Rio de Janeiro (Brazil)
Team pursuit
Gold
2015
UCI Track Cycling World Championships, Saint-Quentin-en-Yvelines (France)
Team pursuit
Silver
UEC European Track Championships, Grenchen (Switzerland)
Team pursuit
Gold
2014
UCI Track Cycling World Cup, London (UK)
Team pursuit
Gold
UCI Track Cycling World Cup, Guadalajara (Mexico)
Team pursuit
Silver
Commonwealth Games, Glasgow (UK)
Team pursuit
Silver
2013
UCI Track Cycling World Cup, Aguascalientes (Mexico)
Team pursuit
Bronze
UCI Track World Cup, Manchester (UK)
Team pursuit
Gold
UEC European Track Championships, Apeldoorn (Netherlands)
Team pursuit
Gold
UCI Track Cycling World Championships, Minsk (Belarus)
Team pursuit
Silver
2012
Olympic Games, London (UK)
Team pursuit
Gold
UCI Track Cycling World Championships, Melbourne (Australia)
Team pursuit
Gold
UCI Track Cycling World Cup, London (UK)
team pursuit
Silver
2011
UEC European Track Cycling Championships, Apeldoorn (Netherlands)
Team pursuit
Gold
UCI Track Cycling World Championship, Apeldoorn (Netherlands)
Team pursuit
Bronze
UCI Track Cycling World Cup, Manchester (UK)
Team pursuit
Gold
2010
UCI Track Cycling World Championships, Copenhagen (Denmark)
Team pursuit
Silver
UCI Track Cycling World Cup, Melbourne (Australia)
Team pursuit
Bronze
UEC European Track Championships, Pruszkow (Poland)
Team pursuit
Gold
2009
UCI Track Cycling World Cup, Manchester (UK)
Team pursuit
Gold
UCI Track Cycling World Cup, Copenhagen (Denmark)
Team pursuit
Gold
UCI Track Cycling World Cup, Melbourne (Australia)
Team pursuit
Silver
UEC European Track Championships, Minsk (Belarus)
Under 23 individual pursuit
Gold
2008
Olympic Games, Beijing (China)
Individual pursuit
Bronze
UCI Track Cycling World Cup, Manchester (UK)
Team pursuit
Gold
UCI Track Cycling World Cup, Copenhagen (Denmark)
Team pursuit
Gold
UEC European Track Championships, Alkmaar (Netherlands)
Under 23 Team pursuit
Gold
2007
UCI Track Cycling World Cup, Manchester (UK)
Team pursuit
Bronze
UEC European Track Championships, Cottbus (Germany)
Under 23 Team pursuit
Gold
UEC European Track Championships, Cottbus (Germany)
Under 23 Individual pursuit
Bronze
2006
UCI Junior Track Cycling World Championships, Ghent (Belgium)
Team pursuit
Bronze
UEC European Track Championships, Athens (Greece)
Junior team pursuit
Gold
2005
UCI Junior Track Cycling World Championships, Vienna (Austrlia)
Team pursuit
Silver
UEC European Track Championships, Fiorenzuola d'Arda (Italy)
Team pursuit
Gold