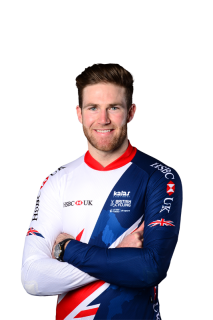 BMX
Liam Phillips seemed destined to be a BMX champion. Father Pete, a former national coach in the sport, helped to found a local BMX club and renovate a track in his hometown of Burnham-on-Sea, Somerset, while Phillips first rode a bike at the age of five and raced against his sister Charlie from an early age.
It is probably no surprise, therefore, that since making his Olympic Games debut in Beijing, at the age of just 19, Phillips has won 11 gold medals at UCI BMX World Championships and UCI BMX Supercross World Cup events.
Career in numbers
2
Total UCI BMX World Championships medals
Biography
Phillips credits parents Pete and Sharon for being the main inspirations behind his success. While his father introduced Phillips and his sister to the sport, and had his construction company oversee the development of a local track, Sharon gave up her interest in point-to-point horse riding and eventing to fully support her children's growing BMX careers.
By the age of 10, Phillips had won his first European BMX title and was in the midst of a run of 10 consecutive British BMX age group titles. With such eye-catching results behind him, Liam was accepted onto the Junior Academy in 2005, three years before the sport was to appear at the Olympic Games for the first time.
In Beijing, Phillips gained valuable experience despite exiting from the quarter-final heats, and, within two years, he had won his first medal at a UCI BMX Supercross World Cup event in Copenhagen, Denmark, taking silver in the elite men's competition.
Phillips had shown such impressive raw power - an important characteristic in making a fast start in BMX events - that he spent part of 2011 training with the Great Britain Cycling Team track sprint programme, investigating whether he could adapt to the man one position in that event.
Phillips showed great promise, even winning a bronze medal in the team sprint at the British National Track Championships, alongside Kian Emadi and future Olympic champion Philip Hindes.
Back on track for London
The team sprint experiment would eventually last six months but, with the London Olympics looming, Phillips was back on the BMX squad by late 2011 and a silver in the elite men's time trial at the UCI BMX World Championships in Birmingham in May 2012 suggested his form was peaking at precisely the right time.
Unfortunately, the next day, a crash in the first race of the supercross left Phillips with a broken collar bone and surgery to insert a metal plate and, with the London Olympic Games just 10 weeks away, cast a major doubt over his participation.
Phillips made a remarkable recovery to be fit for the start of the Olympic event in August but, after solid rides that saw him qualify for the final comfortably, his luck again deserted him when his foot unclipped from the pedal halfway round the London course and he crashed out of medal contention.
Phillips's response to that disappointment was impressive, however, in a dominant 2013 season which saw him win all of his races on the way to the gold medal, and his first rainbow jersey, at the UCI BMX World Championships in Auckland, New Zealand.
Earlier in 2013, Phillips also won time trial and supercross double gold at the UCI BMX Supercross World Cup event in Manchester, the precursor to a dominant 2014 season on the UCI BMX Supercross World Cup series in which he medalled at races in Argentina, the Netherlands and Manchester, again, completing a haul of three gold medals, two silvers and a bronze - a tally that saw him become the first British male rider to be crowned the UCI BMX Supercross World Cup champion.
There was more bad luck as Phillips sought to defend his world title in Rotterdam, Netherlands, however, when an error by a rival saw him crash out of a qualifying heat.
Again, it did not take long for Phillips to re-assert himself as one of the world's leading riders. In 2015, four gold medals over three UCI BMX Supercross World Cup events in Manchester, Angelholm, Sweden and Santiago del Estero, Argentina, saw Phillips make history as the first man to win back-to-back UCI BMX Supercross World Cup titles.
A keen golfer in his spare time, Liam made a strong start to 2016, and what would be a third consecutive Olympic Games, when he won the Manchester round of the UCI BMX Supercross World Cup for a fourth consecutive year.
In Rio, however, Phillips was again the victim of bad fortune. After qualifying in a solid 10th place in the seeding run to advance to the quarter-finals, a bad crash in the first of his three heats forced him out of the competition.
Palmarès
2016
UCI BMX Supercross World Cup, Manchester (UK)
Elite men
Gold
2015
UCI BMX Supercross World Cup, Manchester (UK)
Elite men time trial
Gold
UCI BMX Supercross World Cup, Manchester (UK)
Elite men
Gold
UCI BMX Supercross World Cup, Angelholm (Sweden)
Elite men
Gold
UCI BMX Supercross World Cup, Santiago del Estero (Argentina)
Elite men
Gold
2014
UCI BMX Supercross World Cup, Santiago del Estero (Argentina)
Elite men time trial
Gold
UCI BMX Supercross World Cup, Santiago del Estero (Argentina)
Elite men
Silver
UCI BMX Supercross World Cup, Papendal (Netherlands)
Elite men time trial
Silver
UCI BMX Supercross World Cup, Papendal (Netherlands)
Elite men
Bronze
UCI BMX Supercross World Cup, Manchester (UK)
Elite men time-trial
Gold
UCI BMX Supercross World Cup, Manchester (UK)
Elite men
Gold
2013
UCI BMX World Championships, Auckland (New Zealand)
Elite men
Gold
UCI BMX Supercross World Cup, Manchester (UK)
Elite men time-trial
Gold
UCI BMX Supercross World Cup, Manchester (UK)
Elite men
Gold
2012
UCI BMX Supercross World Cup, Randaberg (Norway)
Elite men
Silver
UCI BMX World Championships, Birmingham (UK)
Elite men time trial
Silver
2010
UCI BMX Supercross World Cup, Copenhagen (Denmark)
Elite men
Silver