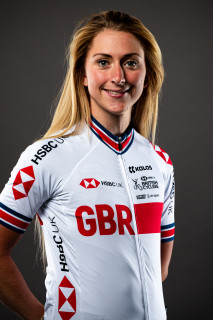 Laura Kenny won the hearts of the British public at the London 2012 Olympic Games where, at the age of just 20, she captured gold medals on the track in the team pursuit and the multi-discipline omnium event. As a key part of the Great Britain team that won 12 medals - eight of them gold - across the cycling events, Kenny became one of the nation's most popular athletes and went on to further success four years later in Rio, taking her personal tally of Olympic gold medals to four as she successfully defended both titles.
That achievement left Kenny as the most successful female Great Britain Olympic athlete in history, ahead of equestrian Charlotte Dujardin who won three gold and two silver at there same two Games as Kenny. And Kenny's selection to the Tokyo Olympics in 2021, as part of the women's endurance squad, offered her the opportunity to add to that haul.
In total, in an astonishing career to date, Kenny has won 63 medals at UCI World Championships, UEC European Championships, UCI World Cups, Olympic and Commonwealth Games - 44 of them golds.
Her role in Great Britain's domination of the team pursuit disciple is reflected in the fact that she has been part of teams that have broken the world record on no fewer than 11 occasions between 2012 and 2016 - three of them at the race's old, three-rider, 3km format.
Career in numbers
4
Total Olympic medals
15
Total UCI Track Cycling World Championships medals
1
Total Commonwealth Games medals
18
Total UEC European Track Championships medals
Biography
Kenny has become one of the world's great track riders since her precocious talent first shone through in the 2010 season with an omnium gold medal at the UCI Junior Track Cycling World Championships in Montichiari, Italy.
That form earned Kenny selection to the UEC European Track Championships and her first elite gold medal in the team pursuit, aged only 18, before an astonishing 2011 season which saw Kenny win seven world, World Cup and European titles at junior and elite levels.
Highlights included team pursuit gold at her debut UCI Track Cycling World Championships and at the UEC European Track Championships, where Kenny also took the omnium title.
Momentum was building nicely for Kenny, and the whole of the Great Britain Cycling Team, as their home Olympics loomed at the start of 2012.
In London, at a UCI Track Cycling World Cup meeting, Kenny, Joanna Rowsell Shand and Dani King gave supporters a preview of the success to come by winning an exciting team pursuit final while Kenny was forced to settle for bronze in the omnium behind rivals Sarah Hammer of the USA and Australia's Annette Edmondson.
A month later, the British team pursuit women were even more impressive at the UCI Track Cycling World Championships in Melbourne as they won gold in a new world record against the hosts. Just as significantly, in the omnium, Kenny turned the tables on Hammer and Edmondson and added gold.
London calling
By the time the London Olympics started, expectations were high for Kenny and the Great Britain Cycling Team and they did not disappoint.
In the team pursuit, the tried and trusted trio of Kenny, Rowsell Shand and King rode three times and broke the world record on each occasion, beating the USA in the final. That performance meant that on the six occasions that trio had raced together, they had set a world record on every ride.
Two days after the team pursuit gold, Trott was back for a thrilling omnium battle with Hammer and Edmondson. An uncharacteristically poor points race left Kenny with a mountain to climb but, by the final event the 500-metre time trial, her storming victory meant the Briton had won the gold medal by one point from Hammer.
The success, since that unforgettable summer, has been largely relentless for Kenny. The 2013 UCI Track Cycling World Championships in Minsk, Belarus saw Great Britain retain their team pursuit world crown.
With the women's team pursuit now a four-rider, four-kilometre event, the British won the title at that year's UEC European Track Championships in Apeldoorn with Kenny doing likewise in the omnium.
As the Great Britain team dominated the new team pursuit format, there was also another gold - and another new world record - at the 2013 UCI Track Cycling World Cup Manchester and the 2014 UCI Track Cycling World Championships in Cali saw that mastery continue with more rainbow jerseys.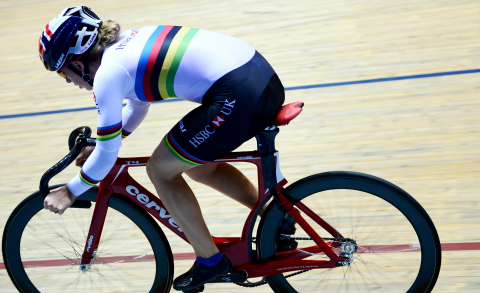 Road brings more success
The summer of 2014 also brought Kenny a thrilling Commonwealth Games gold in the points race and one of the highlights of her road career when she won the British National Road Race Championships. Kenny won a sprint, ahead of GB team-mates Dani Rowe and Lizzie Deignan, in Abergavenny to win her first, and so far only, national road title although she has also finished in the top five of that race in 2011, 2013 and 2015.
Indeed, although far from a specialist, Kenny's ability on the road saw her land professional contracts, and enjoy some success, with Team Ibis Cycles, Wiggle Honda and Matrix Fitness between 2012 and 2015.
Back on the track in 2014, Kenny successfully defended her two titles in the team pursuit and omnium at the UEC European Track Championships. By the time the 2015 UCI Track Cycling World Championship in Paris arrived in February, however, team pursuit rivals had finally closed the gap on Kenny's team with Australia qualifying fastest and winning the final by nearly three full seconds.
Kenny also had to settle for silver in the omnium although by the end of the year, and the UEC European Track Championships, she not only had the consolation of golds in the team pursuit and omnium but added the scratch race title for good measure. It meant that Kenny had accounted for half Great Britain's tally of six golds at the championships and her career total of 10 European golds - a total she has since raised to 14 - left her as the most successful rider of all time in the UEC European Track Championships.
The 2016 season had one main focus - the Rio Olympics - although the UCI Track Cycling World Championships in London proved a disappointment in the team pursuit, with Kenny having to settle for the bronze medal before she recovered superbly to take golds in the scratch race and omnium.
That disappointment was quickly forgotten in Rio, however, where Kenny anchored the women's team pursuit squad that broke the world record three times on the way to taking gold from the USA, a fact that meant Kenny had ridden the team pursuit six times over two Olympic Games campaigns and set a new world record on every occasion.
Her performance in the omnium was every bit as dominant. After finishing second in the opening event, the scratch race, she went on to keep her major rivals at bay throughout the remaining five disciplines and went on to add a fourth gold to her collection in impressive fashion by a commanding 24-point margin.
After an extended post-Rio break where Kenny gave birth to her first child, she made her return to elite competition less than six months after her son was born, competing at the UCI Track Cycling World Championships in Apeldoorn in 2018 where she won silver as part of a five-woman team pursuit squad alongside Archibald, Barker, Emily Nelson and Ellie Dickinson.
That was the first of three successive silver medals for the team at World Championships in which they came second to the USA (in 2018 and 2020) and Australia (in 2019).
Kenny enjoyed greater success in the UEC European Championships in that period, however, winning three consecutive team pursuit golds (from 2018-20) as well as a gold in the 2018 elimination race, silvers in the 2019 omnium and Madison and a silver and bronze in 2020, in the omnium and Madison, respectively.
The 2019-20 track season was less kind to Kenny, however, as she broke her shoulder in a World Cup meeting in Milton, Canada, and was then involved in a heavy crash in the omnium scratch race at the 2020 UCI World Track Championships in Berlin.
Thankfully, Kenny was uninjured in that opening event but scored minimum points, a setback which eventually saw her finish 12th overall in an event she had been favoured to win.
At least, in a year in which racing was curtailed by the Covid-19 pandemic, Kenny ended 2020 proving she was back to her near best with that silver omnium medal at the UEC European Track Championships in Plovdiv, Bulgaria, where she only missed out on gold, to old rival Kirsten Wild of the Netherlands, by two points.
Away from the bike
Kenny's remarkable story had a remarkable beginning, the double Olympic champion was born a month prematurely in Harlow, Essex, with a collapsed lung and later diagnosed with asthma. Advised to try sport to help with her breathing, Kenny first participated in trampolining before being forced to stop due to an undiagnosed condition that caused her to sporadically pass out.
Growing up in Cheshunt, Hertfordshire, Kenny and older sister Emma, who would go on to become a professional road rider, first took up the sport when their mother Glenda decided to cycle to lose weight.
Along with father Adrian, the family would spend weekends on lengthy bike rides with Laura eventually starting to race, at the age of eight, and ride at the track of local club Welwyn Wheelers.
At Christmas 2014 Laura and fellow GB gold medallist cyclist Jason Kenny announced their engagement. They married shortly after their success in Rio in 2016, and Laura gave birth to their first child, Albert Louie Kenny in August 2017.
Her profile also saw the former Grundy Park Leisure Centre in her hometown Cheshunt renamed The Laura Trott Leisure Centre in her honour following a £4 million redevelopment.
Kenny was appointed Officer of the Order of the British Empire (OBE) in the 2013 New Year Honours list and Commander of the British Empire (CBE) in 2017, both for services to cycling. She received the latter, with husband Jason who was also appointed a CBE, at Buckingham Palace in April 2017.
In 2013, she also received an honorary degree from the University of Essex.
Palmarès
2020
UCI Track Cycling World Championships, Berlin (Germany)
team pursuit
Silver
UEC European Track Cycling Championships, Plovdiv (Bulgaria)
team pursuit
Gold
UEC European Track Cycling Championships, Plovdiv (Bulgaria)
omnium
Silver
UEC European Track Cycling Championships, Plovdiv (Bulgaria)
Madison
Bronze
2019
UCI Track Cycling World Championships, Pruszkow (Poland)
team pursuit
Silver
UEC European Track Cycling Championships, Apeldoorn (Netherlands)
team pursuit
Gold
UEC European Track Cycling Championships, Apeldoorn (Netherlands)
Madison
Silver
UCI Track Cycling World Cup, Minsk (Belarus)
Madison
Silver
UCI Track Cycling World Cup, Minsk (Belarus)
omnium
Bronze
UCI Track Cycling World Cup, Milton (Canada)
Madison
Gold
UEC European Track Cycling Championships, Apeldoorn (Netherlands)
omnium
Silver
2018
UCI Track Cycling World Championships, Apeldoorn (Netherlands)
Team pursuit
Silver
UEC European Track Cycling Championships, Glasgow (UK)
team pursuit
Gold
UEC European Track Cycling Championships, Glasgow (UK)
elimination race
Gold
UCI Track Cycling World Cup, Milton (Canada)
team pursuit
Gold
UCI Track Cycling World Cup, Milton (Canada)
omnium
Gold
UCI Track Cycling World Cup, Glasgow (UK)
team pursuit
Gold
UCI Track Cycling World Cup, Glasgow (UK)
Madison
Gold
UCI Track Cycling World Cup, London (UK)
team pursuit
Gold
UCI Track Cycling World Cup, London (UK)
Madison
Gold
2016
Olympic Games, Rio de Janeiro (Brazil)
Team pursuit
Gold
Olympic Games, Rio de Janeiro (Brazil)
Omnium
Gold
UCI Track Cycling World Championships, London
Omnium
Gold
UCI Track Cycling World Championships, London
Scratch race
Gold
UCI Track Cycling World Championships, London
Team pursuit
Bronze
UCI Track Cycling World Cup, Hong Kong
Omnium
Gold
UCI Track Cycling World Cup, Hong Kong
Scratch race
Silver
2015
UCI Track Cycling World Cup, Cali (Colombia)
Omnium
Gold
UEC European Track Cycling Championships, Grenchen (Switzerland)
Team pursuit
Gold
UEC European Track Cycling Championships, Grenchen (Switzerland)
Omnium
Gold
UEC European Track Cycling Championships, Grenchen (Switzerland)
Scratch race
Gold
UCI Track Cycling World Championships, Paris (France)
Team pursuit
Silver
UCI Track Cycling World Championships, Paris (France)
Omnium
Silver
2014
UCI Track Cycling World Cup, Guadalajara (Mexico)
Team pursuit
Gold
UCI Track Cycling World Cup, London (UK)
Team pursuit
Gold
UEC European Track Cycling Championships, Guadaloupe
Team pursuit
Gold
UEC European Track Cycling Championships, Guadaloupe
Omnium
Gold
Commonwealth Games, Glasgow (UK)
Scratch race
Gold
UCI Track Cycling World Championships, Cali (Colombia)
Team pursuit
Gold
UCI Track Cycling World Championships, Cali (Colombia)
Omnium
Silver
British National Road Race Championships, Abergavenny (UK)
1st
2013
UCI Track Cycling World Cup, Aguascalientes (Mexico)
Omnium
Silver
UCI Track Cycling World Cup, Manchester (UK)
Team pursuit
Gold
UCI Track Cycling World Cup, Manchester (UK)
Omnium
Gold
UEC European Track Cycling Championships, Apeldoorn (Holland)
Team pursuit
Gold
UEC European Track Cycling Championships, Apeldoorn (Holland)
Omnium
Gold
UCI Track Cycling World Championships, Minsk (Belarus)
Team pursuit
Gold
UCI Track Cycling World Championships, Minsk (Belarus)
Omnium
Silver
2012
Olympic Games, London (UK)
Team pursuit
Gold
Olympic Games, London (UK)
Omnium
Gold
UCI Track Cycling World Championships, Melbourne (Australia)
Team pursuit
Gold
UCI Track Cycling World Championships, Melbourne (Australia)
Omnium
Gold
UCI Track Cycling World Cup, London (UK)
Team pursuit
Gold
UCI Track Cycling World Cup, London (UK)
Omnium
Bronze
UCI Track Cycling World Cup, Glasgow (UK)
team pursuit
Gold
UCI Track Cycling World Cup, Glasgow (UK)
omnium
Gold
2011
UCI Track Cycling World Cup, Cali (Colombia)
Team pursuit
Gold
UCI Track Cycling World Cup, Cali (Colombia)
Omnium
Bronze
UEC European Track Cycling Championships, Apeldoorn (Holland)
Team pursuit
Gold
UEC European Track Cycling Championships, Apeldoorn (Holland)
Omnium
Gold
UCI Track Cycling World Championships, Apeldoorn (Holland)
Team pursuit
Gold
UEC Junior and Under-23 Track European Championships, Portugal
Team pursuit
Gold
UEC Junior and Under-23 Track European Championships, Portugal
Individual pursuit
Gold
UEC Junior and Under-23 Track European Championships, Portugal
Scratch race
Gold
2010
UCI Junior Track Cycling World Championships, Italy
Omnium
Gold
UCI Junior Track Cycling World Championships, Italy
Points race
Silver
UCI Junior Track Cycling World Championships, Italy
Individual pursuit
Silver
UEC European Track Cycling Championships, Poland
Team pursuit
Gold
UCI Track Cycling World Cup, Cali (Colombia)
team pursuit
Bronze