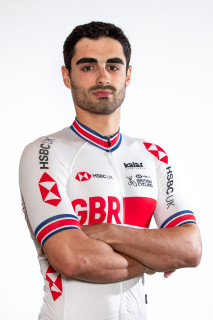 Track endurance
A former sprinter, Emadi has turned his focus to the team pursuit in recent years, and has picked up numerous international medals as part of the Great Britain quartet.
Career in numbers
2
Total UCI Track Cycling World Championships medals
1
Total UEC European Track Championships medals
2
Total Commonwealth Games medals
Biography
He progressed onto the British Cycling Olympic Podium Programme in April before later that year, in November, he rode as man-three in the team sprint in the UCI Track Cycling World Cup in Manchester with Philip Hindes and Jason Kenny in the qualification round to put the team into the ride-off for the bronze medal, which the team went on to win with Matt Crampton replacing Kian in the finals.
At the second round of the world cup in Mexico, Kian again rode in the qualifying round of the team sprint with Jason Kenny and Philip Hindes - the trio broke the world record in qualifying, setting a time of 42.339 seconds.
The record didn't stand for long, unfortunately, as the German team broke it again in their qualifying round, posting 41.871 seconds.
Kian was replaced by Matt Crampton for the finals, and the Great Britain Cycling Team took the silver medal behind an on-form German sprint line-up.
At the 2014 Commonwealth Games, Kian won the silver medal for England in the team sprint alongside Phil Hindes and Jason Kenny.
Kian switched from the track sprint to track endurance discipline at the end of 2015 and was called up to ride the team pursuit event at the final round of the World Cup series in Hong Kong, where he and the team won the bronze medal.
Emadi took to the longer distance, first winning bronze at the 2016 UEC European Track Championships in France alongside Matt Bostock, Mark Stewart and Oliver Wood - then winning gold in the team pursuit at the UCI Track Cycling World Cup in Glasgow in November 2016 alongside Stewart, Wood and Andy Tennant.
There was further team pursuit success in the 2017/18 track season as Emadi first won another world cup gold - this time in Manchester alongside Ed Clancy, Steven Burke and Wood.
He then became a world champion for the first time in his career at the 2018 UCI Track Cycling World Championships in Apeldoorn - as alongside Clancy, Ethan Hayter and Charlie Tanfield, the four riders beat Denmark in the team pursuit to win gold.
The following month, Emadi lined up for Team England in the team pursuit at the Commonwealth Games in Australia alongside Hayter, Tanfield and Wood - winning silver as the hosts claimed gold in a new world record of 3:49.804.
Back in Great Britain colours, Emadi and his team-mates picked up a silver at the following year's world championships.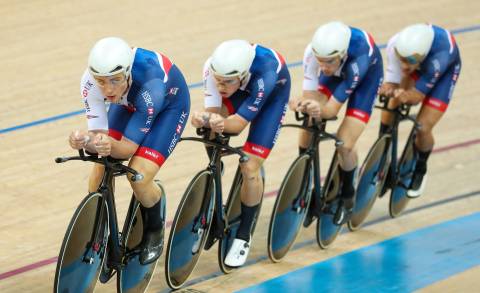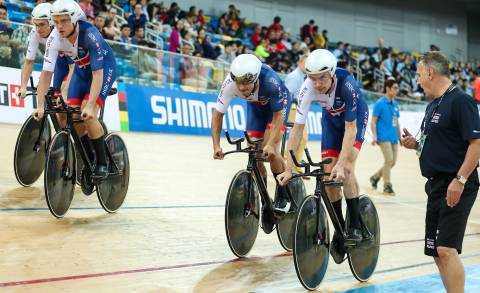 Palmarès
2019
UCI Track Cycling World Championships, Pruszkow (Poland)
team pursuit
Silver
2018
Commonwealth Games, Gold Coast (Australia)
Team pursuit
Silver
UCI Track Cycling World Championships, Apeldoorn (Netherlands)
Team pursuit
Gold
2017
UCI Track Cycling World Cup, Manchester (UK)
Team pursuit
Gold
2016
UCI Track Cycling World Cup, Glasgow (UK)
Team pursuit
Gold
UEC European Track Championships, Paris (France)
Team pursuit
Bronze
2015
UCI Track Cycling World Cup, Tseung Kwan O (Hong Kong)
Team pursuit
Bronze
2014
Commonwealth Games, Glasgow (UK)
Team sprint
Silver
2013
UCI Track Cycling World Cup, Manchester (UK)
Team sprint (qualifying ride)
Bronze
UCI Track Cycling World Cup, Aguascalientes (Mexico)
Team sprint (qualifying ride)
Silver