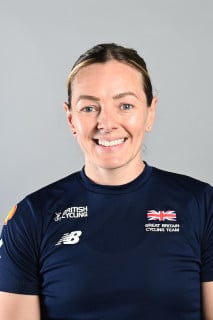 One of the Great Britain Cycling Team to have begun her sporting career in another discipline, Katy Marchant was a heptathlete in track and field before her coach advised her to try cycling - a move which paid dividends, as Marchant claimed an Olympic medal in Rio.
Now on course for a second Games in Tokyo, Marchant secured her first-ever UCI World Cup victory, winning the keirin in front of a home crowd in Glasgow in 2019.
Career in numbers
1
Total Olympic Games medals
1
Total Commonwealth Games medals
3
Total UCI Track Cycling World Cup medals
Biography
A former training partner of Olympic champion Jessica Ennis-Hill, Marchant was destined for a career in track and field, as a heptathlete, until a coach spotted her cycling potential.
Marchant was only a recreational cyclist and had represented Great Britain at the athletics World Championships in Barcelona in 2012, but impressive power outputs on a Wattbike test hinted that her talents might lie in another area.
After a strong six-week trial period with the Great Britain Cycling Team, Marchant joined the Senior Academy in April 2013 and earned promotion to the Podium Programme six months later, at the age of 20. By then, Yorkshire-born Marchant had already demonstrated her promise with silvers in the team sprint, with Victoria Williamson, and keirin and a bronze in the sprint at the British National Track Championships in September.
With her future career clearly lying in the explosive sprint events - both team and individual - Marchant progressed to the international stage at the 2014 UEC Under-23 European Track Championships in Anadia, Portugal where she won bronze medals in both the keirin and team sprint, alongside Rosie Blount.
Her development was again highlighted at that year's National Track Championships with podium finishes - although no golds - in the sprint, keirin, 500-metre time trial and team sprint, where she continued her blossoming partnership with Williamson.
Golden breakthrough
A first gold medal breakthrough seemed imminent and it duly arrived at the 2015 UEC Under-23 European Track Championships in Athens where she won the keirin and took a silver with Williamson in the team sprint. By then, she had also made her debut at her first UCI World Track Cycling Championships in Paris, where she represented Great Britain in the 500-metre time trial, posting a personal best before finishing in 13th place.
An indication of her progress could be seen at the 2015 National Track Championships, however, where Marchant ended her wait for a victory by winning an astonishing four gold medals - in the sprint, keirin, 500-metre time trial and team sprint, in a new pairing with Jessica Varnish. That form continued into 2016, where Marchant medalled for the first time in a UCI Track Cycling World Cup meeting, winning silver in Hong Kong with Varnish in the team sprint as Great Britain sought to win qualification for a place in the event at the 2016 Rio Olympic Games.
Unfortunately, at the UCI Track Cycling World Championships in London in March 2016, the team of Marchant and Varnish could only qualify in fifth place, missing out on a medal ride and a place at the Olympics by less than one second; a disappointment which left her seeking selection for Rio in an individual discipline.
That led to a superb campaign in the sprint at the Olympics in which she qualified second fastest in the flying lap behind team-mate Becky James. In the match sprint portion of the competition, Marchant advanced through three rounds without losing a race until meeting eventual Olympic champion Kristina Vogel who beat her in the semi-finals. The consolation for Marchant was a dominant win in the bronze-medal ride against Dutch rider Elis Ligtlee.
Marchant paired up with Senior Academy rider Sophie Capewell for the 2017-18 UCI Track Cycling World Cup season - the duo improving with each round and just missing out on a bronze medal at round three in Milton, Canada, finishing in fourth, the pair's best result as a team.
The Yorkshire rider overcame that disappointment by qualifying for the keirin final - winning silver to claim her first-ever individual world cup medal.
In 2018, Marchant was selected to represent Team England at the Commonwealth Games in Australia and teamed up with Lauren Bate for the team sprint with the duo overcoming the Welsh pair of Rachel James and Ellie Coster to take bronze behind the Australian and New Zealand teams.
As another Olympics beckoned, Marchant's impressive keirin development continued, with a second place at the UCI World Cup meeting in Cambridge, New Zealand, at the start of 2019 and, later in the year, she enjoyed her first taste of UCI World Cup success, producing a scintillating combination of rides to win the keirin in front of a home crowd in Glasgow.
A top ten finish followed in the keirin at the 2020 UCI World Track Championships in Berlin before racing was curtailed for the year. The keirin had become a focus for Marchant who, after the Rio Olympics, spent a period at the legendary keirin training school in Izu, Japan, honing her skills in the derny-paced racing event, which is a popular professional sport in that nation, at the venue which will host the Olympic track programme in 2021.
With the keirin and individual sprint on her agenda for Tokyo, Marchant kept busy - and fit - during the Covid-19 lockdown by working on a family farm outside Leeds, building a makeshift gym in a barn for that purpose, and developed another of her hobbies, a bespoke cake business.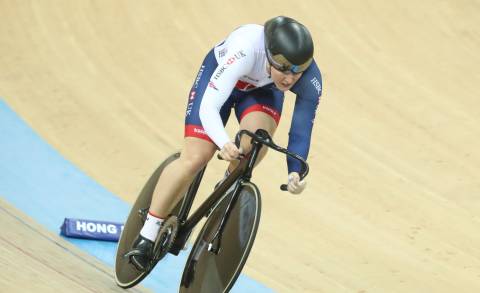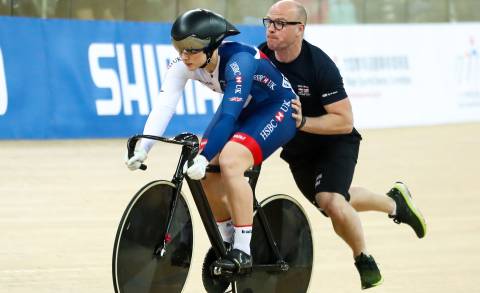 Palmarès
2019
UCI Track Cycling World Cup, Glasgow (UK)
keirin
Gold
2018
Commonwealth Games, Gold Coast (Australia)
Team sprint
Bronze
2017
UCI Track Cycling World Cup, Milton (Canada)
Keirin
Silver
2016
Olympic Games, Rio de Janiero (Brazil)
Sprint
Bronze
UCI Track Cycling World Cup, Tseung Kwan O (Hong Kong)
Team sprint
Silver
2015
UEC European Junior and Under-23 Track Cycling Championships, Athens (Greece)
Keirin
Gold
UEC European Junior and Under-23 Track Cycling Championships, Athens (Greece)
Team sprint
Silver
2014
UEC European Junior and Under-23 Track Cycling Championships, Anadia (Portugal)
Keirin
Bronze
UEC European Junior and Under-23 Track Cycling Championships, Anadia (Portugal)
Team sprint
Bronze