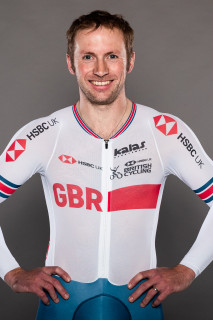 As the winner of six Olympic gold medals - a figure matched among British athletes only by fellow track cyclist Sir Chris Hoy - 2021 sees Kenny head to his fourth Games, in Tokyo, looking to write another chapter in the sport's history books.
Kenny's six gold and one silver medal on the track is an identical match to his former sprint team-mate Sir Chris. Only former track and road cyclist Sir Bradley Wiggins can claim more total medals among British sports stars - although his eight include one gold less than Kenny and Sir Chris. The only other British athlete within one medal of the sprint duo is legendary former rower Sir Steve Redgrave who took part in five Olympics and won five golds and one bronze.
At the age of 20, Kenny won his first Olympic gold, alongside Sir Chris, in the team sprint at the Beijing Games in 2008 and was one of the figureheads of the highly successful Great Britain Cycling Team at their home Olympics in London four years later, taking his career haul to three golds medals in the sprint and team sprint. But it was in Rio that Jason really wrote his name into British Olympic folklore, winning three more titles, in the team sprint, sprint and keirin.
Career in numbers
7
Total Olympic medals
9
Total UCI Track Cycling World Championships medals
2
Total Commonwealth Games medals
6
Total UEC European Track Championships medals
Biography
A product of British Cycling's Rider Route, by 2005 at the age of 17, Kenny had won his first National Track Cycling Championships, in the team sprint. It was not long before Kenny made a dramatic mark on the international stage, enjoying a clean sweep of gold medals, in the sprint, team sprint and keirin, at the 2006 UCI Junior World Track Cycling Championships, before stepping up to senior levels impressively, winning the team sprint with Matt Crampton and Craig MacLean at the 2006 UCI Track Cycling World Cup in Moscow.
After gaining more experience in the senior ranks, Kenny was in contention for a place at the 2008 Olympic Games. In March, he underlined that potential on his home Manchester track at the UCI Track Cycling World Championships where, just days past his 20th birthday, Kenny finished fifth in the sprint behind gold medallist Hoy.
By Beijing, Kenny had won the contest for a place in the Great Britain team sprint line-up, riding between Jamie Staff and Hoy and setting a world record of 42.950 in qualifying. Although not quite as fast in the final, the British defeated France by over half a second for gold.
Kenny's performance in the individual sprint was just as impressive as he qualified second fastest behind Hoy on the way to the final where only the imperious Scotsman denied him a second gold medal, winning the best-of-three race 2-0.
At home on the world stage
Kenny had arrived as a genuine force on the world stage and while he would joke in future years that his form in between Olympic Games was poor, the honours and medals continued to flow after Beijing. Three UCI Track Cycling World Cup golds followed in the winter of 2008-09 and, at the UCI Track Cycling World Championships in March, he rode to silver with Staff and Crampton in the team sprint, beaten by old rivals France.
The 2010 season saw Kenny collect his first gold medal at the UEC European Track Championships in the keirin while the 2011 UCI Track Cycling World Championships in Apeldoorn, Netherlands also saw him win gold, in the individual sprint, although it would be January 2012 before that victory was confirmed when France's Gregory Bauge's original first-place position was nullified after a backdated 12-month ban by the UCI for missing a drugs test.
Come Olympic year, however, Kenny, true to type, took time to find his unbeatable best form. At the UCI Track Cycling World Championships, Kenny was beaten into silver in the sprint by Bauge and bronze in the keirin, behind winner Hoy.
But by August and the Olympics, Kenny had rediscovered his golden touch, edging out Hoy to secure the one place allowed for each nation in the individual sprint. With Kenny joining Philip Hindes and Hoy in the team sprint, the British broke the world record twice, eventually clinching gold against their old rivals France in a time of 42.600.
The sprint competition was just as dramatic as Kenny qualified fastest, in a new Olympic record time, before cruising into the final where he avenged his previous defeats to Bauge by beating his French rival 2-0 in the final.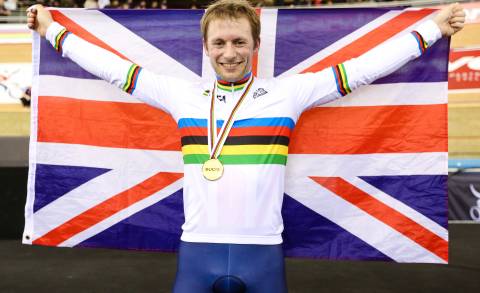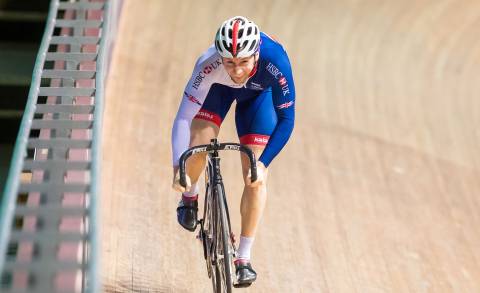 Rio and beyond
The 2013 season saw Kenny add to his rainbow jersey collection, with a keirin gold at the UCI Track Cycling World Championships while the highlights of 2014 included two silvers, in team and individual sprint, for Team England at the Commonwealth Games and a team sprint gold in the 2014 UCI Track Cycling World Cup in Guadalajara.
After a quiet 2015, which still featured National Track Championships golds in the kilo and team sprint, Kenny opened the Olympic year in familiar fashion, with a gold medal in the 2016 UCI Track Cycling World Cup team sprint Hong Kong, with Hindes and Callum Skinner. It proved the perfect warm-up for the UCI Track Cycling World Championships in London where, after missing a medal ride in the team sprint by an agonising 11 thousandths of a second, Kenny responded magnificently in the sprint.
Qualifying second to Matthew Glaetzer, by one thousandth of a second, Kenny reached the final in impressive fashion before winning the gold medal 2-1 over the three heats against the Australian. As had been the case in previous Olympic cycles, Kenny appeared to be peaking at precisely the right moment and, in the team sprint with Hindes and Skinner in Rio, broke the Olympic record by qualifying fastest in 42.562.
Having then seen that Olympic mark fall to New Zealand in the first round, the British made amends in the final, beating the Kiwis to the gold medal and re-claiming their Olympic record in 42.440. The sprint competition brought Kenny further success as he qualified fastest and lost just one ride, in the semi-final to eventual bronze medallist Denis Dmitriev, on the way to beating team-mate Skinner 2-0 in the gold medal final.
The keirin, and Kenny's third gold medal, was far more dramatic as the Briton advanced comfortably to the final where, after the race was twice re-started because of infringements involving the derny pacing bike, Kenny rode superbly to clinch victory.
In the aftermath of the Games, Kenny secretly retired but shortly after the birth of his first child, announced plans to continue towards Tokyo 2020 and his place in Olympic history.
He made his return to elite competition at the 2018 UCI Track Cycling World Championships in Apeldoorn in the team sprint - winning silver as part of a five-man squad alongside Hindes, Jack Carlin, Ryan Owens and Joe Truman, to claim Great Britain Cycling Team's first men's team sprint World Championship medal since 2011.
Alongside Carlin and Owens, Kenny also won silver at the team sprint in the 2019 UEC European Track Cycling Championships in Apeldoorn and recorded the same result at the 2020 UCI Track Cycling World Championships in Berlin - losing on both occasions to a strong Dutch team sprint squad, whom Great Britain will have to beat if Kenny is to add a fourth consecutive team sprint title to his palmares in Tokyo.
Away from the bike
Kenny was a keen sportsman growing up in the Farnworth area of Bolton and attending Mount St Joseph School, playing a variety of sports and showing early promise as a football goalkeeper, as well as trying his hand at cricket and tennis.
His first introduction to cycling had come at the age of three when Kenny "stole" a bike belonging to older brother Craig and soon taught himself to ride. But a chance visit to the National Cycling Centre, Manchester, for Jason and Craig, three years his senior, where an uncle had booked the track and had spare places, proved life changing. Kenny, who had also been a keen keyboard and guitar player as a youngster, showed immediate potential and was soon on the way to a glittering career which saw him become one of the stand-out stars of the 2012 London Olympics.
After those Games, his relationship with fellow Great Britain gold medallist cyclist Laura Trott also made the couple one of the most recognisable in the sports world and, at Christmas 2014, the pair announced their engagement. They married shortly after their success in Rio in 2016, with Laura giving birth to their first child, Albert Louie Kenny in August 2017.
Kenny was also appointed Commander of the Order of the British Empire (CBE) in the 2017 New Year's Honours List for services to cycling.
Like many cyclists, Kenny is a keen fan of motor sports and has spent his off-time driving Ginetta G40 in races, finishing in a familiar place - on the podium - at a round of the Radical European Masters at the Nurburgring in Germany in 2014.
Palmarès
2020
UCI Track Cycling World Championships, Berlin (Germany)
team sprint
Silver
2019
UEC European Track Cycling Championships, Apeldoorn (Netherlands)
team sprint
Silver
2018
UCI Track Cycling World Championships, Apeldoorn (Netherlands)
Team sprint
Silver
2016
Olympic Games, Rio de Janeiro (Brazil)
Team sprint
Gold
Olympic Games, Rio de Janeiro (Brazil)
Sprint
Gold
Olympic Games, Rio de Janeiro (Brazil)
Keirin
Gold
UCI Track Cycling World Cup, Hong Kong
Team sprint
Gold
UCI Track Cycling World Cup, Hong Kong
Sprint
Bronze
UCI Track Cycling World Championships, London (UK)
Sprint
Gold
2014
UCI Track Cycling World Cup, Guadalajara (Mexico)
Team sprint
Gold
UCI Track Cycling World Cup, Guadalajara (Mexico)
Sprint
Silver
Commonwealth Games, Glasgow (UK)
Sprint
Silver
Commonwealth Games, Glasgow (UK)
Team sprint
Silver
2013
UCI Track Cycling World Cup, Aguascalientes (Mexico)
Team sprint
Silver
UCI Track Cycling World Cup, Aguascalientes (Mexico)
Sprint
Silver
UCI Track Cycling World Cup, Manchester (UK)
Team sprint
Bronze
UEC European Track Championships, Apeldoorn (Holland)
Keirin
Silver
UEC European Track Championships, Apeldoorn (Holland)
Sprint
Bronze
UCI Track Cycling World Championships, Minsk (Belarus)
Keirin
Gold
2012
UCI Track Cycling World Cup, Glasgow (UK)
Team sprint
Silver
Olympic Games, London (UK)
Team sprint
Gold
Olympic Games, London (UK)
Sprint
Gold
UCI Track Cycling World Championships, Melbourne (Australia)
Sprint
Silver
UCI Track Cycling World Championships, Melbourne (Australia)
Keirin
Bronze
UCI Track Cycling World Cup, London (UK)
Team sprint
Bronze
2011
UCI Track Cycling World Championships, Apeldoorn (Holland)
Sprint
Gold
UCI Track Cycling World Championships, Apeldoorn (Holland)
Team sprint
Bronze
UCI Track Cycling World Cup, Manchester (UK)
Sprint
Silver
UCI Track Cycling World Cup, Manchester (UK)
Team sprint
Bronze
2010
UCI Track Cycling World Cup, Melbourne (Australia)
Team sprint
Gold
UEC European Track Championships, Pruszkow (Poland)
Kierin
Gold
2009
UCI Track Cycling World Cup, Manchester (UK)
Team sprint
Silver
UCI Track Cycling World Cup, Manchester (UK)
Sprint
Bronze
UCI Track Cycling World Championships, Pruszkow (Poland)
Team sprint
Silver
UCI Track Cycling World Cup, Copenhagen (Denmark)
Team sprint
Gold
UEC European Track Championships, Minsk (Belarus)
Keirin
Silver
UEC European Track Championships, Minsk (Belarus)
Sprint
Silver
UEC European Track Championships, Minsk (Belarus)
Team sprint
Silver
2008
Olympic Games, Beijing (China)
Team sprint
Gold
Olympic Games, Beijing (China)
Sprint
Silver
UCI Track Cycling World Cup, Manchester (UK)
Sprint
Gold
UCI Track Cycling World Cup, Manchester (UK)
Team sprint
Gold
UCI Track Cycling World Cup, Manchester (UK)
Keirin
Silver
2007
UEC U23 European Track Championships, Cottbus (Germany)
Team sprint
Bronze
UEC U23 European Track Championships, Cottbus (Germany)
Sprint
Bronze
2006
UCI Junior Track Cycling World Championships, Gent (Belgium)
Keirin
Gold
UCI Junior Track Cycling World Championships, Gent (Belgium)
Team sprint
Gold
UCI Junior Track Cycling World Championships, Gent (Belgium)
Sprint
Gold