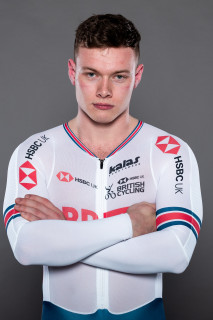 One of the exciting crop of young male sprinters to emerge in the years since the 2016 Rio Olympics, Carlin has made a Great Britain jersey his own in the years since, and has claimed a host of individual and team medals in the process.
In 2021, he was selected, along with Jason Kenny and Ryan Owens, to represent Great Britain at his first Olympic Games in Tokyo.
Career in numbers
3
Total UCI Track Cycling World Championships medals
1
Total Commonwealth Games medals
1
Total UEC European Track Championships medals
Biography
Cycling was not always Carlin's sport of choice - but a nasty football injury, in which he fractured both his ankles, convinced the young Scot to take up a non-contact sport for recovery.
His mother spotted a flyer for local cycling club, the Glasgow Riders, and Carlin and track cycling never looked back. Not that it was plain sailing and the young Carlin's injury jinx continued when he broke his wrist on his first track session although not even that setback could hold back his natural talent which quickly blossomed.
Carlin moved to Manchester to join the Great Britain Cycling Team Senior Academy and teamed up with fellow academy riders Owens and Joe Truman to form a formidable under-23 team sprint line-up - winning gold at the 2016 UEC Under-23 Track European Championships in Aigle, Switzerland.
With senior squad members on an extended break in the aftermath of the Rio Olympics, Carlin was selected for the elite UEC European Track Championships alongside Owens and Truman, with the trio taking an excellent silver in Saint-Quentin-en-Yvelines, France in 2016.
Glasgow gold
Their good form continued as the UCI World Cup season began - with a stunning gold medal in the team sprint in the opening round in front of a passionate home crowd in Glasgow before the young riders proved their victory was not a one-off by also taking the win in the second round, one week later in Apeldoorn.
Their winter successes saw them selected for their maiden UCI World Championships in Hong Kong in April 2017 - with the trio missing out on a medal ride in the team sprint by less than two-hundredths of a second. Carlin won bronze in the keirin at the 2017 UEC Under-23 European Track Cycling Championships in Portugal while also successfully retaining the team sprint gold there, alongside Owens and Truman.
The three young riders were back on the podium as the 2017-18 UCI Track Cycling World Cup season began in Poland - taking bronze in the team sprint in Pruszkow.
One month later, Carlin went one better, winning team sprint silver at the third round of the World Cup in Milton, Canada - this time having teamed up with Phil Hindes and Callum Skinner, veteran Olympic champions from Rio 2016. The following day, Carlin then closed out his 2017 with his first-ever individual medal on the elite world stage as he won bronze in the sprint.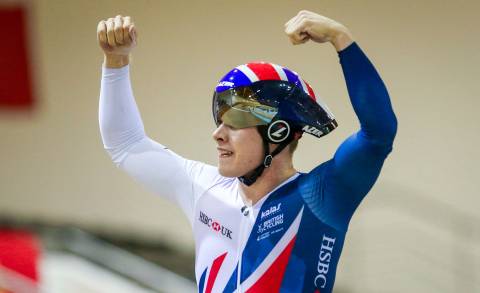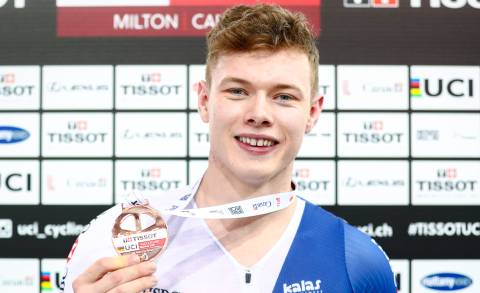 Tokyo-bound
Carlin's successes continued into 2018 as he staked his claim for a place in the upcoming 2020 Olympics - winning his first world championship medal, a silver, at the UCI Track Cycling World Championships in Apeldoorn as part of a five-man team sprint squad alongside Kenny, Hindes, Owens and Truman.
Following that performance, Carlin turned to individual events - and produced a sensational performance to win silver in the sprint, beating Max Levy and Ed Dawkins on his way to the final, where Australia's Matthew Glaetzer took gold after a thrilling battle.
Carlin's solo success continued in Australia the following month - winning silver in the sprint for Scotland at the 2018 Commonwealth Games on the Gold Coast.
With Kenny and Owens, he has since amassed a collection of silver medals behind the all-conquering Dutch team sprint trio - who had beaten them at the 2018 UCI World Track Cycling Championships - finishing second to their rivals at the 2019 UEC European Track Cycling Championships and 2020 UCI Track Cycling World Championships.
That growing British-Dutch rivalry was also evident in the opening rounds of the 2019-20 UCI World Cup season in which Carlin was part of GB squads that were beaten into second place by the Netherlands in the rounds in Minsk, Belarus, and Glasgow.
Palmarès
2020
UCI Track Cycling World Championships, Berlin (Germany)
team sprint
Silver
2019
UEC European Track Cycling Championships, Apeldoorn (Netherlands)
team sprint
Silver
UCI Track Cycling World Cup, Minsk (Belarus)
team sprint
Silver
UCI Track Cycling World Cup, Glasgow (UK)
team sprint
Silver
2018
Commonwealth Games, Gold Coast (Australia)
Sprint
Silver
UCI Track Cycling World Championships, Apeldoorn (Netherlands)
Sprint
Silver
UCI Track Cycling World Championships, Apeldoorn (Netherlands)
Team sprint
Silver
2017
UCI Track Cycling World Cup, Milton (Canada)
Team sprint
Silver
UCI Track Cycling World Cup, Milton (Canada)
sprint
Bronze
UCI Track Cycling World Cup, Pruszkow (Poland)
Team sprint
Bronze
UEC Junior and Under-23 Track European Championships, Anadia (Portugal)
Team sprint
Gold
UEC Junior and Under-23 Track European Championships, Anadia (Portugal)
keirin
Bronze
2016
UCI Track Cycling World Cup, Apeldoorn (Netherlands)
Team sprint
Gold
UCI Track Cycling World Cup, Glasgow (UK)
Team sprint
Gold
UEC European Track Championships, Saint-Quentin-en-Yvelines (France)
Team sprint
Silver
UEC Junior and Under-23 Track European Championships, Montichiari (Italy)
Team sprint
Gold