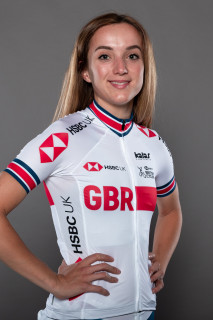 After breaking into the Great Britain women's endurance set-up just after the London Olympics, Barker herself became an Olympic champion in Rio, aged just 21. Since then, three individual world titles in four years have also marked her out as one of the best female bunch racers in the world.
Career in numbers
1
Total Olympic Games medals
11
Total UCI Track Cycling World Championships medals
3
Total Commonwealth Games medals
6
Total UEC European Track Championships medals
Biography
Elinor and younger sister Megan were first attracted to the sport after seeing cyclists from their local club, Maindy Flyers, finish track sessions as the sisters were leaving swimming practice. Their mild interest in cycling quickly blossomed and would lead to international success.
Her performances, including a junior time trial title on the road, quickly earned her a place on the Olympic Development Programme although it would be 2013, and the completion of her A-level exams at school in South Wales, before Barker would move to Manchester and a permanent home at the National Cycling Centre.
New format, same success
Barker broke into the Great Britain Cycling Team senior ranks at the age of just 18, linking up with newly-crowned Olympic champions Laura Kenny and Dani Rowe to contest the team pursuit.
With the event still a three-rider event, that trio claimed world championship gold in 2013 – Barker's first senior world title.
As the event evolved to a four-rider, 4km race, Britain's dominance continued, as they repeatedly lowered the formative world record and – with Barker lining up alongside Kenny, Joanna Rowsell and fellow relative newcomer Katie Archibald – won another world title in 2014.
They suffered their first defeat in the new, four-rider format in the world championship final of 2015, losing out to Australia, while a disjointed qualification ride left them able to win only bronze – which they duly did – in front of a home crowd in London a year later.
The quartet shone in Rio, breaking the world record three times on their way to gold in a time that is still yet to be bettered: 4:10.236.
A first individual world title followed the year after, as Barker won the points race in Hong Kong, while she broke a almost three-decade long wait for a Welsh track cycling Commonwealth Games gold medal in 2018.
At the last two world championships, she has reinforced her reputation as one of the best bunch racers in the world, winning the scratch race title in 2019 and regaining the points race jersey in 2020.
Palmarès
2020
UCI Track Cycling World Championships, Berlin (Germany)
points race
Gold
UCI Track Cycling World Championships, Berlin (Germany)
team pursuit
Silver
2019
UCI Track Cycling World Championships, Pruszkow (Poland)
scratch race
Gold
2018
Commonwealth Games, Gold Coast (Australia)
Points race
Gold
UCI Track Cycling World Championships, Apeldoorn (Netherlands)
Team pursuit
Silver
UCI Track Cycling World Cup, Minsk (Belarus)
Omnium
Silver
UCI Track Cycling World Cup, Minsk (Belarus)
Scratch race
Silver
2017
UCI Track Cycling World Cup, Manchester (UK)
Madison
Gold
UCI Track Cycling World Cup, Manchester (UK)
Team pursuit
Gold
UCI Track Cycling World Cup, Pruszkow (Poland)
Madison
Silver
UEC European Track Championships, Berlin (Germany)
Madison
Gold
UEC European Track Championships, Berlin (Germany)
Team pursuit
Silver
UCI Track Cycling World Championships, Tseung Kwan O (Hong Kong)
Points race
Gold
UCI Track Cycling World Championships, Tseung Kwan O (Hong Kong)
Madison
Silver
UCI Track Cycling World Championships, Tseung Kwan O (Hong Kong)
Scratch race
Silver
UCI Track Cycling World Cup, Los Angeles (USA)
Scratch race
Bronze
2016
UCI Track Cycling World Cup, Apeldoorn (Netherlands)
Points race
Gold
UEC European Track Championships, Saint-Quentin-en-Yvelines (France)
Scratch race
Silver
Olympic Games, Rio de Janeiro (Brazil)
Team pursuit
Gold
UCI Track Cycling World Championships, London (UK)
Team pursuit
Bronze
UCI Track Cycling World Cup, Tseung Kwan O (Hong Kong)
Team pursuit
Silver
2015
UCI Track Cycling World Cup, Cali (Colombia)
Team pursuit
Bronze
UEC European Track Championships, Grenchen (Switzerland)
Team pursuit
Gold
UCI Track Cycling World Championships, Saint-Quentin-en-Yvelines (France)
Team pursuit
Silver
2014
UCI Track Cycling World Cup, London (UK)
Team pursuit
Gold
UCI Track Cycling World Cup, Guadalajara (Mexico)
Team pursuit
Gold
UEC European Track Championships, Guadaloupe (France)
Team pursuit
Gold
Commonwealth Games, Glasgow (UK)
Points race
Silver
Commonwealth Games, Glasgow (UK)
Scratch race
Bronze
UCI Track Cycling World Championships, Cali (Colombia)
Team pursuit
Gold
2013
UCI Track Cycling World Cup, Aguascalientes (Mexico)
Team pursuit,
Gold
UCI Track Cycling World Cup, Aguascalientes (Mexico)
Individual pursuit
Silver
UCI Track Cycling World Cup, Manchester (UK)
Team pursuit
Gold
UEC European Track Championships, Apeldoorn (Netherlands)
Team pursuit
Gold
UCI Track Cycling World Championships, Minsk (Belarus)
Team pursuit
Gold
2012
UCI Track Cycling World Cup, Glasgow (UK)
Team pursuit
Gold
UCI Track Cycling World Cup, Cali (Colombia)
Team pursuit
Silver
UCI Road World Championships, Limburg (Netherlands)
Time-trial (Junior)
Gold
UCI Junior Track World Championships, Invercargill (New Zealand)
Omnium
Silver
UCI Junior Track World Championships, Invercargill (New Zealand)
Individual pursuit
Silver
UCI Junior Track World Championships, Invercargill (New Zealand)
Team pursuit
Bronze
European Junior and U23 Track Championships, Anadia (Portugal)
Team pursuit (Junior)
Gold
European Junior and U23 Track Championships, Anadia (Portugal)
Individual pursuit (Junior)
Gold
2011
UCI Road World Championships, Copenhagen (Denmark)
Time trial (Junior)
Silver