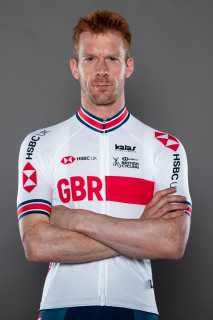 Team
Team Clancy Briggs Cycling Academy
One of the most successful and versatile track riders of his generation, and one of the most decorated British Olympians in history, Clancy has been part of the Olympic gold medal-winning team pursuit quartet over each of the last three Games.

In 2021, his selection for the delayed Tokyo Olympics offered the Yorkshireman the chance to win a fourth Olympic gold medal - a total bettered only by Sir Bradley Wiggins, Sir Chris Hoy and current Great Britain Cycling team-mate Jason Kenny among active male cyclists. It is a measure of Clancy's standing as one of the greatest ever specialists in the four-man, four-kilometre team pursuit that he has also been a member of teams that have broken the world record on no fewer than eight occasions, between 2008 and 2016, a small part of an illustrious career which has featured Olympic gold medal triumphs at Beijing in 2008, in London four years later and Rio 2016.
Career in numbers
4
Total Olympic medals
1
Total Commonwealth Games medals
12
Total UCI Track Cycling World Championships medals
7
Total UEC European Track Championships medals
Biography
Born and raised in Yorkshire, Clancy was introduced to cycling by his father at the age of five and showed promise at an early age, catching the eye of coaches at a British Cycling event at the age of 15 and earning selection for the first intake into the newly formed British Cycling Academy system.

Riding alongside fellow Academy riders - and future Tour de France legends - Geraint Thomas and Mark Cavendish, Clancy soon showed his promise as an international track rider, winning gold as part of the Great Britain team pursuit squad at the 2005 UCI Track Cycling World Championships in Los Angeles, just weeks after his 20th birthday.

It was the first of six world championship gold medals Clancy would win - other team pursuit successes coming in Majorca two years later, in Manchester in 2008, Melbourne 2012 and Apeldoorn, Netherlands in 2018; in addition to an omnium title in 2010 - along with four team pursuit golds in the UEC European Track Championships of 2010, 2011, 2013 and 2014 and an omnium gold in 2011.

But it was in the Olympic Games that Clancy started to write his name into the history books, beginning at the Beijing Games in 2008. The team of Clancy, Paul Manning, Thomas and Bradley Wiggins comfortably won gold, twice breaking the world record on the way to the final victory over Russia.

In recognition of his efforts in Beijing, Clancy was appointed Member of the British Empire (MBE) in the 2009 New Year Honours list, and Officer of the British Empire (OBE) eight years later, in recognition of his services to cycling.

The latter came in the wake of a stupendous performance at the home 2012 Olympic Games in London when, in front of a packed and fervent home crowd in London, history repeated itself from four years earlier, with the British team of Clancy, Thomas, Steven Burke and Peter Kennaugh twice breaking the world best mark, including a record time of 3:51.659, in the final victory over Australia, that stood for nearly two years.
A jack of all trades
Such are the depth of Clancy's track skills, however, that the introduction of the multi-discipline omnium for the London Olympics of 2012 also saw him become a force to be reckoned with in that event.

At his first attempt at an omnium on the international stage, Clancy had won gold at the 2010 UCI Track Cycling World Championships in Ballerup, Denmark, following that impressive start with a gold medal at the 2010 UCI Track World Cup in Cali, Colombia in December.

An omnium gold medal followed at the 2011 European championships in Apeldoorn, Netherlands, leaving Clancy as a medal hopeful for his home Olympics at Lee Valley VeloPark a year later.

Not surprisingly, given the herculean efforts of the team pursuit squad in London, Clancy was fatigued by the time the two-day omnium took place but still turned in an astonishing performance to add an Olympic bronze to his two previous golds.

As befits a rider whose interests away from the sport include motor sports and motor bikes, the pure speed Ed displayed during the Olympic omnium - in which he competed the kilo event in a time of 1:00.981 - saw him experiment with switching over to the team sprint after London 2012.

Riding the man three position vacated by the retirement of Sir Chris Hoy, Clancy managed to win a silver medal in the 2012 UCI Track Cycling World Cup Glasgow later that year before Great Britain coaches decided he should return to the team pursuit.

Despite his prolific track success - a total of 47 medals in the Olympics, UCI Track Cycling World Championships, UEC European Track Championships, UCI Track Cycling World Cup and Commonwealth Games - Clancy has also been a mainstay of the British domestic road racing scene, having last ridden for the Vitus Pro Cycling team in 2019.

In September 2015, however, Clancy suffered a potentially calamitous injury, in the most innocuous circumstances, damaging his back while picking up an empty suitcase following a stage of the Aviva Tour of Britain.

The result was a prolapsed disc and surgery which, Clancy admitted later, could have left him unable to walk, let alone ride professionally.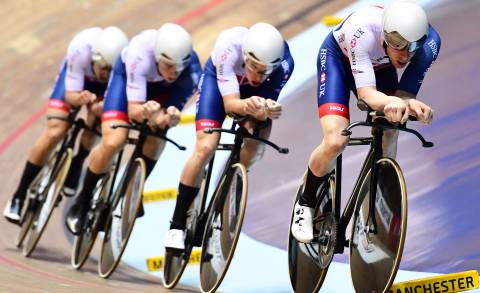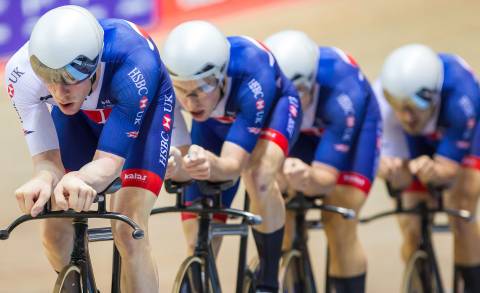 Rio recovery
Amazingly, within three months of the operation, Clancy was back training with the Great Britain Cycling Team, regaining his place for the team pursuit final at the 2016 UCI Track Cycling World Championships in London, in which the hosts were narrowly relegated into the silver medal by Australia. It was a sure sign that the Yorkshireman was well on his way to a full recovery and that the Rio Olympics, and that possible hat-trick of team pursuit gold medals, was in his sights.

Once in Rio, partnering Burke, Wiggins and Owain Doull, the Great Britain team qualified fastest and then twice broke the world record in the next two rounds, eventually riding 3:50.265 to edge out old rivals Australia for the gold medal.

On his return to the Great Britain Cycling Team after a year on the road, Clancy teamed up with Steven Burke, Ollie Wood and Kian Emadi in the team pursuit at the UCI Track Cycling World Cup in Manchester in November 2017, winning gold in front of a home crowd. It was the 13th gold medal Clancy had won in a UCI Track Cycling World Cup meeting, dating back to his first at the Moscow round in December 2006.

At that stage, Clancy also had five silvers and three bronzes in his World Cup career and would add two more podium finishes in the 2018-19 World Cup season - a silver in the team pursuit in Saint-Quentin-en-Yvelines, France, and team pursuit bronze in Milton, Canada.

Clancy repeated the trick at the 2018 UCI Track Cycling World Championships - winning the Great Britain Cycling Team's first team pursuit world title since 2012 in Apeldoorn, alongside Emadi, Ethan Hayter and Charlie Tanfield. Indeed, as Clancy demonstrated his durability and desire to remain an integral part of the men's endurance programme in the build-up to Tokyo, at the 2018 UCI Track Cycling World Championships in Apeldoorn, he was part of the Great Britain Cycling Team's first team pursuit world title since 2012, alongside Emadi, Ethan Hayter and Charlie Tanfield.

A UCI World Track Cycling Championships silver medal followed in 2019 in Pruszknow, Poland, while that year ended with Clancy, Hayter, Tanfield and Wood winning bronze at the UEC European Track Championships in Apeldoorn.

The last competitive ride for the Great Britain team pursuit squad before the original Tokyo Olympic date - at the UCI World Track Cycling Championships in Berlin in February 2020 - met with a rare failure, with Clancy, Wood, Tanfield and Hayter finishing out of the medal rides in fifth. But, given his record, few would bet against Clancy ending his career more successfully in Tokyo.

Away from competition, Clancy has also spent recent years concentrating on establishing the Clancy Briggs Cycling Academy, with his friend and road professional rider Graham Briggs. Offering grassroots coaching to school children of all abilities, the academy also offers Clancy an amateur team for whom he rides in domestic road races.
Palmarès
2019
UCI Track Cycling World Championships, Pruszkow (Poland)
team pursuit
Silver
UEC European Track Cycling Championships, Apeldoorn (Netherlands)
team pursuit
Bronze
2018
UCI Track Cycling World Cup, St-Quentin-en-Yvelines (France)
Team pursuit
Silver
UCI Track Cycling World Cup, Milton (Canada)
Team pursuit
Bronze
UCI Track Cycling World Championships, Apeldoorn (Netherlands)
Team pursuit
Gold
2017
UCI Track Cycling World Cup, Manchester (UK)
Team pursuit
Gold
2016
Olympic Games, Rio de Janeiro (Brazil)
Team pursuit
Gold
UCI Track Cycling World Championships, London (UK)
Team pursuit
Silver
2015
UCI Track Cycling World Championships, Paris (France)
Team pursuit
Silver
2014
UCI Track Cycling World Cup, London (UK)
team pursuit (qualifying round)
Gold
UEC European Track Championships, Guadaloupe
team pursuit
Gold
UEC European Track Championships, Guadaloupe
scratch race
Bronze
Commonwealth Games, Glasgow (UK)
team pursuit
Silver
2013
UCI Track Cycling World Cup, Manchester (UK)
team pursuit
Gold
UEC European Track Championships, Apeldoorn (Netherlands)
team pursuit
Gold
UCI Track Cycling World Championships, Minsk (Belarus)
team pursuit
Silver
2012
UCI Track Cycling World Cup, Glasgow (UK)
team sprint
Silver
Olympic Games, London (UK)
team pursuit
Gold
Olympic Games, London (UK)
omnium
Bronze
UCI Track Cycling World Championships, Melbourne (Australia)
team pursuit
Gold
UCI Track Cycling World Cup, London (UK)
team pursuit
Silver
2011
UEC European Track Championships, Apeldoorn (Netherlands)
omnium
Gold
UEC European Track Championships, Apeldoorn (Netherlands)
team pursuit
Gold
UCI Track Cycling World Championships, Apeldoorn (Netherlands)
team pursuit
Bronze
UCI Track Cycling World Cup, Manchester (UK)
team pursuit
Gold
2010
UCI Track Cycling World Championships, Ballerup (Denmark)
omnium
Gold
UCI Track Cycling World Championships, Ballerup (Denmark)
team pursuit
Silver
UCI Track Cycling World Cup, Cali (Colombia)
omnium
Gold
UCI Track Cycling World Cup, Melbourne (Australia)
team pursuit
Bronze
UEC European Track Championships, Pruszkow (Poland)
team pursuit
Gold
2009
UCI Track Cycling World Cup, Copenhagen (Denmark)
Team pursuit
Gold
UCI Track Cycling World Cup, Manchester (UK)
team pursuit
Gold
UCI Track Cycling World Cup, Melbourne (Australia)
team pursuit
Silver
2008
Olympic Games, Beijing (China)
team pursuit
Gold
UCI Track Cycling World Championships, Manchester (UK)
team pursuit
Gold
UCI Track Cycling World Cup, Copenhagen (Denmark)
Team pursuit
Gold
UCI Track Cycling World Cup, Manchester (UK)
Team pursuit
Gold
UCI Track Cycling World Cup, Manchester (UK)
Individual pursuit
Gold
2007
UCI Track Cycling World Cup, Manchester (UK)
Team pursuit
Gold
UCI Track Cycling World Cup, Sydney (Australia)
Team pursuit
Gold
UCI Track Cycling World Cup, Beijing (China)
Team pursuit
Gold
UCI Track Cycling World Championships, Majorca (Spain)
team pursuit
Gold
2006
UCI Track Cycling World Cup, Sydney (Australia)
Team pursuit
Bronze
UCI Track Cycling World Cup, Moscow (Russia)
Team pursuit
Gold
2005
UCI Track Cycling World Cup, Sydney(Australia)
Team pursuit
Silver
UCI Track Cycling World Cup, Sydney(Australia)
Individual pursuit
Silver
UCI Track Cycling World Championships, Los Angeles (USA)
team pursuit
Gold