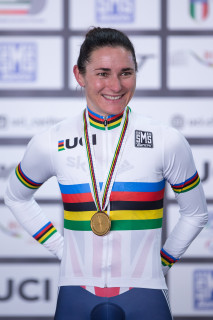 500m Time Trial, 3k Individual Pursuit, Team Sprint, Road Race and Road Time Trial
Arguably the most versatile British athlete in the history of the Paralympics - and on course to become the most successful - Dame Sarah Storey was a swimmer at four Paralympic Games before switching to cycling in 2005.
Since making the career move, Storey added to her five swimming gold medals with a further six cycling golds at the Paralympics of 2008 and 2012, leaving her tied with Baroness Grey-Thompson and Dave Roberts among British para-athletes on 11.
Storey, who has also competed against able-bodied athletes riding for England at the Commonwealth Games and won medals at UCI Track Cycling World Cup meetings with the able-bodied squad, has the chance to break that record after being selected for Rio 2016.
Career in numbers
9
Total cycling Paralympic medals
12
Total UCI Para-cycling Road World Championships medals
17
Total UCI Para-cycling Track World Championships medals
Biography
Born without a functioning left hand, Storey's first sport was swimming. She represented Great Britain at four Paralympic games, starting in Barcelona in 1992 at the age of 14, winning five Paralympic golds, eight silvers and three bronze medals, as well as winning five world titles and 18 European championships.
Forced out of the pool for much of 2005 due to ear infections, Storey took to two wheels to maintain her fitness and, by the end of the year, had broken the world record for the para-cycling three-kilometre individual pursuit.
Storey's first taste of international competition offered a hint of the massive success to come as she won triple gold at the Para-cycling European Championships, winning the individual pursuit and 500-metre time trial on the track, as well as the road race.
With the Beijing Paralympics looming, Storey was emerging as a strong medal contender and her first world title - in the individual pursuit at the 2007 UCI Para-Cycling World Championships - simply enhanced her reputation.
At those Paralympics, her fifth, Storey won gold in the individual pursuit, in a time that would have placed her in the top eight of the Olympic finals, as well as the road time trial.
Perhaps even more impressively, within eight days of winning her Paralympic gold, she had become an able-bodied champion at the British Cycling National Track Championships, winning the individual pursuit, a title she successfully defended in 2009.
Not surprisingly, Storey was becoming the dominant force in women's para-cycling with four more world titles in 2009 and a 2010 season in which she again won two road para-cycling golds while earning selection for the able-bodied England team at the Commonwealth Games in Delhi.
Storey placed sixth in the individual pursuit, the highest placing by an English rider and just ahead of future Olympic champion Laura Trott. She became the first para-cyclist to compete for England at the Commonwealth Games against able-bodied cyclists and also became the second para-athlete to do so, after archer Danielle Brown, earlier in Delhi.
That form catapulted Storey into contention for one of the three places on the Great Britain team pursuit team for the London Olympics and, in 2011, she won gold at the UCI Track Cycling World Cup Manchester in a time that was just 0.188 off the world record. Later in the year, she also won gold in the UCI Track Cycling World Cup Cali, Colombia, before being ruled out of contention for London.
That disappointment proved fleeting as six more road and track para-cycling world titles came her way in 2011 and 2012, leading to the London Paralympics in which Storey was little short of magnificent, winning gold in all four of her events - the 500-metre time trial, the individual pursuit, the road race and time trial. For good measure, her first win - the first British gold of the Paralympics - saw her set a world record in the pursuit.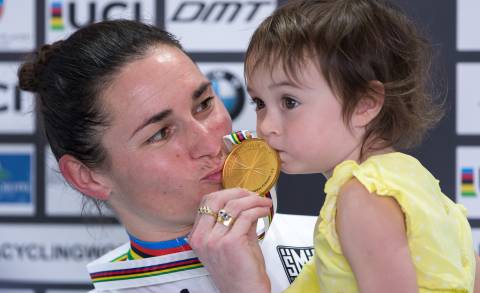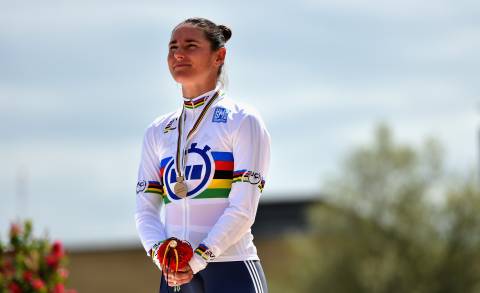 Back on track
After a year out, and parenthood, in 2013, Storey returned to action in 2014 without missing a beat in her march towards a seventh Paralympics.
The 2014 season brought four more para-cycling world titles while, on the road, she joined with husband Barney Storey to form the Pearl Izumi Sports Tours International women's team which fielded strong domestic amateur teams over the next two years before being re-born as the professional Podium Ambition Pro Cycling in 2016.
Meanwhile, Storey won a third national track title at the British championships, in the points race in 2014, and attempted to break the able-bodied UCI hour record at London's Lee Valley VeloPark in February 2015. Storey covered a distance of 45.502 kilometres - just 563 metres short of the existing world record set 12 years earlier - but had the consolation of setting a new British record and new world record in the C5 Para- cycling class.
Despite commitments to her own road racing team, there was no drop-off in her success in the para-cycling ranks, with 2015 bringing four world titles and the 2016 UCI Para-cycling Track World Championships seeing her win the individual pursuit.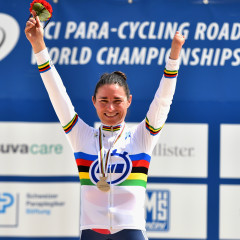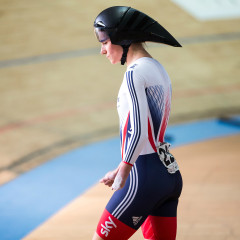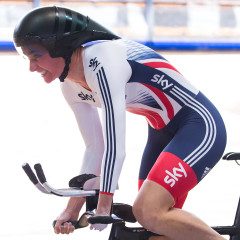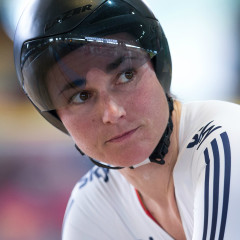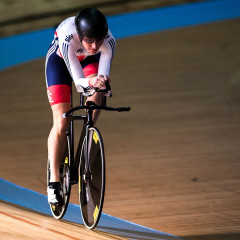 Palmarès
2016
UCI Para-cycling Track World Championships, Montichiari (Italy)
Individual pursuit
Gold
UCI Para-cycling Track World Championships, Montichiari (Italy)
500m time trial
Silver
UCI Para-cycling Track World Championships, Montichiari (Italy)
Scratch race
Silver
Paralympic Games, Rio de Janeiro (Brazil)
Individual pursuit
Gold
Paralympic Games, Rio de Janeiro (Brazil)
Road race
Gold
Paralympic Games, Rio de Janeiro (Brazil)
Time trial
Gold
2015
UCI Para-cycling Road World Championships, Nottwil (Switzerland)
Time trial
Gold
UCI Para-cycling Road World Championships, Nottwil (Switzerland)
Road race
Gold
UCI Para-cycling Track World Championships, Apeldoorn (Holland)
500-metre time trial
Gold
UCI Para-cycling Track World Championships, Apeldoorn (Holland)
Individual pursuit
Gold
2014
UCI Para-cycling Road World Championships, Greenville (USA)
Time trial
Gold
UCI Para-cycling Road World Championships, Greenville (USA)
Road race
Gold
UCI Para-cycling Track World Championships, Aguascalientes (Mexico)
Individual pursuit
Gold
UCI Para-cycling Track World Championships, Aguascalientes (Mexico)
Scratch race
Gold
UCI Para-cycling Track World Championships, Aguascalientes (Mexico)
500-metre time trial
Bronze
2012
Paralympic Games, London
500-metre time trial
Gold
Paralympic Games, London
Individual pursuit
Gold
Paralympic Games, London
Road race
Gold
Paralympic Games, London
Time trial
Gold
UCI Para-cycling Track World Championships, Los Angeles (USA)
500-metre time trial
Gold
UCI Para-cycling Track World Championships, Los Angeles (USA)
Individual pursuit
Gold
UCI Para-cycling Track World Championships, Los Angeles (USA)
Team sprint
Silver
2011
UCI Track Cycling World Cup, Cali (Colombia)
Team pursuit (able-bodied)
Gold
UCI Para-cycling Road World Championships, Roskilde (Denmark)
Time trial
Gold
UCI Para-cycling Road World Championships, Roskilde (Denmark)
Road race
Gold
UCI Para-cycling Track World Championships, Montichiari (Italy)
Individual pursuit
Gold
UCI Para-cycling Track World Championships, Montichiari (Italy)
500-metre time trial
Gold
UCI Track Cycling World Cup, Manchester (UK)
Team pursuit (able-bodied)
Gold
2010
UCI Para-cycling Road World Championships, Canada
Road race
Gold
UCI Para-cycling Road World Championships, Canada
Time trial
Gold
2009
UCI Para-cycling Track World Championships, Manchester (UK)
Individual pursuit
Gold
UCI Para-cycling Track World Championships, Manchester (UK)
500-metre time trial
Gold
UCI Para-cycling Road World Championships, Bogogno (Italy)
Road race
Gold
UCI Para-cycling Road World Championships, Bogogno (Italy)
Time trial
Gold
2008
Paralympic Games, Beijing (China)
Individual pursuit
Gold
Paralympic Games, Beijing (China)
Time trial
Gold
2007
UCI Para-cycling Track World Championships, Bordeaux (France)
Individual pursuit
Gold
UCI Para-cycling Track World Championships, Bordeaux (France)
500-metre time trial
Bronze
2006
UCI Para-cycling Road World Championships, Aigle (Switzerland)
Road race
Silver
UCI Para-cycling Road World Championships, Aigle (Switzerland)
Time trial
Silver
2005
Para-cycling European Championships, Alkmaar (Denmark)
Individual pursuit
Gold
Para-cycling European Championships, Alkmaar (Denmark)
500-metre time trial
Gold
Para-cycling European Championships, Alkmaar (Denmark)
Road race
Gold
Para-cycling European Championships, Alkmaar (Denmark)
Time trial
Silver