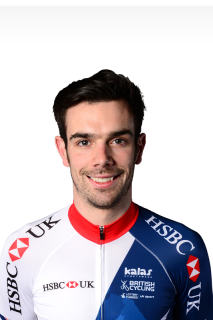 Team Pursuit
Andy began cycling when he was 14 years old when he joined a local club with his friends. Four years later he was accepted onto British Cycling's Olympic Academy Programme and in the same year he became junior world champion in the individual pursuit and European champion in the team pursuit.
Andy has since played an integral role in the Great Britain Cycling Team team pursuit squad, both at under-23 and elite level.
Career in numbers
7
Total UCI Track Cycling World Championships medals
6
Total UEC European Track Championships medals
1
Total Commonwealth Games medals
Biography
Andy was replaced by Steven Burke in the final ride, which Great Britain won. Andy was named in the squad for the London 2012 Olympics but unfortunately did not get to ride, however the rest of the team all gave credit to Andy in the media for their gold medal winning performance at the Games.
In 2013, Andy (along with Steven Burke, Ed Clancy and Sam Harrison) won the silver medal in the team pursuit at the UCI Track Cycling World Championships in Belarus. Andy went on to become European Champion in the team pursuit, riding with Ed Clancy, Steven Burke and Owain Doull to win the Gold medal at the 2013 European Track Championships. The same quartet went on to win the gold medal at the UCI Track World Cup in Manchester in November 2013.
At the 2014 Commonwealth Games in Glasgow, Andy represented England in the team pursuit and won the silver medal, along with Ed Clancy, Steve Burke and Sir Bradley Wiggins. At the European championships that same year, Andy was crowned champion in both the individual and team pursuit events. Andy went on to win the silver medal in the opening round of the 2014/15 UCI Track Cycling World Cup in Guadalajara and the gold medal in the second round which took place in London.
The men's team pursuit squad bounced back from the disappointment of the 2014 result in Colombia where they finished 8th to take the silver medal at the 2015 event in Paris.
At the 2016 UCI Track Cycling World Championships in London, Andy formed part of the silver medal winning team pursuit squad, as well as picking up a medal in the individual pursuit where he won bronze against team mate Owain Doull.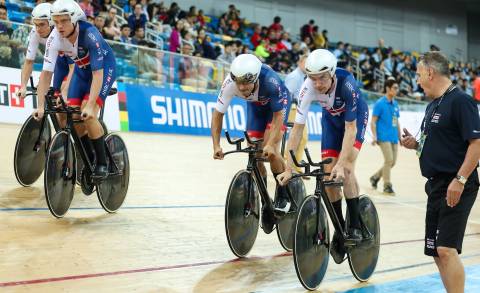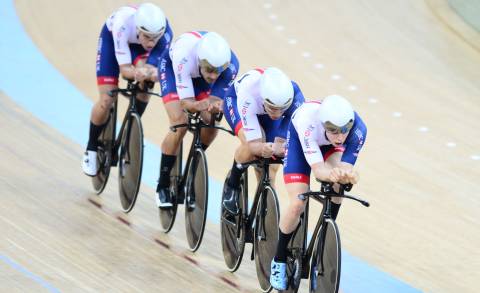 Palmarès
2016
UCI Track Cycling World Cup, Glasgow (UK)
Team pursuit
Gold
UCI Track Cycling World Championships, London (UK)
Team pursuit
Silver
UCI Track Cycling World Championships, London (UK)
Individual pursuit
Bronze
2015
UCI Track Cycling World Championships, Saint-Quentin-en-Yvelines (France)
team pursuit
Silver
UCI Track Cycling World Cup, Cali (Colombia)
individual pursuit
Silver
UEC European Track Championships, Grenchen (Switzerland)
team pursuit
Gold
UCI Track World Cup, Cali (Colombia)
individual pursuit
Silver
2014
UCI Track Cycling World Cup, London (UK)
team pursuit
Gold
UCI Track Cycling World Cup, Guadalajara (Mexico)
team pursuit
Silver
UEC European Track Championships, Guadaloupe (France)
team pursuit
Gold
UEC European Track Championships, Guadaloupe (France)
individual pursuit
Gold
Commonwealth Games, Glasgow (UK)
team pursuit
Silver
2013
UCI Track Cycling World Cup, Manchester (UK)
team pursuit
Gold
UEC European Track Championships, Apeldoorn (Holland)
team pursuit
Gold
UCI Track Cycling World Championships, Minsk (Belarus)
team pursuit
Silver
2012
UCI Track Cycling World Championships, Melbourne (Australia)
team pursuit
Gold
2011
UEC European Track Championships, Apeldoorn (Holland)
team pursuit
Gold
UCI Track Cycling World Championships, Apeldoorn (Holland)
team pursuit
Bronze
2010
UCI Track Cycling World Championships, Ballerup (Denmark)
team pursuit
Silver
UCI Track Cycling World Cup, Melbourne (Australia)
team pursuit
Bronze
UEC European Track Championships, Pruszkow (Poland)
team pursuit
Gold
2009
UCI Track Cycling World Cup, Manchester (UK)
team pursuit
Gold
UCI Track Cycling World Cup, Melbourne (Australia)
team pursuit
Silver
2008
UEC U23 European Track Cycling Championships, Pruszkow (Poland)
team pursuit
Silver
2007
UCI Track Cycling World Cup, Manchester (UK)
team pursuit
Bronze
2006
UCI Track Cycling World Cup, Sydney (Australia)
team pursuit
Bronze
UEC U23 European Track Cycling Championships, Athens (Greece)
team pursuit
Gold
2005
UCI Junior Track Cycling World Championships, Vienna (Austria)
individual pursuit
Gold
UCI Junior Track Cycling World Championships, Vienna (Austria)
team pursuit
Silver
UEC Junior European Track Cycling Championships, Fiorenzuola (Italy)
team pursuit
Gold